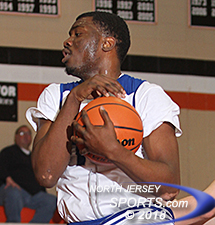 Senior Sage Robinson finished with a double-double for No. 4 Teaneck, which ran by No. 13 St. Mary, 60-49, in the Round of 16 of the Bergen County Jamboree.
TENAFLY – First, here is the answer to the question that everybody wanted to ask Teaneck head coach Jerome Smart, whose team is down a few players for disciplinary reasons.
NorthJerseySports.com: "What would you like to say about the current state of your roster and when might it be whole? Or will it be whole?
Smart: "No comment."
With that out of the way and because high school sports are really all about the players on the floor, it is time to tell the story of the remaining Teaneck players, who were supposed to be ripe for an upset on Saturday in the Round of 16 of the Bergen County Jamboree. Instead, Sage Robinson's putback with 1:55 left in the first quarter wiped out the only lead that 13th-seeded St. Mary could muster in the game.
The fourth-seeded Highwaymen, using the offensive glass and opportunities in transition, went on a 23-6 first half run and sprinted to a 60-49 win while also proving that the players who actually suited up are more than just a collection of spare parts.
"I tell the kids all the time that you never know when your number is going to be called. Well, their number has been called and this current group of kids that we have on the floor is 4-1," said Smart. "We stubbed our toe the other night [at Northern Valley/Demarest] because we missed free throws and we missed a lot of layups, put they played hard and they played hard again today."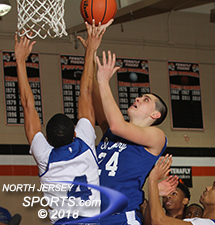 St. Mary senior Marc Dadika finished with a game-high 20 points.
Robinson was all over the backboards in an entertaining matchup against Marc Dadika, the St. Mary senior heading to Fairleigh Dickinson. It was not only stick-back points that Robinson was after, but also those hustle plays like tipping balls that created extra chances for his teammates while also hanging fouls on the Gaels.
"It is just about playing hard. I got the scouting report before the game and my coaches told me to rebound, play defense and stay in front of [Dadika]. I did not want to pick up any stupid fouls," said Robinson, a 6-foot-6 senior who finished with 16 points to go with 14 rebounds. "On the offensive end I just wanted to get on the boards, that's my job, but my teammates looked for me and I tried to deliver the best way I could."
While Teaneck's most notable absence is in the backcourt, the Highwaymen were solid there, too, on Saturday. Senior Jayden Dawson scored five points in 18 seconds late in the first quarter to push a one-point lead up to six in a hurry and his baseline drive with 5:52 left in the second quarter gave the Highwaymen a double-digit lead for the first time at 20-9.
"I felt like our shooting percentage was so low in the first half that we just dug a hole. Early in the game we were playing all right in our zone [defense], but offensively it was just such a struggle to find a basket," said St. Mary head coach Brian Gaccione. "I don't know if it was nerves, the first time playing in a county game like this for the first time for some of our guys, but we just did not shoot the ball real well in the first half at all."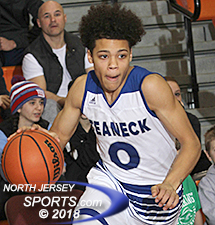 Darius Ashby and Teaneck will take on No. 5 Ramapo in the Jambo quarterfinals next weekend at the Rothman Center.
Darius Ashby's fastbreak basket with 2:12 left in the second quarter put the Highwaymen up 30-13 and they led 31-16 at the break. It was a 46-29 Teaneck advantage and the third quarter and St. Mary was able to creep back to within single digits just once in the second half at 53-44 on a Dadika post move with 2:07 left in the game. KaiSing Lilavois' conventional three-point play on Teaneck's next possession put the game away for the Highwaymen, who will face No. 5 Ramapo in next weekend's quarterfinal round at the Rothman Center on the campus of Fairleigh Dickinson University.
Dawson (17 points) and Vernon Anderson (13 points) joined Robinson in double figures for Teaneck. Lilavois added 7 points, Ashby finished with 5 and freshman Damion Simpson, Jr. scored the other field goal for the Highwaymen.
"I am always ready to play and I have confidence in what I am able to do out there," said Anderson, a junior who has assumed much of the workload at the point for Teaneck. "I have to be able to handle the ball and put the ball in the basket when I need to and will do everything I can to help this team keep winning."
Dadika finished with a game-high 20 while Nick Boyd (15 points) was the only other Gael in double figures. Colin Hylund added 8 points, Rob Corroza finished with 5 and Alex May made a free throw for St. Mary, which will now turn its attention toward trying to close out a division title in the NJIC and make the defacto conference championship, a matchup-based showcase that will consist of the four NJIC division winners.
"We have a couple more games in our league and we have a two-game lead. I told the kids that we still have a chance to play for a small school championship in a tournament atmosphere," said Gaccione. "We still have a lot to play for, so we can't spend a lot of time thinking about this loss. We have to put it behind us and move on."
TO BUY A COLLECTOR'S PRINT OF THIS STORY PLEASE VISIT 4-FeetGrafix.com. FOR MORE PHOTOS FROM THIS EVENT CLICK HERE!