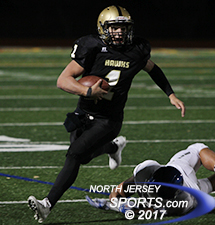 Dave Estevez threw a strike on fourth-and-21 for a first down that led to a score two plays later, the winning TD in River Dell's 38-34 win over NV/Demarest in the North 1, Group 3 semifinals on Friday night.
ORADELL – Trying to put the impact that David Estevez has made in his four years as a three-sport athlete at River Dell High School into words is not easy. Luckily, Golden Hawks head coach DJ Nimphius was forced to recently and he shared it on Friday night after a classic North 1, Group 3 state sectional semifinal.
"He is a better person than he is a football player and this is really what life is all about. I wrote his letter of recommendation for college and I was sitting there talking to myself because I realized that the kid has taught me more in the years that I have known him than I have taught him," said Nimphius. "I am blessed to be around somebody like that. He's a regular guy, but he doesn't play like a regular guy."
Estevez is the now-rare three-sport athlete. He has been the starting shortstop for the baseball team since his freshman year, a contributor on the basketball court who helped lead a scrappy team to the state sectional finals last year, he is the quarterback who led the Hawks to a state title last season for the first time since 2007 and the defensive back that made the fourth down stop in overtime that sealed said state title in MetLife stadium.
So, facing a fourth-and-21 with his team trailing Northern Valley/Demarest by three points with just about one minute remaining on Friday night, did Nimphius ever have a doubt that his quarterback would get it done?
"Not with #1 playing quarterback," said Nimphius. "Number 1 is pretty special."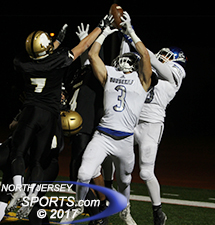 This was how close Demarest came to pulling down a Hail Mary and pulling out a miraculous win on the game's final play.
Estevez wears jersey #1 and he wears out defenses. His scramble and strike to Jack Racine converted that fourth-and-21 into a first-and-goal from the 10 and, two plays later, he found Racine again in the front corner of the end zone for the winning score with 36 seconds left in River Dell's 38-34 win that sends the Hawks to MetLife where they will try to defend their title against Ramapo, which knocked out Sparta, 21-14, on the other side of the bracket in Franklin Lakes.
"Jack Racine is a very good player. He is one of our captains, so coach got us in the huddle and said, "It's you two." It was up to us to lead the team," said Estevez. "The plan was to run a 25-yard out and I didn't even realize how far that throw was going to be so I had to throw a freakin' rifle at him. Luckily the defender didn't get there in time to deflect it and we got that big first down [on fourth-and-21]."
"We live for these big moments. We have a really tough schedule, so we have played in a lot of these games all year. Having experience definitely helped and I think that is what helped us pull through."
The game was a shootout from the start. Demarest scored the last two touchdowns of the first half, the second a dive to the pylon by Joe Rotonde after catching an out-route from Austin Albericci that gave the Norsemen, who were this deep in the playoffs for the first time since 2003, a 21-17 lead at halftime.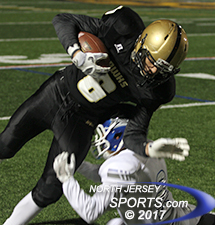 Jack Racine caught the pass that turned fourth-and-21 into a first down and the pass that gave River Dell the lead for good.
Demarest did not run a single play from scrimmage in the third quarter, but still managed to maintain its lead. River Dell received the second half kickoff and marched 85 yards in 6:48 with Estevez going over from one yard away to make it 24-21. Rotonde then returned the ensuing kickoff 81 yards for the score that put Demarest back in front, 28-24, before River Dell ate up the rest of the third quarter clock plus 1:38 of the fourth quarter with a 79-yard drive.
On second-and-15 from the 35, Estevez scrambled to his right, reversed field back to his left and then put touch on a pass that cleared the turned shoulder of a defender before falling into the hands of Mike Sirico, who fell into the endzone. That gave River Dell a 31-28 lead that lasted all of 2:49 as Demarest sprinted right back down the field in a game that featured zero punts by either team.
Albericci and Rotonde hooked up again and this time the senior wide receiver reached behind him to pull in a pass, shook off a hit at the 24 yard line and then went in to the endzone to give Demarest the lead back, but the Norsemen left a point out on the field. Jonah Miller hit the original extra point, but two penalties were called on the try. A holding call and a personal foul meant that the Norseman were forced to try a two-point conversion from the 28-yard line. It fell incomplete and they had to settle for a 34-31 lead with 7:33 to play.
River Dell took over on its own 42 on what turned into the game-winning drive and faced fourth down situations twice. They were stopped the first time when Demarest's Ryan Vadis barreled in to break up a screen pass, but an illegal hands to the face call away from the ball gave the Hawks a first down and a reprieve.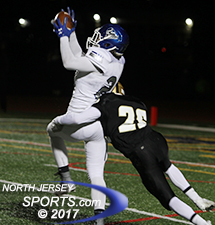 Joe Rotonde hauling in the pass that gave Demarest a 34-31 lead with 7:33 left to play in the fourth quarter.
River Dell found itself in trouble again when Jack Mattola sacked Estevez on first down and was called for having an illegal man down field when Estevez hit Sirico inside the 5.
A screen pass on third down picked up just a few of yards, which set up the fourth-and-21. Estevez to Racine for 25 and then Estevez to Racine for 10 yards two plays later made it 38-34 with 36 seconds to play and that one point lost on the other end meant that Demarest needed a touchdown to extend its season rather than a field goal to tie the game.
River Dell opted for a squibbed kickoff to set Demarest up at its own 45 with 33 seconds left and the first three plays did not go well. Three straight incompletions left the Norsemen, who had not been stopped on offense all night, facing a fourth-and-10 before Albericci hit Kevin McCloskey out of the backfield for a 16-yard gain that not only kept the game going, but also moved the ball close enough for a legitimate shot at a Hail Mary.
Albericci rolled to his right and fired the ball into the end zone where three different Demarest receivers had a chance to make the finish even more miraculous. Instead, the ball bounced off two sets of offensive hands before River Dell's Dave Fletcher got the last touch and knocked the ball to the floor to preserve the win.
It was a tough end to a special season for Demarest (9-2), which had won nine straight games coming in. The Norsemen were led by a thick senior class, many of whom had suffered through an 0-10 season as sophomores.
"Our kids played tough. We were one play away. That game could have gone either way at any time. That fourth-and-forever really hurt us and they got it. It is what it is at this point and we wish River Dell the best of luck in two weeks," said Demarest head coach Tony Mattola. "We had a helluva season. I was hoping and praying that these kids would get that experience in MetLife [Stadium], especially after being 0-10 two years ago, but it wasn't in the cards tonight."
So it is on to the state final for River Dell (10-1), whose only loss of the season came at home against Ramapo, 23-20, back on October 20. The two North Jersey public school power programs will rematch with a state title on the line.
"This was everything I expected this game to be. You talk about hanging in there; you have kids over there [at Demarest] that started on a team that didn't win a game when they were sophomores still together and sticking it out. They have tremendous athletes, great kids up front and they are well coached," said Nimphius, before briefly shifting his thoughts to the next opponent. "You have a Hall of Fame coach and great players over there [at Ramapo] with a lot of tradition, but we are about ourselves right now. We will try to enjoy this one and then get to work."­
TO BUY A COLLECTOR'S PRINT OF THIS STORY PLEASE VISIT 4-FeetGrafix.com. FOR MORE PHOTOS FROM THIS GAME CLICK HERE!