Freshman Maureen Murphy scored 20 of her 22 points after halftime to give Holy Angels a big boost in its 63-54 win over Secaucus in the opening round of the Joe Poli Tournament on Tuesday at Pascack Valley High School.
HILLSDALE – Secaucus has earned its reputation as one of the top teams in North Jersey. The Patriots are the defending Hudson County champion with three proven players in Amanda Ulrich, Lindsey Mack and Damaris Rodriguez returning to the starting lineup from a team that went 26-4 last year. So, after Holy Angels posted a 63-54 win over Secaucus in the finale of the four-game opening round of the Joe Poli Tournament on Tuesday evening the question had to be asked…
Was this as big of an upset as it appeared at first glance?
"In my mind, yes," admitted Holy Angels head coach Sue Liddy. "We had to have a signature win and Secaucus is very good. They have those three kids that can shoot lights out and I thought our defense was tremendous today."
To pull off its first 'signature win' of the season Holy Angels came prepared. Liddy shot off the game plan to her players on Christmas Day and the Angels responded by showing up the day after and executing. Secaucus likes to push the pace and force its opponents into live-ball turnovers that lead to transition baskets, but Holy Angels had the antidote in senior point guard Elena Pulanco, who not only took care of the ball, but also distributed it smartly.
The Patriots were unable to rush Pulanco into bad decisions and the Angels were to get good shots consistently not only on the fastbreak, but also in halfcourt situations.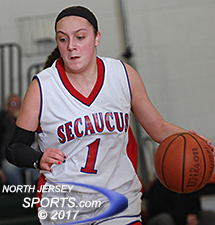 Amanda Ulrich scored 22 points for Secaucus, which lost for the first time this season.
"I know other teams are scouting me so that makes it a little more difficult, but just about the whole team came back [from last year] and we have good chemistry," said Pulanco. "We are all jelling right now and that is a great advantage that we have."
It was Holy Angels that took advantage of the open floor to get easy baskets and with superior depth; it was the Angels who eventually wore down their opponent. Secaucus scored the first four points of the game, but Caroline Staff's bucket just less than three minutes in put AHA up 5-4 and signaled that the Angels were not going to get run off the floor.
Staff scored 8 points in a two-and-a-half-minute span to take Holy Angels from down one to up 11-4 and she scored all 12 of her points in the first half. She hit back-to-back buckets to put AHA up 23-16 with 2:21 left in the first half and two Pulanco free throws 1:24 later put her team up by double digits for the first time, 27-16, before Ulrich scored the final five points of the period to get Secaucus back to within 27-21 at the intermission.
Secaucus opened the second half with a 7-0 run that ended with two Mack free throws and a 28-27 Patriots lead. It was a back-and-forth third quarter in which there were six lead changes and two ties. It was also the quarter in which AHA freshman Maureen Murphy put her stamp on the game. Murphy found the seams in the defense and kept her hands up ready to accept the ball from Pulanco and made the most of her opportunities. Murphy scored 14 of her team-high 22 points in that third quarter when she made 5 of 7 from the free throw line, scored on two drives to the basket and made a 3-pointer from the corner.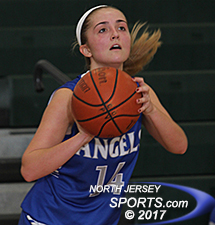 Caroline Staff scored all 12 of her points in the first half to help Holy Angels get off to a good start.
"Coming into this season I was really nervous, but the team is so welcoming. Everyone has helped me with all of the plays, especially Elena [Pulanco]. She has taught me so much and I am lucky, as a freshman, to be playing with a point guard like that," said Murphy. "There are some nerves still, but it is so exciting, too. It's been good so far because everyone has been so supportive."
Holy Angels made just two 3-pointers in the game with the second of those a big one off the fingers of Angela Romanos, who hit it from the corner for the first points in a 7-0 run that spanned the third and fourth quarters. Pulanco followed Romanos' triple with a steal and a lay-up to make it 46-40 at the end of the third quarter and Pulanco got all the way to the basket for the first points of the final period to put AHA by 8.
Secaucus got as close as 50-47 with 4:21 to play when Rodriguez scored in transition, but Murphy completed a 3-point play on the other end to double the Angels advantage and they hit 6 of 9 free throws in the final 2:04 to put the game away and improve to 3-1 on the season.
Secaucus' 'Big 3' of Ulrich (22 points), Mack (17 points) and Rodriguez (10 points) accounted for all but five of the Patriots' 54 points. Payton Intindola made two field goals and Jasmin Bujari made a first quarter free throw to round out the scoring for Secaucus, which lost for the first time this season. The Patriots will play Northern Highlands in the Poli on Thursday in a 2:30 start at Pascack Valley High School.
Holy Angels, whose only loss so far came by five points to a talented Morris Catholic team, also put three players in double figures led by Murphy's 22. Pulanco finished with 19, including 9 of 11 from the free throw line, and Staff scored all 12 of her points in the first half. Romanos finished with 4 points and Samantha Sivulka, Holly Gibbard and Erin Maron each added two points apiece.
The Angels advance in the winners bracket to play host Pascack Valley on Thursday in a 4:15 start looking to pull another early season 'upset,' but the truth is that AHA will not be sneaking up on anyone with its talented roster and an experienced point guard poised to have a big senior year.
"All we are trying to do is get better. Every year at this time we are always making a little bit of progress and by the time we get to the county tournament we are the team that nobody wants to play because we are so scrappy," said Liddy. "With new faces and different people being plug into different spots we are a work in progress, but we have real potential and we will see what happens."
TO BUY A COLLECTOR'S PRINT OF THIS STORY PLEASE VISIT 4-FeetGrafix.com. FOR MORE PHOTOS FROM THIS GAME CLICK HERE!