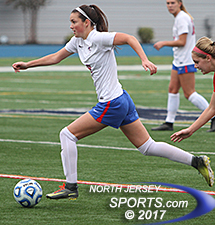 Sarah Gordon's second goal of the game got Wall even with 20 minutes left in regulation and the Crimson Knights won their second straight state title on an own goal in overtime of a 4-3 nailbiter against upstart Westwood in the Group 2 final.
UNION – It was an own-goal off a diagonal free kick with less than 30 seconds left to play in the first overtime that kept Westwood from getting at least a share of the Group 2 state championship. Sure, tough way to lose and all that, but come on…this is the Westwood girls soccer program that is being discussed here and the Cardinals were in overtime of a state final against Wall, the defending Group 3 state champion that came into Saturday's game with 10 experienced seniors in its starting lineup and ranked No. 1 in the state.
Westwood had belief and it adopted and stuck to the motto of 'Refuse To Lose' all season long, but there was nothing to suggest that this team, when the season began, would be one of eight left playing on Championship Saturday on a college campus and scaring the ba-jeezuz out of a state power. Own goal or no own goal, Westwood just finished the best soccer season in school history, boys or girls, barely on the short end of a 4-3 decision at Kean University.
"They accepted the challenge. All year long these girls have accepted the challenge. They have taken a couple of punches, but they never, ever crumble," said Westwood head coach Eric Pfeifer.
Other than a four-goal victory in the opening round of the North 1, Group 2 state sectional tournament, Westwood's journey to the state final was a collection of one-goal wins decided on the field and not in penalty kicks. The Cardinals play to win, they have no interest in parking a bunch of players behind the ball and what they got for continuing that strategy on the wider playing surface of a college field was a 2-0 deficit against the fast, experienced and coordinated attack of Wall.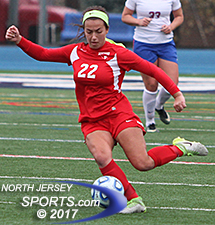 Lucie Gehringer earned and then converted a PK to get Westwood on the board and kick off a string of three straight goals for the Cardinals.
The Crimson Knights carved the Cardinals up early with Westwood keeper Camryn Collova called into action just 1:25 into the game when she slid into a traffic jam to take the ball off the foot of Cara Capra. It was the first of many challenging chances that Collova would face and she stood up to most of them, but Wall was determined and went in front in the fifth minute when Sarah Gordon knocked in the rebound of a Lauren Karabin shot just 4:42 to into the game.
While Wall was winning the middle and getting wide, Westwood was getting spread out and stuck in chase mode as wave after wave threatened to swallow up the Cardinals' back line. Wall made it 2-0 in the 16th minute when Jenna Karabin knocked in a corner kick from in front of goal and it looked like Westwood was on the verge of being just a footnote in Wall's coronation as the best team in the state.
"Wall's got wheels up and down the wings and at the beginning of the game we were too stretched," said Pfeifer. "Once we made it more compact, it fell into our hands a little bit."
A little bit? Down two and in a situation where it could have been down by four or five goals, Westwood flipped the switch. After being denied a penalty kick after getting run over in the box seven minutes earlier, Lucie Gehringer got a call and converted a PK that buoyed Westwood's spirits and got it right back in the game with 18 minutes left in the first half.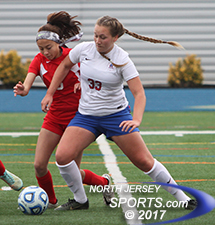 Jenna Karabin is one of 10 seniors in the Wall starting lineup that help build the program into a state power.
Then, with less than eight minutes left before the break, two Wall defenders collided in their pursuit of a ball and Carlye Danziger was the recipient. One of only five seniors on the Westwood roster and one of only four in the starting lineup, Danziger drew the reorganizing defenders toward her and then slipped a diagonal pass to Sarah Levy, who beat the keeper and drew Westwood even in stunning fashion.
It was 2-2 at the intermission and, just over nine minutes into the second half, Gehringer sent the second ball off a corner kick back into the box and freshman Meghan Reidel finished it with a rip from in close. Westwood 3, Wall 2 with 30:50 left to play in regulation.
"We play until the final whistle. We pick each other up and that is what you saw today," said Danziger. "We get rallied up on good things that each other do and the energy we get is indescribable."
The Cardinals certainly grabbed Wall's attention.
"I was amazed by how Westwood just did not give up. We went up two goals and I was very confident in us going on to win that game, but they just did not give up at all," said Wall head coach Mike Juska. "I have to credit their coaching staff, their players. They fought, they got back in the game and everything I have read about them is that they are a team exceeding expectations. They showed today that they belonged in this game, no doubt about it. We have played a lot of great teams this year and they could compete with any one of them."
Senior goalkeeper Camryn Collova made too many tough saves to count in the final game of Westwood's magical 18-2-3 season.
Wall was the team trying to climb the mountain last season and it finally broke through with its tie against Northern Highlands in the Group 3 state final that gave it half-a-state title. This year Wall was the team trying to defend what it had earned and realized it was in a dogfight. The Knights responded by controlling possession once they fell behind and, after many near misses, finally found the equalizer with 20:46 left in regulation.
Lauren Karabin's rolling cross played in from the right corner found the right foot of Gordon, who buried it to tie the score.
"I am a naturally left-footed player and both of my goals today came with my right foot. It just showed that we had to do whatever we could to find a way to win today," said Gordon. "Our game plan is usually to go out wide because that is where our speed is. I trust Cara [Capra] or Lauren [Karabin] to beat anyone 1-v-1 and then send balls in. We just had to get everyone in the box and hope we could finish one of those crosses."
Back even, Wall was free from the anxiety of chasing the game and had the remaining chances for the rest of regulation and in the overtime session. Collova handled a knuckling liner that Gordon got off between two defenders and she tracked a slight deflection of a shot taken by Jenna Karabin and smothered it to help Westwood survive the rest of the second half.
Wall's possession advantage was really starting wear on Westwood late in the extra session and it finally led to the Cardinals' unraveling. Inside the final 30 seconds, the Cardinals were called for a foul and shown a yellow card, which gave Wall the time, with the clock stopped, to line up the final restart from about 35 yards out and just to the right of the middle of the field.
The free kick was played on the diagonal, a Westwood defender jumped to get a head on it at the back post and the ricochet ended up inside the upper 90 to end one of the most surprising runs by a Bergen County public school in recent memory. Westwood finished the season with a share of a league championship, a state sectional title, its first since 2001, an 18-2-3 record and stories that will last a lifetime. Wall capped its brilliant season with a 24-1-2 record, a Shore Conference title and its second straight state title, this one of the unshared variety.
"To be a record setting team in our school is phenomenal. We are not generally known as a big-time girls soccer program, but I'd like to say that maybe we are now," said Pfeifer, who just finished his fifth season as Westwood's head coach. "We are spread around every grade and I would like to think that this is something that is sustainable. I have challenged the juniors and sophomores and freshmen that will be returning to come right back to this spot again next year."
TO BUY A COLLECTOR'S PRINT OF THIS STORY PLEASE VISIT 4-FeetGrafix.com. FOR MORE PHOTOS FROM THIS GAME CLICK HERE!