Joey Belli scored a team-high 13 points for Wayne Hills, which improved to 10-5 on the season with a 61-51 win on the road in West Milford on Tuesday night.
WEST MILFORD – There are different adjectives to describe the different top boys basketball teams. Some are overtly talented, some are gritty, some are supremely athletic or long or deep, etc. For Wayne Hills, the best descriptive word is composure. A close-knit group that starts four seniors, it is tough to ruffle the Patriots.
"We know we might not be as athletic as some of the top teams that we are going to have to go up against in counties or states," said Wayne Hills senior guard Joe Belli, who will play at St. Anselm College, a Division 2 school in New Hampshire, next season. "We might not be as talented one-versus-one, but we know that if we play as a team, if we stay composed and we just stay the course that we can compete with anyone."
With Belli, Jason Modak, Pat Gilmore and Justin Wills in the starting lineup and Joe Cerrone playing heavy minutes in the rotation, this core group of seniors has gotten so close to that signature title that would stamp its legacy. Last season the Patriots pushed eventual Group 3 state champion Teaneck into overtime in the North 1, Group 3 state sectional quarterfinals and lost to Kennedy in overtime in the semifinals of the Passaic County Tournament.
Is this the year that the Patriots break through and will it be in the county tournament where they are the No. 3 seed behind Wayne Valley and top-seed Eastside?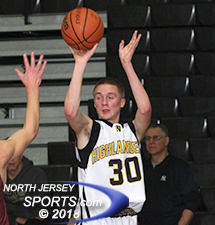 West Milford junior Josiah Basket made four 3-pointers and finished with a game-high 21 points.
"I am beyond confident that this is the year that we can win a county title. With that being said, we had Kennedy at our place last week and lost in overtime and we lost to Wayne Valley earlier in the year and they are the 1 and 2 seeds," said Kevin Grimes, who is in his fifth season as Wayne Hills' head coach. "So if we want to go do that we have to beat two teams that we lost to earlier this year, both in close and really good games. We are there, we are right there, but we have an abundance of work to do to finally go with this county."
First things first, however, and the Patriots have to continue to take care of business in the regular season, which brought them to West Milford on Tuesday night. Having smoked the Highlanders the first time around, Wayne Hills needed to show its now patented composure against a West Milford team that was geared up for the challenge and had a good game plan.
The Highlanders used pressure to try to force the ball out of the hands of Wayne Hills' talented backcourt, daring the big boys to beat them. The Patriots stayed composed, adapted in kind and worked through the middle of the floor. After a back-and-forth first 15 minutes, Belli got the basket with 58 seconds to go in the first have to give Wayne Hills the lead for good. West Milford made its share of runs in the second half, but the Patriots never wavered in a 61-51 win that makes them 10-5 on the season.
Wayne Hills senior Jason Modak scored five points and then announced his commitment to play football at Holy Cross.
"I can't remember, at least since I have been here for the last five years, that a Wayne Hills/West Milford game was played in the low 60s and 50s. Give them credit. They slowed us down early on with zone pressure to try to force our guards out because we are so guard oriented," said Grimes. "But again, back to composure, our bigs – Jason Modak, Patrick Gilmore, Joe Cerrone, Pulast Thacker – did such a good job finding gaps in the high post and we were able to play high/low off of it to open up stuff for our guards. It is usually our guards every night, but tonight it was our bigs."
West Milford senior Andrew Finke, who went over the 1,000-point career point mark last week, scored on the fast break just ahead of the first quarter horn to tie the game at 14 and there were four lead changes and two ties in the second quarter, the last of which was Belli's bucket that put Wayne Hills in front for good. Mike Joyce's three-pointer with 12 seconds left in the second quarter put the Patriots up 32-27 at the break and they added the first three points of the second half to establish the largest lead for either side to that point at eight.
West Milford hung around with Josiah Basket's four-point play closing the gap to 35-32 and the Highlanders were also within three points at 39-36 and 41-38  before Wayne Hills extended its advantage to 45-38 at the end of the third period with Thacker scoring off a feed from junior Jake Belli, the only non-senior in WH's starting five.
West Milford senior Andrew Finke, who went over the 1,000 career point mark last week, finished with 16 points.
The Highlanders got as close as four points in the fourth quarter, 49-45, with Basket make the last of his four three-point baskets with 6:25 to play, but Wayne Hills never panicked as it responded in typical with a 6-0 run that all but put the game away. All three of those clutch hoops came off assists as Modak found Cerone cutting to the hoop for the first one, Cerone returned the favor to Modak for the second and then Joe Belli set up Modak for the bucket that put Wayne Hills in front by double digits for the first time at 55-45 with 3:03 to play.
"I think this is the best game we have played in the last few years intensity wise. They play the best defense of any team we play all year, but I really loved the way we held our own. It was 44-15 at halftime the last time we played them and this time we were right there all the way to the end," said West Milford head coach John Finke. "It was a five-point game in the middle of the fourth quarter and we missed some shots that could have changed the game and that was the key. Once they get the lead and extend it, they have such good guards that they are not going to give it up."
Basket led the way for West Milford with 21 points while Finke finished with 16. Brandon Licursi, Kevin DeRaffele and Kevin Schaeffer all added four points and John Jacobs had the other two for the Highlanders, who fell to 4-8 on the season but are still competing. Seeded 10th, they will host Lakeland in the preliminary round of the Passaic County Tournament on Saturday. A deep run is not out of the question, but it will be tough being in the same side of the bracket as both Wayne Valley and Wayne Hills, who have byes to the quarterfinals.
"I would just like to get past Lakeland, get to the next game [against No. 7 Clifton] and see what happens there," said John Finke. "I think we are starting to get it, I really do. Our center went down with an injury a couple of weeks ago and it has taken a while to learn to play without him, but we are figuring it out."
Wayne Hills' unselfishness showed up on the score sheet as eight different Patriots scored and seven of them made multiple field goals. Joe Belli (13 points), Jake Belli (11 points) and Cerone (10 points) all finished in double figures and they were supported by Wills (7 points), Modak (6 points), Thacker (6 points), Joyce (5 points) and Gilmore, who stepped out and hit a first quarter three-pointer.
The Patriots have purposely played a tough schedule to get ready for deep postseason runs. Their five losses have come to Pope John, Bergen Catholic, Hackensack, Kennedy and Wayne Valley and they are already battle-tested for a stretch drive that will be led by the Class of 2018, which includes Modak, who announced his commitment to play football at Holy Cross after Tuesday night's game.
"I just want to cherish these last couple of weeks. I am never going to play basketball ever again and I am going to cherish these moments and I want to go get something," said Modak, the rare three-sport athlete who also plays baseball. "This means a lot to me. We need to keep our composure, keep playing tough basketball and play together; that is all we have to do. When we play together we are a great team and we can compete with anyone."
TO BUY A COLLECTOR'S PRINT OF THIS STORY PLEASE VISIT 4-FeetGrafix.com. FOR MORE PHOTOS FROM THIS EVENT CLICK HERE