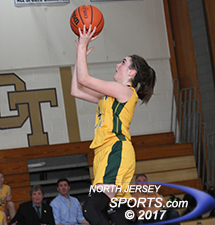 Pascack Valley junior Brianna Smith buried a 3-pointer to halt and Old Tappan surge and the Indians pulled away in the fourth quarter in a 44-32 road win on Tuesday.
OLD TAPPAN - It was late in the third quarter and Northern Valley/Old Tappan had the ball and a chance to take the lead for the first time in the game against defending Group 3 state champion. But rather than set up a nail-biter for the final 10 minutes or so, Pascack Valley instead got a stop and turned the game back in its favor for good. The Indians closed the game with a 14-3 run en route to a 44-32 victory over rival in Old Tappan on Tuesday afternoon. The win was victory No. 993 for PV head coach Jeff Jasper.
"It is a hard because we've played with them our whole lives," PV senior Kelly Smith said of the Golden Knights. "We've always been rivals, but I think it's our most exciting game because both teams are out for blood. That game is the most intense, most physical game. You leave everything out on the court. It's the game we want to play most but we want to win too."
"Last year they were our only loss," added senior Brianna Wong. "It doesn't mean anything because it's a new year. They are coming back to beat us and they came hard to play so we had to come and play harder."
The Golden Knights had just gone on a 12-6 run to cut Valley's lead to 30-29 with 2:33 to go in the third quarter as senior Alexandra George, back in the lineup after an ACL injury last season, came alive with two field goals and two foul shots. Senior Sophie Downey added a basket as did junior Jaclyn Kelly, who finished with a team-high 15 points.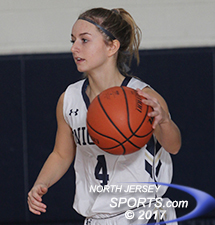 Jackie Kelly finished with a team-high 15 points for Old Tappan.
"Since it is our biggest game we have to play our heart out," said Smith. "In counties last year we lost and it was a blow to the heart, a very hard day for us. They're just like us - they're very competitive and hard-working too."
"Old Tappan is so tough - they're so good," said Jasper. "The kids are well-schooled and Brian [Dunn] is a great coach. So for us to be ahead early by as much as we were was great because otherwise that cushion wouldn't have been there. Old Tappan never quits so whatever you're up by they're going to come back at you."
Valley junior Brianna Smith stopped the bleeding by burying a three-pointer. Twenty seconds later senior Kelly Petro zipped a pass inside to Kelly Smith for a layup and then Brianna Smith caught a long pass and beat the Old Tappan defense down court for a layup to boost the Indians lead to 37-29.
"We may have rushed things here and there but I give credit to Old Tappan's defense and what they did," said Jasper. "We went on that 9-0 run and I thought the key thing was great rebounding by Kelly Smith and there were some great passes by [Kelly] Petro and Bri Smith hit that killer three from about 40 feet away from the rim. Those were the keys."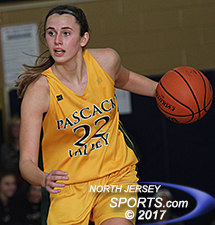 Kelly Petro did a little bit of everything to help Pascack Valley win its third straight game to start the season.
"I guess our momentum changed," added Kelly Smith. "You're never safe in any game. Whatever lead you have is never solid. We realized it could change at any moment. Jasper tells us to play the game with heart and guts. We huddled and said, 'you gotta want it.' We all came together, we wanted it and we got it."
Kelly Smith drove and scored 20 seconds into the fourth quarter to complete a 9-0 run to make it a 10-point lead, 39-29. Golden Knights junior Noelle Gonzalez scored to break the string but Old Tappan would only score one more point, a free throw by Downey, the rest of the way as the Valley defense stepped up.
"Defensively," said Jasper, "if you hold a team like this to 32 you're playing pretty good 'D.'"
Valley ran out to a 6-0 lead in the first three minutes of the game and had a 15-7 lead heading into the second quarter, as Wong and Brianna Smith each tallied six points. In the second quarter the Indians moved the ball smartly around the perimeter to grab a 22-9 lead. Wong drained a three and Petro and Brianna Smith each scored a two-point basket. With a minute to go in the first half Wong stole the ball and drove coast-to-coast for a layup and the Indians went into the halftime intermission with a 24-27 lead.
Wong finished with 14 points and three steals. Brianna Smith led all scorers with 17, while Kelly Smith pulled down 12 rebounds.
"Everyone is counting on us," said Wong. "All the senior guys that come to the game all text in a group chat. They're saying, 'this is the biggest sport of the year, we're so excited to come watch you guys.' It's awesome. You feel so great playing out there when you hear the student section cheering you on."
"Since we had such an amazing season last year I guess there is a lot of pressure on us this year. But I think if we keep coming out every game like there is no record, [playing like] every game is a new game, a game we can lose at any time, [we will be fine]," added Kelly Smith. "I do expect good things for this season and I just want to stay positive."
TO BUY A COLLECTOR'S PRINT OF THIS STORY PLEASE VISIT 4-FeetGrafix.com. FOR MORE PHOTOS FROM THIS GAME CLICK HERE!