Bridget Cahill scored 7 points for River Dell, which snapped its four-game losing streak with a 39-19 win over Mahwah on Friday night in Oradell.
ORADELL – Not to say that an early season four-game losing streak was part of an overall grand plan, but River Dell girls basketball coach Lindsay Steffner knew that she was risking those type of outcomes when she entered her team in the ultra-competitive Joe Poli Holiday Tournament. After a tough-to-swallow overtime loss to Westwood right before the Poli and then three straight tough opponents in it, it is only now that the Golden Hawks can take a deep breath and realize that the gauntlet they just ran ultimately might help.
"It was a tough schedule in the Joe Poli and that was designed. What was not designed was losing by two in double overtime to Westwood right before going in, but I put us in the Poli to make sure that we were ready for league play," Steffner. "Two of our losses were by less than five points so our record could easily look different, but a team that wants to be competitive has to be able to take a loss and learn from it."
Back home and back in league play on Friday night, River Dell finally got a chance to take what it learned and put it into practice. The result was a 39-19 win over Mahwah and an emphatic end to its four-game losing streak.
"I am completely behind coach [Steffner]'s decision to put us in that [Poli] tournament because, win or lose, because the competition we saw was a lot tougher and now we are a lot more prepared for what is going to come at us as the season goes on," said River Dell senior Katelyn Gillies. "Win or lose, we learned a lot and we came out tonight with a lot of confidence."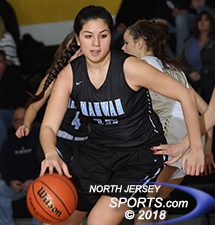 Sam Haubner scored a team-high 9 points for Mahwah, which fell to 3-3 on the season.
It was a tight game early as Mahwah took an 8-7 lead on an Emily Mohre pull-up jumper with 3:02 left in the first quarter, but the momentum was just about to turn. Julie McGovern made a free throw to tie the game and then hit Gillies on a cut to the basket to give River Dell the lead for good. Bridget Cahill's three-pointer gave the Hawks a 13-8 lead at the end of the first quarter and it was all a part of a 19-2 run that ended with a Gillies putback midway through the third quarter and 27-10 River Dell lead.
"Coming off of four losses in a row we were all hungry for a win. We practiced hard yesterday against the zone because we knew we were going to see that in this game and I think we moved the ball really well," said Cahill, a junior guard. "We knocked down some open shots when we got them."
McGovern, despite battling a bit of sickness, was the key for the Hawks' offense as she was consistently able to break down the outer edge of the Mahwah zone and then find cutters or spot up shooters with their feet already set. McGovern found Cahill for an open three that made it 20-8 late in the second quarter before the Hawks settled for a 20-10 halftime advantage.
Kaitlyn McKinless hit one of her two three-pointers in the game to kick off a 7-0 run that River Dell opened the half with to solidify its advantage. Cahill scored on the baseline and Gillies hit the offensive boards to make it 27-10 with 4:20 to go in the third quarter.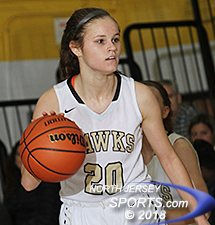 Julie McGovern was effective against the zone and helped River Dell get back to 3-4 on the season.
"We moved the ball much better than what we have in the past against zones. We have some shooters and I feel like we are going to see a lot more zone, so we have to get the ball to those shooters in a position where they are comfortable knocking down those shots," said Steffner. "We can't settle for rushed shots with the defense flying out at us. And tonight, Julie McGovern really did a good job picking apart the top of the zone, driving and getting into gaps and that really helped us."
Emily Preyor finally broke the schneid for Mahwah, which rattled off the next five points, but Gillies' conventional three-point play pushed River Dell back up by 16 points, 30-14, at the end of three quarters.
"We have really on had one game this year where we have played solid for a full four quarters when we put up 56 [points] against DePaul. That was the only game where we really did what we were supposed to do and the ball went in the basket," said Mahwah head coach Scott Papetti. "Defensively we are good. We have held teams, everyone except Westwood on opening night, to under 40. Offensively, the ball is just not going in the basket right now and we have to continue to work to get better at that end of the floor."
Sam Haubner's nine points led Mahwah, but no Thunderbird made more than two field goals. Hannah Busch (4 points), Emil Mohre (3 points), Karalyn Himpele (2 points) and Preyor's free throw round out the scoring for Mahwah, which fell to 3-3 on the season.
Gillies (10 points) was the only player for either team to finish in double digits, but the Hawks were balanced as they passed up good shots for better ones. Cahill finished with 7 points, McKinless and McGovern each added 6, Chloe Derian and Logan Grebla each finished with four points and Adrianna Scipioni had the other field goal for River Dell (3-4), which crept back to within one game of .500 with games against Dwight Morrow, Ramsey and Glen Rock coming up.
TO BUY A COLLECTOR'S PRINT OF THIS STORY PLEASE VISIT 4-FeetGrafix.com. FOR MORE PHOTOS FROM THIS GAME CLICK HERE!