Senior Harrison Lucibello scored the first three and the last two points of a 10-4 fourth quarter Cresskill run that gave it the separation it needed in a 54-48 win over Westwood in the Jambo's Round of 16.
ALLENDALE – Westwood was pushing hard. The 11th-seeded Cardinals, who had fallen behind by double digits just seven minutes into the game, scored the first basket of the fourth quarter to sneak back to within three points of sixth-seeded and undefeated Cresskill.
It was that point in a game that calls out of an experienced leader to step up and Cresskill, which had won its first 16 games of the season, has a bunch of them to choose from. This time it was Harrison Lucibello.
"Confidence. It is all about confidence and I knew I was going to make a shot when I got the ball," said Lucibello. "Westwood was a tough team, physical, aggressive and we knew we had to keep scoring."
The shot was a pull-up three-pointer from the right wing that looked good in the air and better going right through the heart of the rim with 7:21 left in the game. Wellington Ventura then ruined Westwood's next possession with a steal at midcourt, a couple of dribbles and then a two-handed dunk that came with a bonus foul shot. Ventura completed the conventional three-point play for a quick 5-0 that gave Cresskill the breathing room it needed in a 54-38 victory at Northern Highlands High School.
"We have been playing together for as long as I can remember and that helps in situations like this," said Ventura, one of 10 seniors on the roster and one of five in the starting lineup that did all of Cresskill's scoring. "Everyone one of us knows that we can trust our teammates when games get close."
The game did not look like it was going to be close through one period of play. Luka Radovich, a tough matchup at 6-foot-4 with 3-point range, scored 13 of his team's 15 first quarter points, including a trio of three-pointers, as the Cougars ran out to a 15-5 lead after the first quarter.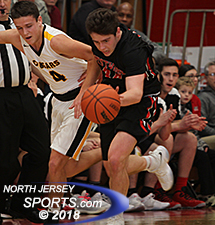 Colin Liddy (right) made three second quarter 3-pointers to bring Westwood from down 9 to all square at 15.
Colin Liddy, Westwood's senior 1,000-point scorer, has shown what he can do on a big stage as last weekend, in an opening round win over Rutherford, he hit three third quarter three-pointers. That same output came one period earlier on Saturday as he made three second quarter triples to help get the Cardinals back in the game. They came in the span of just 1:15 and made up the final nine points of a 10-0 Westwood run that got it right back even at 15-all.

George Sikoryak scored four straight points late in the second quarter and Cresskill was ahead 22-18 at halftime, but the Cougars knew that they were in for a grueling final 16 minutes.
"You can't say enough about Westwood. They are a tough, tough team. Competitive and they did not quit at all. They just kept coming at us," said Dan Egorow, Cresskill's first-year head coach who has yet to lose as game since getting the full time gig prior to the season. "They were down 10 points in the first quarter and they caught right back up in a hurry and we knew we had a lot of work to do after halftime."
Cresskill added one point to its halftime lead in the third quarter and led 31-26 before Westwood made it a one possession game right out of the shoot in the fourth quarter. Joe Kramer, Westwood's all-county tight end who did his damage by running the floor in the opening round, only scored one field goal against Cresskill, but his passing from the high post was on point. He hit Nick Navarro on a backdoor cut for the bucket that made it a three-point deficit.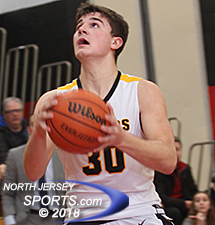 Luka Radovich scored a game-high 23 points for sixth-seeded Cresskill, which will play No. 3 Hackensack in the Jambo quarterfinals next weekend.
Enter Lucibello, who hit that dagger from the wing 19 seconds later to kick off a 10-4 run that ended with a two Lucibello free throws that made it 41-32 with 5:23 left to play.
"It's senior leadership and it is a guy who is not afraid of the big shot. [Lucibello] wants the ball in his hands in crunch time," said Egorow. "But we got a lot of contributions. I thought one of the biggest plays that we had was Joe Lockhart knocking down fourth quarter foul shots. Joe is not normally a starter for us, but he was today, the ball was in his hands late in the game and knocked down four big free throws."
Free throw shooting has not necessarily been a strength for the Cougars this season, but they were against Westwood. Cresskill was just 1 of 2 from the line through the first three quarters, but went 10 of 12 in the final 5:23 of the game to keep the Cardinals at bay.
Lockhart was 4 for 4 in the fourth quarter, which accounted for all four of his points in the game, but even after he made both ends of a one-and-one with 1:21 to go to make it a seven-point spread, Westwood's Scott Rosenfeld hit a three-pointer to drag his team back to within 48-44. Sikoryak, Lockhart and Radovich combined to go 4 of 6 from the line in the final 30 seconds to keep Westwood from getting any closer.
Liddy led Westwood with 19 points, but no other Cardinal reached double figures. Rosenfeld finished with 8, Navarro had 6, Steven Reidel and Kramer each added 5 and Xavier Landers made three fourth quarter free throws. Steven Walsh beat the final buzzer for the other two Westwood points.
Cresskill had just five players score and three of them – Radovich (23), Sikoryak (12) and Ventura (10) – reached double figures. Lucibello scored all five of his points to start and end the key fourth quarter fun and Lockhart's four free throws made up the rest of the scoring for the Cougars. As the No. 6 seed, Cresskill will turn from Round of 16 favorite to quarterfinal underdog when it gets a shot at No. 3 Hackensack at the Rothman Center next weekend.
Already set as the No. 1 seed in the North 1, Group 1 state sectional tournament and the prohibitive favorite to win the outright NJIC title, which will be decided on the floor in a mini-tournament format, the Cougars have a chance be thought of as something more than a small school power.
"We have a lot to prove and we are going to get the chance to do it," said Lucibello. "People might underestimate us, but we are going to come out ready to play our best game."
TO BUY A COLLECTOR'S PRINT OF THIS STORY PLEASE VISIT 4-FeetGrafix.com. FOR MORE PHOTOS FROM THIS EVENT CLICK HERE!