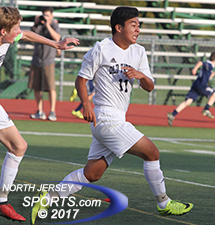 JeeHo Yun celebrating his game-winning goal with one minute left in regulation that gave NV/Old Tappan a 3-2 victory over Northern Highlands and a spot in the Bergen County Tournament final.
FRANKLIN LAKES – There were six-and-a-half minutes left in his Bergen County Tournament semifinal match against Northern Highlands, his team had just missed a penalty kick and was trailing by a goal. It was not yet time to throw in the towel by any means, but if the score had stayed that way, Northern Valley/Old Tappan head coach Mark Torrie had already found his silver lining.
"I did not tell my wife that the county final is next Saturday night. Superstition or whatever and who knows if we would get there, so I didn't tell her and she is planning a big Halloween party at my house," said Torrie. "If we would have lost this game I would not have had to tell her at all and everything could have gone on as planned."
SPOILER ALERT: Mrs. Torrie, your husband will be late for his own party. Please don't blame the messenger.
With two goals in the final five minutes, the last coming with just one minute even showing on the second half clock, Northern Valley/Old Tappan stunned Highlands and grabbed a 3-2 victory at Ramapo High School in Franklin Lakes on Sunday afternoon. The Golden Knights will try to break Ramapo's three-year hold on Bergen County supremacy in the county final on Saturday night at Indian Hills High School. That game, not the Halloween party, will start promptly at 7 p.m.
Sometimes games of such magnitude are defensive affairs, especially in the opening minutes, with each team loathe to leave any space behind. That was not the case between Old Tappan and Highlands, two teams looking to exploit every chance on the ball right from the opening whistle.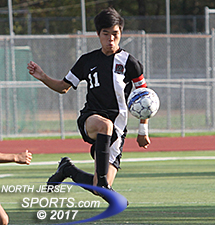 Andrew Ma rifled in a shot to give Northern Highlands a 2-1 lead midway through the second half.
Old Tappan runs three up top, so their offensive aggression is a given and Highlands zips around the midfield, but neither could make a dent until a one-minute span late in the first half. Highlands opened the scoring when Andrew Ma played a cheeky free kick, a roller under the jumping wall that Old Tappan had set up in the box. Evan Garbutt only had to step over the rolling ball and pound it in. That 1-0 advantage lasted exactly 1:02 before Colin Eifert, Old Tappan's central defender who gets himself involved on restart situations at the opposite end, headed one off the post and in 3:18 before halftime to tie the game at 1.
Highlands had started to take over possession late in the first half, so Eifert's goal was somewhat against the run of play. The same could be said for Highlands' second goal which came right after Old Tappan had four legitimate chances in a four-minute span. Highlands keeper Dominic Belz robbed Sam Kang with a fingertip save in the 53rd minute, Danny Yun buzzed the tower with a rip that said just wide right in the 54th minute and Yun skimmed the crossbar with a shot off a throw in in the 56th.
Two minutes after that, Highlands senior Andrew Ma, running up the left side, used a short poke to play himself into space and then smacked one inside the opposite post to give Highlands a 2-1 lead with 20:24 to play.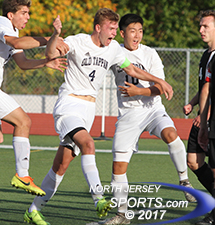 Colin Eifert scored twice on aeriel headers for Old Tappan, which will play Ramapo on Saturday for the county title.
It looked like it was just not going to be Old Tappan's day as, despite all of its forays forward, the Knights were continually turned aside. Belz stoned Eifert clean on the penalty kick try with 6:30 to go in regulation and then sped out with vigor to break up a potential breakaway chance for Yun with 5:22 to go.
It was a minute-and-half chock full of disappointment for Old Tappan and especially for Eifert, who stayed focused on making his next chance, if he got one, count.
"That was terrible. I did not put the ball where I wanted to put it and he [Belz] made a really good save. That was really a disappointing effort," said Eifert, who will play at Bucknell next year. "It's tough because you don't want to let your team down. You don't want to be the one that is messing up those opportunities, but I think that just motivated me to put the ball in the back of the net."
Eifert did not have to wait long for the next chance and this time he made no mistake. Eifert cleared the crowd on a corner kick sent in by Sam Kang and headed it off the bottom of the crossbar for his sixth goal of the season. That one tied the game at 2 with 4:54 remaining.
"What can you say about that?" asked Torrie. "I guess that is why he [Eifert] wears the captain's armband. That is leadership."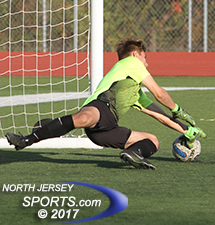 Highlands keeper Dominic Belz snuffing out a penalty kick that get his team in front momentarily late in the second half.
Not happy with just a shot at forcing overtime, Old Tappan kept after it and got a break that helped its cause. Just trying to lump out of trouble the Knights' clearance turned into a keeper's nightmare. Belz, who was stellar in net all day long, was off his line to bolster the Highlanders buildup out of the back, he was forced to retreat in the pursuit of one of those long balls that takes a high bounce while being inside the confines of the framework. Belz had to go up and grab the ball near his own 6-yard box, but, with his momentum carrying him toward the goal line, he was forced to dump the ball outside the post before winding up in his own net.
Then Yun played a short corner to Kang, who won the endline and sent in a rolling cross for JeeHo Yun, who needed only to tap the game-winning goal into the open net.
"Danny [Yun] got the ball and put it down as quick as he could and Sam was able to see me at the far post. I just had a simple tap-in. Most of the credit has to go to those guys. They did all the hard work," said JeeHo Yun, who even had time to ponder the moment before knocking in his third goal of the season. "At first it was like, Oh, my God I hope it doesn't come to me because I don't want to mess this up, but then in that moment I actually did really hope the ball got to me because I wanted to get that goal for the team."
He did and Old Tappan is moving on to the county final against the three-time defending champ even if that means putting the Halloween festivities on hold for an extra hour or two.
"It's just a great opportunity. [Ramapo] is what we are striving to become. In order to get there we have to prove that we are able to compete with them and I think we can," said Torrie, whose program is in search of its first county title since beating Ramapo to win its lone championship under Mike Hanchar back in 2011. "The level of the Ramapo program at all three levels, from top to bottom is what we aspire to be and I think we are on our way. I don't think we are there yet, it's going to take two, three or four more years to build it, but we are going to go to the county final and give it a go. It is a one-off game, we have nothing to fear. We know it is going to be a challenge."
TO BUY A COLLECTOR'S PRINT OF THIS STORY PLEASE VISIT 4-FeetGrafix.com. FOR MORE PHOTOS FROM THIS GAME CLICK HERE!