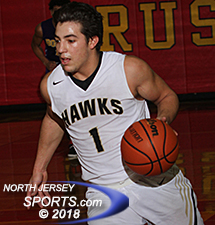 Senior David Estevez scored 16 of his game-high 21 points in the first half as River Dell pulled away for a 51-38 win over Bogota in the opening round of the Bergen County Jamboree on Saturday.
ORADELL – In his Hall of Fame career with now numbers 39 years, Bogota head coach Jay Mahoney has led his program into the Bergen County Jamboree 18 times. Mahoney's Bogota program is the only Group 1 ever to win the Jambo and he has done it not just once but twice. He is a state-wide hoops legend, his team was the No. 17 seed coming into this year's Jambo and River Dell head coach Ron Van Saders knew exactly what he was up against.
"Mr. Mahoney is a legend. If you know basketball in this county you know that. His team is good, Bogota is a good team and we knew we were going to see all kinds of zones," said Van Saders. "We had to get off to a good start because in Jambo game the last thing you want is to start slow and then tighten up."
Mahoney used all of the tools at his disposal, multiple defensive zone schemes and even four first half time outs, but River Dell came out the opposite of tight and took control early, really early. The Golden Hawks scored the first six points of the game and Mahoney used his second timeout just 55 seconds into the game. Although Bogota was able to string together a run or two of the ensuing 31:05, River Dell led wire-to-wire in a 51-38 victory.
"We were prepared for the zone and all of the credit for that has to go to Coach Van [Saders] in our practices. He gives us great looks and when we come into a game we know exactly what to expect," said River Dell senior Jack Capasso. "We are always confident that no matter what game we are playing or who the opponent is that we are going to give ourselves a chance to win because we are going to play hard and have fun. That is what we did today and it was successful for us."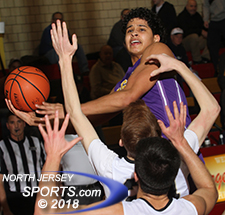 Deiker Padrino scored 8 of his 10 points in the second half for Bogota, which was playing in the Jambo for the 18th time in the 39-year tenure of head coach Jay Mahoney.
No matter the number code assigned to the name of the zone, it always adds up to five and there are always some soft spots that come with it and with Dave Estevez working the foul line area, River Dell played through him and found success. The first team All-County quarterback who led River Dell to a second straight state sectional championship in December scored 10 points in the first quarter and 16 of his game-high 21 in the first half.
River Dell led 19-10 after the first quarter, hit a double-digit lead for the first time, 27-17, on Alex Rivera's driving layup with 2:54 left in the second quarter and the lead ballooned to 34-17 by halftime as the Hawks closed the first half on a 9-0 run. Brendan Golden scored all four of his points in that spurt and Estevez finished it off with an easy bucket in transition. Rivera scored the first four points of the second half and River Dell had Bogota doubled up on the scoreboard.
"We knew that No. 11 [Deiker Padrino] was a real good player for them and we had to limit him. We had to play good team defense and not let him go off and carry them," said Rivera, who scored 11 of his 15 points in the first half as River Dell pulled away. "Offensively we just had to find the middle [of that zone] and everything would open up for us from there and we would be able to get some layups."
Padrino, a senior and Bogota's leading scorer, was held to just two points in the first half but came on midway through the third quarter as the Bucs made their most concerted effort to get back in the game. Bogota put together a 14-2 spurt over the span of final six minutes of the third quarter. While River Dell was trying to melt some time off the clock, Bogota was making the Hawks miss and then taking advantage on the other end. Padrino hit back-to-back baskets and then junior Ben Lukabu scored five straight points to get the Bucs back to within single digits, 40-31, with 33 seconds left in the third quarter.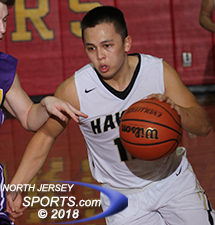 Alex Rivera scored 15 points for No. 16 River Dell, which will play top-seeded Bergen Catholic in the Round of 16.
"I was very proud of the group that played in the second half, very proud. We competed like crazy," said Mahoney. "We would have to have been very hot to have been able to beat them and, even though we got close, we were not going to beat them in the second half. They got too far ahead and they were too well-coached against our half-court trap, but the second half was a much better effort by us on the defensive end."
River Dell snatched the momentum back on Capasso's buzzer-beater at the third quarter horn to go up 42-31 and Bogota never got back to within single digits.
Behind Estevez's 21 points, which led all scorers, Rivera finished with 15, Capasso added 7 and Golden and Sal Albanese each added four. Albanese, River Dell's senior point guard who was listed in the program at 5-foot-9, also hauled down a game-high 14 rebounds. Bogota had three double-digit scorers in Lukabu (13 points) and Padrino and Argenis Soriano, who each finished with 10. Tim Uzor rounded out the scoring for the Bucs by dropping all five of his points in the first half.
So now it is on to the Round of 16 where River Dell will be a decided underdog against Bergen Catholic, a finalist last year and this year's top seed.
"The one thing about our kids is that we have been here a few years in a row now and we have some kids with experience. We were ready for this game today and it is always nice to get a win in the Jambo," said Van Saders. "And next week we will take a shot. [Bergen Catholic head coach] Billy [Armstrong] is a friend of mine and he does a great job. We will be prepared and we will compete, but we know the task. We just want to compete and make sure they know we are here and that we are here to play."
TO BUY A COLLECTOR'S PRINT OF THIS STORY PLEASE VISIT 4-FeetGrafix.com. FOR MORE PHOTOS FROM THIS EVENT CLICK HERE!