Middletown South celebrated its first trip to the state final since 2000 after its 1-0 upset of Northern Highlands in the Group 3 semifinal round on Tuesday in Livingston.
LIVINGSTON – The pressure that Northern Highlands applies from start to finish is usually what breaks its opponent. Sometimes it happens early in a game, sometimes it pays off later, but it just about always bears fruit sometime. It is how the Highlanders evolved from solid North Jersey public school to the state's top girls soccer program, bar none, in all of the state of New Jersey.
This year's Highlands, ranked No. 1 in the state with a perfect 21-0 record coming into Tuesday night's Group 3 state semifinal, can turn the screws in a variety of ways. The Highlanders can own the center of the field and make determined runs right down the middle. They can get the ball wide and send in crosses with uncanny accuracy while runners crash the goal. They can pass the ball in tight spaces and even when the defense does manage to clear the ball, Highlands' back line sits high up the pitch, wins balls and sends them right back into the pressure cooker inside the offensive third.
That being said, Middletown South had a game plan and then went out and executed it.
"Best case scenario," said Middletown South head coach Megan Barry, "was let's score a goal early and then hold them and be conservative."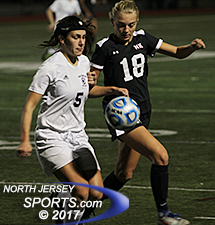 Allie Hite (18) and Highlands put loads of pressure on Christina Sundt and the Middletown South defense, but came up empty in the end.
The Eagles handled the first part of the plan in the eighth minute and then spent the next 72 minutes carrying out the second part. Middletown South stood up to wave after wave of Northern Highlands pressure, spending most of the second half on the defensive side of the midfield stripe, but never faltered in a 1-0 upset that denied Northern Highlands a spot in the Group 3 final for  just the second time in the last nine years. Instead it is Middletown South heading to Kean University on Saturday where it will play Allentown in the Group 3 championship match.
The most crucial part of turning a plan into reality was the early goal. Northern Highlands had given up just four of them all season, so the Eagles were not going to get many chances and capitalizing when an opportunity came their way was of the utmost importance.
That moment came when sophomore Emma Laudisi slipped a passed to Grace Massell, who was ruled to be just onside on her way into a 1-v-1 situation against Northern Highlands goalkeeper Sarah Ghroashi. Massell kept her composure and won the battle to give Middletown South the 1-0 lead just eight minutes in.
"Emma Laudisi had gotten the ball and their backline was pretty spread out because it was a scramble. She just played the perfect ball and I started dribbling. They thought I was offside, but I wasn't," said Massell. "I just knew that I had to score at that moment because I knew that we weren't going to have that many opportunities. I just faked the goalie out and put it in."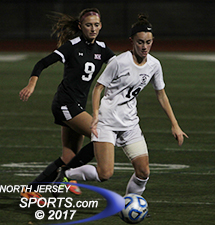 Grace Massell scored the lone goal of the game for Middletown South, which will play Allentown in the Group 3 state final.
With Part 1 completed it was on to Part 2, the defensive part that would take much longer than a flash breakaway chance to complete. The responsibility fell heavy on the Eagles' back line.
"Our defense has been extremely solid throughout the entire year. With Gabby Cook in goal, she has been phenomenal all season, and we have two sophomores – Filomena Degregorio and Lindsey Thompson -- at center back and outside back and Emily McCarthy at the other outside back. All three are strong athletes," said Barry. "They win their 50/50s, they are conservative when they need to be, they possess the ball when they need to and they make it a safe soccer game for us. They were busy tonight."
Highlands' chances to get even were too numerous to mention as it had the lion's share of possession throughout the second half. To put it in perspective, Cook made 15 saves to Ghroashi's one and that came with just under 12 minutes left in regulation when she snuffed out a volley by Lucianna Powell on Middletown South's lone shot of the second half. Cook, on the other hand, was called on often and made saves on Allie Hite, Katie Murray and Dipasupil twice all in the first five minutes of the second half.
Before going down with a knee injury with just three minutes left in the season, Dipasupil, a junior, was all over the place and created many of the Highlanders' best chances. It was just not meant to be this year for a Highlander team that needed penalty kicks just to get into the semifinals as it outlasted Roxbury in the North `1, Group 3 sectional final last week.
"It's been a fun ride and we certainly have something to aspire to next season," said Highlands head coach Tara Madigan. "This hurts, it is disappointing. This was a fun group and it was certainly a group that we wanted to get to the state final with, but sometimes it doesn't go your way. The other day was a prime example. We had some luck on our side and we managed to get through the sectional final and today we did not have luck on our side. I thought we dominated, I thought we had plenty of opportunities, we certainly had plenty of corner kicks, but the ball just didn't bounce our way."
TO BUY A COLLECTOR'S PRINT OF THIS STORY PLEASE VISIT 4-FeetGrafix.com. FOR MORE PHOTOS FROM THIS GAME CLICK HERE!