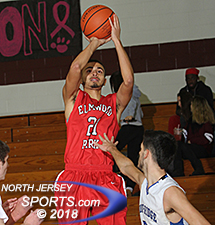 Justin Lopez was one of four Elmwood Park double-digit scorers as the Crusaders held off Wood-Ridge, 65-63, at the South Bergen Showcase on Saturday.
EAST RUTHERFORD – It is just three weeks into the season and Elmwood Park's boy basketball team is already acquainted with the term 'crunch time.' Through their first six games of the season the Crusaders had played two two-point games, two three-point games and two other decided by two possessions. So when Elmwood Park took an 18-5 lead against Wood-Ridge on Raydell Nivar's driving layup to open the second quarter of Saturday's South Bergen Showcase at Becton Regional High School, the Crusaders were almost too far in front.
"There were numerous opportunities for us to put the game away if we would have just stuck with what was working: moving the ball against the zone, going to the short corner and getting any shot we wanted," said Elmwood Park head coach Kevin Tuohey. "When we went to the one-pass-and-shot, we gave them more possessions and they got themselves right back in the game."
Instead of a comfortable victory for a change, Elmwood Park sweated out another tense four quarter and the game was not decided until a last second strategy was employed by each coach.

Wood-Ridge had whittled the EP lead all the way down to just three points on a Ryan Connelly three-pointer with eight seconds to go in the game and the Crusaders then missed the front end of a one-and-one with one second later.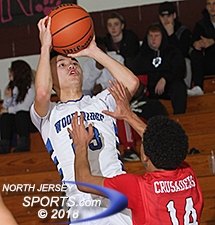 Luke Vu-Nguyen finished with 17 points for Wood-Ridge.
Touhey chose to foul to keep the Blue Devils away from a chance at a game-tying three-pointer, which forced Wood-Ridge head coach Jimmy Maher into a tough decision of his own. With four seconds left and after Jack Barteck made the first of two free throw attempts, Maher told his senior guard to make the second as well, which Barteck did to get Wood-Ridge to within a point with four seconds left.
The chess match went in Tuohey's favor when Wood-Ridge's final shot came from three-quarters court at the buzzer. When it missed, Elmwood Park had its sixth win in seven tries this season, 65-63.
"I figured that we had our best free throw shooter on the foul line and that if he made both of them we could foul and still have two or three seconds to get a last shot off," said Maher, who is in his first season as Wood-Ridge's head coach. "We are not the best offensive rebounding team in the word, so I figured make [the free throws], get the ball back and make a play."
That it came down to late-game strategy between the two coaches was a surprise in itself as Elmwood Park came out on fire. It scored 10 of the first 13 points in the game, went ahead by double digits for the first time, 16-5, when Nivar closed the first quarter scoring with a fastbreak bucket and then opened the second quarter with a driving lay-up. The Crusaders led by 13 points on three different occasions in the second quarter at 20-7 and 22-9, but Wood-Ridge finally got its offense in gear with an 8-0 run to tighten it back up.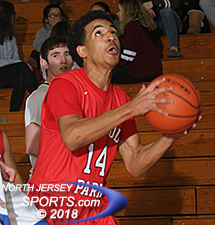 Raydell Nivar came off the bench to score 12 points for Elmwood Park, which improved to 6-1 on the season.
Senior Andrew Marino scored the final six points of the second quarter to make it official that the Blue Devils were back in the game as they drew to within 26-23 at halftime.
"We lost a little bit of urgency and maybe we got a little comfortable with the big lead," said Elmwood Park senior guard Grant Rodriguez. "We can't take any team or any situation lightly. If we want to be a good team and we can be a good team, we have to be humble and do what we have to do."
What Elmwood Park had to do was nurse a shrunken lead for just about all of the second half. Wood-Ridge did manage to get even once in the third quarter after three straight points by Marino made it 32-all with 4:55 to play in the third quarter, but the Crusaders answered with a 10-2 run and held a 48-43 advantage heading into the fourth.
Simon Hanna bumped EP's lead to 50-43 with a basket inside to open the final quarter and were up by 8 points, 61-53, with 3:48 left in the game after Rodriguez three-pointer and a Nivar free throw, but Wood-Ridge just hung around until it could make a go of it late. Luke Vu-Nguyen scored on a driving lay-up with 3:35 to go, Marino nailed a three-pointer with 1:34 left to get the Devils to within 61-58 and EP left the door slightly open by making just one of three free throws in its first two visits to the line in one-and-one situations. Connelly's three with eight seconds left got Wood-Ridge as close as 64-61 and set off the chain of events inside the final 10 seconds that eventually led to Elmwood Park getting out of the gym with its two-point victory. Other winners at the five-game South Bergen Showcase included Lodi, Rutherford, Wayne Hills and Lyndhurst.
Elmwood Park is going to be a player in its league, in its state section and is a small school to watch in the early rounds of the Bergen County Jamboree. The Crusaders are deep for a Group 1 team and are not reliant one player to score the basketball. They put four players – Rodriguez (17), Justin Lopez (15), Nivar (12) and Hanna (10) – in double figures in scoring and have numerous players that can handle the ball and lead a break, which makes pressing them a risky proposition. And, obviously, Elmwood Park has already shown that it knows how to win close games.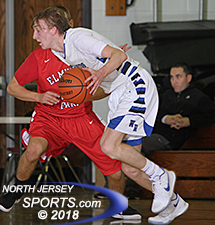 Andrew Marino finished with a game-high 24 points for Wood-Ridge, which fell to 2-4 on the season.
"We have a lot of senior leadership on this team, there are six or seven of us that play most of the minutes, and we know how to pull out games that are tight," said Lopez. "Our goal for right now is to win a league championship, get a Jambo berth and then go as far as we can in the states, but we know that we have to take it one step at a time and play every game like it is the most important game of the season.
Wood-Ridge was led by its senior trio of Marion (24 points), Vu-Nguyen (17 points) and Barteck (12 points), who all finished in double figures. Connelly and John Whaley each made three-pointers and Lirak Hasangjekaj added two field goals for the Blue Devils, who fell to 2-4 with the loss.
"We were down 18-5 to start the game and we put ourselves in a hole, but we fought back and I can't be mad about the effort level after that first quarter," said Maher. "I think we missed a few easy layups, we gave up a few open shots, but the way the kids fought to the end of the game, I am proud of the way they stuck with it."
TO BUY A COLLECTOR'S PRINT OF THIS STORY PLEASE VISIT 4-FeetGrafix.com. FOR MORE PHOTOS FROM THIS GAME CLICK HERE!