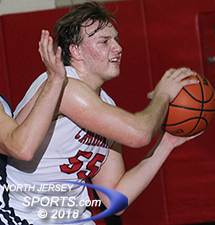 Joe Kramer ran the floor with passion all day and No. 11 Westwood was the beneficiary in a 44-41 win over No. 22 Rutherford in the opening round of the Bergen County Jamboree on Saturday.
ORADELL – There was just over six minutes to play in Saturday's opening round Bergen County Jamboree matchup and No. 22 Rutherford was sensing an upset. The Bulldogs had a lead at the end of three quarters and had just answered a 4-0 spurt by No. 11 Westwood when junior Breylyn Jones rose up and hit a three-pointer that pushed Bulldogs back in front.
It was right then when things could have gone sideways for the Cardinals in back-and-forth, throw-back game between two programs that used to play each other twice a year in the old BCSL-American Division.
Enter Michael Ray Santulli, who showed no hesitation in pulling up from the corner and knocking down a three-pointer from the corner with 5:11 left in regulation that put his team back in front and this time for good.
"Every shot I take I try to shoot with confidence and if it goes in I am just glad that it helped out my teammates," said Santulli. "That is all I ever really care about and I was just really looking to give my team a boost when I took that shot."
Westwood could have made it easier on itself by making a couple of more free throws down the stretch, but the Cardinals made just enough to pull out a 44-41 victory at Bergen Catholic High School and earn a spot in the Round of 16 opposite No. 6-seeded and still undefeated Cresskill.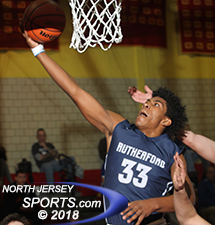 Lawson Fisher was a force inside for Rutherford and finished with a team-high 15 points.
"We just made a couple more shots than they did. [Rutherford head coach] Nick [DeBari] is such a good coach and such a good friend of mine so it was kind of playing, at least philosophically, a mirror image of ourselves," said Westwood head coach John Michael Santulli. "It's two teams with a lot of tough kids who, once in a while, make a couple of good basketball plays. And we made just a couple more than they did."
There were two first team All-County football players running the floor all day long as Westwood's Joe Kramer, who has committed to play at Dartmouth, and Rutherford's Lawson Fisher clogged things up in the middle and battled to a near draw. Kramer finished with 19 points to Fisher's 15, but not all of them came in the paint and Kramer's ability to get out ahead on the fastbreak was a real weapon. He won the race down three different times in the first half and made three easy baskets, which were not easy to come by for either team as they both pride themselves on their defensive intensity.
"Joe gives us so much on the defensive end. He is such a presence, but he has been struggling a little bit on the offensive end. He stepped up in a big way today," said John Michael Santulli. "With his size, obviously he is a defensive presence, but his strength, and this is why he is a Division 1 football player, is he is so fast for his size. He runs the floor as good as any big man I have ever coached."
Westwood's 1,000-point scorer Colin Liddy made three 3-pointers in the third quarter.
Kramer carried Westwood through the first half by scoring 10 of the Cardinals' 20 points through the first two quarters that ended with Rutherford in front, 22-20, and the Bulldogs opened the second half with a 7-3 run to build a six-point advantage, 29-23, their largest of the game.
Westwood did not make a high percentage of its shots, but it did make them when most necessary. Colin Liddy, the Cardinals' senior guard who went over the 1,000 career point mark last week, hit two three-pointers in the final 2:48 of the third quarter to get his team back to within 31-29 heading into the fourth quarter.
"I am just trying to move without the ball and let my teammates find me. And when I am open I shoot it with complete confidence. I have been a shooter my whole life and when my teammates find me I owe it to them to knock them down," said Liddy, who made four three-pointers in the game and three of them in the third quarter when he scored all nine of the Cardinals' points. "This has been my goal my whole life. When I was younger I would always want to come to Jambo games and I am finally here. It was a great experience."
Steven Reidel's two free throws to open the fourth quarter and Kramer's putback put Westwood in front, 33-31, with 6:19 to go before Jones hit what looked like it might be the game-changing three-pointer for Rutherford. That came 53 seconds before Michael Ray Santulli snatched the momentum right back for Westwood.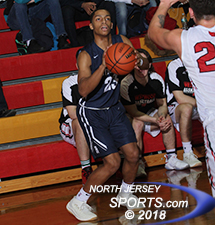 Breylyn Jones hit a 3-pointer with 6:04 left in the game that gave Rutherford its last lead of the game, 34-33.
"I was thrilled that we got in the tournament and we had a chance to win, we just didn't do everything that we could have to win it. We just weren't as connected to the scout[ing] report as we needed to be. There are areas that we need to grow in and one of them is to be more connected to the scout," said DeBari. "We gave up six points over the top of the fastbreak and we lost by three. We went over that, we discussed it, we just did not always sprint back and we lost Liddy three times for threes in the third quarter."
Still Rutherford was right in it when Fisher scored inside to cut the Bulldogs' deficit to 38-36 with 3:24 to go before Kramer scored four points in a 5-0 run that gave Westwood the breathing room in needed.
"My main source of points is running the floor and providing energy and Colin [Liddy] did a great job getting me the ball, Scott Rosenfeld did a great job getting me the ball and this was just great team win," said Kramer. "This guy [Liddy] hit three threes in the third quarter to keep us going when things were not looking that great and [Santulli] hit that big one right after they took the lead. Everybody on our team did something to contribute today."
If there was a negative for Westwood it was the free throw line where it was just a combined 7 of 18 for the game and just 4 of 10 in the fourth quarter. That left Rutherford hanging around into the final seconds where it grabbed a missed free throw with four seconds left and got off a potential game-tying heave from halfcourt that was off the mark.
Kramer and Liddy (12 points) combined for 31 of Westwood's 44 points while Michael Ray Santulli hit two threes to account for his six points. Rosenfeld and Steven Reidel each finished with three points and Xavier Landers' second quarter free throw rounded out the scoring for the Cardinals, who advance to play Cresskill in the Round of 16.
Rutherford's scoring was more spread out behind Lawson's 15. Jones scored six of his eight points in the fourth quarter, Nick Nunziato scored all six of his in a span of 2:49 in the third quarter and Johnny Mendez and Donald Bagnuolo each finished with three points. Demetri Burroughs, Zac Bouabidi and Richie Mendez shared the other three field goals for the Bulldogs.
TO BUY A COLLECTOR'S PRINT OF THIS STORY PLEASE VISIT 4-FeetGrafix.com. FOR MORE PHOTOS FROM THIS EVENT CLICK HERE!