Luke Fizulich scored a game-high 28 points for Old Tappan, which is playing its best basketball of the season. The Knights beat Paramus 63-52 on Thursday for their seventh win and their second in a row.
OLD TAPPAN – Northern Valley/Old Tappan burst out of the halftime locker room with a 20-4 run to turn a five-point deficit into an 11-point lead en route to a 63-52 home victory over Paramus Thursday night.
"Our full-court trapping was definitely better in the second half," said sophomore Luke Fizulich. "Overall the guys in the passing lane got to the midline and got to the help. Communication was key in the second half. That was what changed the game - the defense."
Old Tappan had taken a 14-10 lead at the end of the first quarter thanks, in part, to three three-pointers by Fizulich.
"I guess I was feeling it," Fizulich said. "I made my early shots and my teammates got me into it. They got me open shots and I knocked them down."
But the Spartans grabbed a five-point lead, 26-21 heading into the halftime intermission as Paramus junior Aren Arslanyan exploded for 10 of his team-high 20 points.
"We just weren't playing consistently on defense in the first half," said Old Tappan coach Craig Ferraro. "That kind of sparked them. They hit some good shots - we just weren't playing defense. That's what we pride ourselves in. It's one thing we can control and it's what we do well. We just didn't do it in the first half."
Junior Aren Arslanyan finished with a team-high 20 points for Paramus.
Fizulich got things going a minute into the third quarter when he grabbed a rebound and dribbled the length of the court for a layup. Then Knights senior Bryce Nash ripped down a rebound and tossed a long pass to senior Brock Lombardi, who beat the defense down the court and scored to cut the deficit to 26-25.
"In the second half we played good half-court defense," Ferraro said, "which turned into getting rebounds and getting guys out and down the court, getting some quick buckets and forcing the tempo."
Spartans sophomore Trevor Bopp and junior Gino Mongelli each canned a jumper to boost the lead back up to five, but Nash drove and scored and then Fizulich swished a three-pointer to tie the game, 30-all.
Knights senior Bryan Baker grabbed a rebound and sprinted all the way to the basket to give Old Tappan the lead and 15 seconds later he drove and scored again. Paramus called a timeout trailing, 34-30.
"In the locker room the guys were energetic about getting out in the second half, putting them down quick," Fizulich said. "Coach got us out there and we did that. It was a 'W' from there."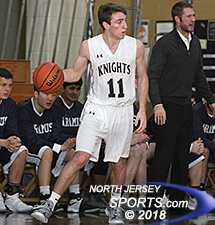 Bryan Baker and Old Tappan will play Saddle River Day in the opening round of the Bergen Invitational Tournament on Saturday.
After the timeout the Knights zipped the ball around the perimeter before Fizulich canned another three-pointer. Then Fizulich battled with a pair of Spartans to score on a put-back and Lombardi scored from in close to make it 41-30.
"That's been the difference for us in the second half of the season," Ferraro said. "We've been making the extra passes and being smarter with the ball. We're not taking the first shot we see all the time. That was kind of the story in the first half, chucking up an early shot giving them offense. [Later] we controlled the ball, made some extra passes and took really good shots."
The Knights went on a 16-6 run in the fourth quarter to put some distance between the teams. Fizulich was in the middle of it, with a layup with his left hand and his sixth three-pointer. He finished with a game-high 28 points.
"We've been waiting for that," Ferraro said. "We're playing tough and playing hard but we haven't been separating. That's what we've been looking to do. They felt pressure and they turned it on. They did what they had to do to pull away and that's a sign of a team that's getting better and playing well. I'm proud of them."
"I think it was a stem from the third quarter," Fizulich said of the fourth quarter run. "It felt like one whole big quarter. It was a good second half and the guys played great."
Old Tappan won its seventh game of the year and second in a row.
"We had a rough beginning of the year," Fizulich said. "Coming to practice every day we battle, we run, we give it our all. These W's are a testament to our hard work and I'm very proud of our guys."
"We did a better job of forcing the tempo and obviously some guys played great," Ferraro said. "Luke shot lights out today and the other guys played smart and solid."
TO BUY A COLLECTOR'S PRINT OF THIS STORY PLEASE VISIT 4-FeetGrafix.com. FOR MORE PHOTOS FROM THIS GAME CLICK HERE!