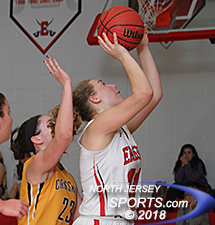 Jenna Cooper pulled down 16 rebounds for Emerson, which picked up a 50-43 victory over rival Cresskill on Thursday night.
EMERSON – Emerson senior Jenna Cooper rolled to the basket and scored off a pass from senior Carly Petrower to begin a 12-2 run that propel Emerson to a 50-43 victory over Cresskill on Thursday night. During the run, which began with a minute to go in the third quarter and stretched into midway through the fourth, Cooper scored again from in close and canned a pair of free throws. Sophomore Ariana Matusic tallied on a put-back and drained two foul shots, while sophomore Karly Manning contributed a jump shot.
Petrower, who was awarded a "game ball" before the game in acknowledgement of scoring 1,000 career points, was happy for the scoring support.
"It's great," she said, "because I have Jenna (Cooper), Ariana (Matusic) and Tori [Elek]. I don't have to be the only one scoring. When I get doubled they'll make shots which makes it easier for me."
Elek, Manning and Matusic, all sophomores, have backed up seniors Cooper, Petrower and Haley Piccinich all season, which has helped the team be successful.
"We don't have any juniors this year so the sophomores are stepping up big," Petrower said. "They came in freshman year a little tentative but they've stepped up this year. They're stronger and more confident. It takes pressure off of Jenna in the post and takes pressure off of me when Tori hits a three."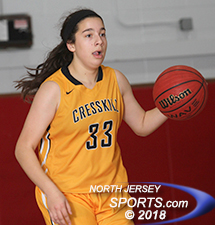 Cresskill freshman point guard Colleen McQuillen finished with 14 points.
"They've really stepped up this year," added Cooper, "and that's something that Carly and I really love. We're all like a big family."
While head coach Coleen Malzahn also appreciates the contributions of the underclassmen she knows Cooper and Petrower are the heart and soul of the team.
"Their leadership has really come in to play especially in close games like this," she said. "Jenna's rebounding is what took it over for us in the second half. Carly was being Carly. I'm always confident when the ball is in her hands."
Cresskill freshman Colleen McQuillen, who finished with 14 points, ended the 12-2 run by swishing a three, but Manning (8 points) scored again. Petrower knocked down four free throws down the stretch to put the game out of reach. Petrower led the Cavos with 15 points in the game.
The game was close early on. Elek (6 points) drained a three to give Emerson a 7-3 lead, but a three by junior Sophie Green and a jumper by McQuillen gave Cresskill an 8-7 lead heading into the second quarter.The Cavos grabbed a 14-10 lead but Cresskill fought back to tie the score, 18-18, with just over two minutes to go in the first half.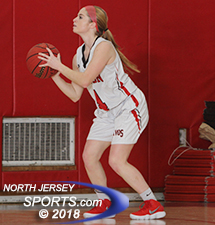 Carly Manning hit two 3-pointers and finished with 8 points for Emerson, which will play Indian Hills in the opening round of the Bergen County Tournament.
"They're very well coached," said Colleen Malzahn. "It's always a tough game when we play them. They know everything we want to do. They're always extremely well-prepared, they're tough. It was a really great game."
"They slow the game down," added Petrower. "In our game we like to run and get down the court pretty quick. The biggest thing is composure. We say, 'don't throw the ball away because you're not getting that ball back for another two and a half minutes.' You really need to be composed and execute everything. Every possession matters."
Emerson carried a one-point lead into the third quarter but it appeared that the Cavos were getting to every loose ball as the second half unfolded.
"It's something we always work on," said Cooper. "There are a lot of times when we are slower to the ball and we see the difference in our team. We get a fire under us whenever we get the loose ball. When one person does it everyone wants to get involved and the fire grows and grows and grows."
"That's what we've been talking about a lot recently," Malzahn said. "In a couple of close games we've had against really good teams where we could have closed it out, the other team is on the loose ball every single time while we were standing there watching. That's something we did today and that's why we won. We had every 50-50 ball. Jenna had seemingly every rebound."
Cooper pulled down 16 rebounds, including six on the offensive, giving the Cavos a second chance to score.
"I think it's something I always try so hard to make sure I do in the game," she said. "We all have our responsibilities and I feel if I can do that my team can handle everything else. Tonight we all wanted to win this game so badly. I felt like every loose ball we had to have because Cresskill is really good at having long possessions and when they get a second chance that's when they'll score. So it was important for us to get the rebounds."
Midway through the third quarter Cresskill took a 29-27 lead on a basket by senior Julia Maltby (game-high 17 points) but a 9-2 run to close out the quarter pushed the Cavos into a lead they would not relinquish the rest of the way.

The Cavos, who improved to 6-5, take on Indian Hills on Saturday in the opening round of the Bergen County Woman's Coaches Association Tournament on Oakland.
"We played them Saturday - the same thing as last year," Malzahn said. "[Last year] we played them the Saturday before the cutoff and we lost twice. We lost by three [this past] Saturday and we're excited about playing them again. I think we can put up another fight. They're a big school, a tough team. They have really big, strong kids. [Angela] Saric is unbelievable. She can take over games. We're excited to have the opportunity. It's an honor to be in the tournament and to be able to play in a game that we think we can compete in."
TO BUY A COLLECTOR'S PRINT OF THIS STORY PLEASE VISIT 4-FeetGrafix.com. FOR MORE PHOTOS FROM THIS GAME CLICK HERE!