Andrew Marino lining up the three-pointer that turned into his 1,000th career point during Wood-Ridge's 81-62 win over North Arlington on Friday night.
WOOD-RIDGE – It was just one of those scheduling snafus that happen all the time in high school sports and it sent Wood-Ridge athletic director Dave Porfido scrambling. His boys basketball team was scheduled to play Pompton Lakes on Friday night, but the Cardinals had to cancel when it found out it would be playing in the Passaic County Tournament play-in round on Saturday. Porfido had to work the phones and call in a favor to replace the home game and got a willing partner in North Arlington.
Why was it so important? Because Wood-Ridge needed a night like Friday night for a variety of reasons.
The Blue Devils won their first two games of the season, but have not tasted victory since. Senior Andrew Marino was on the cusp of 1,000 points for his career and had Porfido not been able to fill the hole in the schedule, Marino would likely have reached the career milestone in a road game, which is never an ideal situation.
With a 12-2 run spanning the second and third quarters Wood-Ridge could finally see the end of its losing streak on the horizon and with a three-pointer from the wing 1:21 into the second half, Marino became the 19th 1,000-point scorer in program history and the first since David Guerra in 2016. Throw in the performance of Ryan Sarver, a sophomore who poured in a career-high 31 points, and it was a festive night all around in Wood-Ridge as the Blue Devils walked out with an 81-62 victory.
"We needed this one bad," said Wood-Ridge head coach Jimmy Maher. "It was a great, especially coming off of last night when we shot 3-for-29 from three-point [range] and lost to Pal Park. We didn't play that bad, we just couldn't hit a shot and we needed a game like this to get our confidence back. This we the result we definitely needed after this long stretch."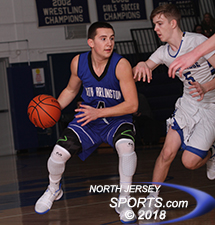 Nick Degrace finished with a team-high 19 points for North Arlington.
It is not like North Arlington played the role of the Washington Generals to Wood-Ridge's Harlem Globetrotters. The Vikings competed throughout a back-and-forth first half, led 19-18 after the first quarter and were within a single point, 32-31, late in the second quarter after Devon Males' mid-range jumper before Marino hit a three-pointer to extend the Blue Devils' lead to 35-31 at halftime.
Marino, who needed 13 points to reach 1,000 coming into the game, did not force history. He let it come to him as he was selective in the first half and weary of making the game all about his personal statistics. But once he hit that shot at the end of the first half to give him 7 points in the game, the rest came quickly. He completed a conventional three-point play for the first points of the third quarter and, 59 seconds later, he was wide open for the three-pointer that gave him 1,000 points even and his team a 41-33 advantage.
"It was weird. When you see other players do it it doesn't seem as weird as it was for me tonight. I didn't want to shoot too much early and then when I did I wasn't shooting too well, so I stopped," said Marino. "But then I just came out and got it out of the way in the second half. It feels good to get there [1,000 points] and it feels good to get it out of the way and really start to focus on turning things around in the second half of the season."
Marino's name will eventually be added to the banner that hangs over the stands behind the home bench and maybe the next one on the list will be Sarver, the sophomore guard who had his breakout performance on the varsity level. With senior Luke Vu-Nguyen sidelined by an ankle injury, Sarver soaked up some of his minutes and made the most of them. He made six three-pointers in the game, missed just two shots from the field and scored 18 points in the second half as Wood-Ridge pulled away. His three-pointer with 46 seconds left in the third quarter put the Devils up by double digits for good and Jack Barteck hit one to close the third period with Wood-Ridge up 61-48.
Where did that offensive outburst by Sarver come from?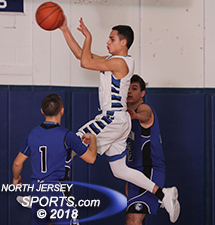 Sophomore Ryan Sarver had his breakout game on the varsity level with a career-high 31 points, including six 3-pointers.
"I have no idea," said Sarver. "I just felt like every shot I took was going in so I just kept on shooting it. I was nervous the past three games playing on varsity, but tonight I didn't feel any of that and just played without thinking about it."
Not that he was expecting 31 points from a sophomore guard generously listed as 5-foot-9, but Maher knew that Sarver has the potential to be Wood-Ridge's next great scorer.
"We have seen it in the JV games this season. He has already had multiple games of 30 [points] on the JV level, so we knew we was capable of getting hot," said Maher, who is in his first season as Wood-Ridge's head coach. "I knew eventually that he was going to get going, but I can't say that I expected 31 out of him tonight. It was a welcome surprise."
North Arlington, which should be credited for helped out a conference rival and taking the game on short notice, put four players in double figures. Nick Degrace led the way with 19 points followed by 14 each from Brandon Neno and Matt Lynch and 10 from Mike Cortellino. Glenn Full made a three-pointer and Males had the other two points for the Vikings.
Marino (25 points) and Sarver combined for 56 of Wood-Ridge's 81 points, Barteck also reached double figures with 10. Ryan Connelly added 8 points, Lirak Hasangjekaj finished with 4 and John Whaley added a three-pointer for Wood-Ridge, which improved to 3-8 on the season with a favorable schedule coming up. The Devils are not ready to give up on this season just yet.
"Obviously with Andrew getting his 1,000th point tonight there was energy in the room, all the fans came out and the home court advantage worked for us tonight," said Barteck, a senior and also a student contributor for northjerseysports.com, who first pieced was just published. "It's been a disappointing season so far, but I have been saying the whole time, 'Get the first one and the rest will follow.' We got this one, we have three games coming up next week and it is like dominoes, you get one and you can knock down a bunch of them, especially if we shoot the way we did tonight."
TO BUY A COLLECTOR'S PRINT OF THIS STORY PLEASE VISIT 4-FeetGrafix.com. FOR MORE PHOTOS FROM THIS GAME CLICK HERE!