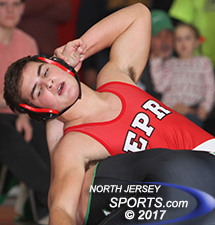 Zach Lewis (195 pounds) had the night's first pin in the fourth bout of the night as a part of Emerson/Park Ridge's 49-18 win over Pascack Valley on Friday afternoon.
EMERSON – Emerson/Park Ridge head wrestling coach Stan Woods has not yet talked to his team about the history it could make next week, but the circumstances heading into the George Jockish BCCA Holiday Tournament make it a hard secret to keep. No Group 1 team has ever won the de facto Bergen County Tournament championship and, with state power Bergen Catholic choosing to bypass the event for the season straight season, the situation is ripe for that to change. Emerson/Park Ridge not only has a chance to win the overall team title, it is probably the favorite to do just that.
"I think we have a lot of good kids that are going to do well and we are solid throughout the lineup. This is the kind of year where we don't really have a hole. Every other year we have had to worry about winning the coin toss and things like that, but it is not that way this year," said Woods, standing in the gym named in his honor after his team posted a 49-18 dual-meet win over Pascack Valley on Friday afternoon. "We have been close a couple of times to winning [the county title] but have fallen a couple of points short, but this time with this group we want to see if we can go out there and win it and we certainly have a good chance to do it."
Woods has made his share of history in his tenure at Emerson, the gym is named after him for crying out loud. The win over Pascack Valley gave him 728 in his career and when the Cavos won the Group 1 state championship in 2016 they became the first Bergen County public school of any size to win an outright state championship. If there is any program that is used to changing the wrestling paradigm, Emerson/Park Ridge is it.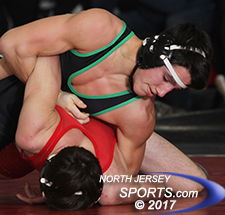 Tommy Chellini pinned just before the third period horn at 160 to give Pascack Valley the early 6-0 lead.
"This [Emerson/Park Ridge] is not a team that could win the Bergen County Tournament, it is the team that should win the Bergen County Tournament. With Bergen Catholic out of it, this is the next best team in the county and we knew what we were getting into coming in here," said Pascack Valley head coach Tom Gallione, also a co-host on The Wrestling Show! on northjerseysports.com, which made it season debut earlier this week. "With the expectations we have this year of winning a league title and making a run in the section, we sought out a match like this. It was a great environment for us to put ourselves in, we are still relatively young, and it gave us a taste of what a big match feels like. We wrestled well, but if you are asking me if Emerson should win the county tournament, the answer is yes. They are that good."
Pascack Valley's program is on an upward trajectory as well. The Indians won the season-opening Lakeland Tournament, kicked off its dual-meet schedule with a win after a long road trip to Hackettstown and opened Friday's festivities with a bang as Tommy Chellini, after building a double-digit lead, just beat the third period clock for a late pin at 160 pounds that gave Pascack Valley a 6-0 lead.
The next two matches were ultracompetitive as E/PR's Ryan Shaw got a takedown with 39 seconds left in the third period to snap a 3-3 tie against Jake Prusha then held on for a 5-3 win at 170 and then PV's William Morris scored the only point of the third period, an escape, and won 3-1 in a match that ended on the feet E/PR's Evan Kinsey pushing for what could have been a tying takedown.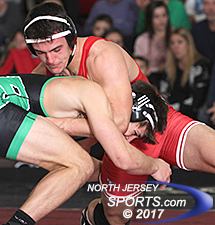 E/PR's Ryan Shaw hit a takedown with 39 seconds left in the third period and held on for a 5-3 win at 170 pounds.
"I just tried to stay composed. Everybody is tired in the third period of a wrestling match, but when it comes down to it you have to think about the team points and push through it for them. As much as it is one-on-one on the mat, it is a team sport and you have to keep going for your teammates," said Shaw, a junior and a second team All-County running back this past football season. "I knew [Prusha] was going to try to post on my shoulders so right when he was about to I popped and shot a double, got the takedown and tried to finish off the match."
Pascack Valley led 9-3 after three matches, but Zach Lewis wiped out that deficit with his second period pin at 195 and Shane Carcich gave E/PR its first lead of the night, 15-9, with his first period fall at 220. Zach Olsen then got PV even for the final time with a second period pine at 285, but the Indians fell behind with a forfeit granted to Dan Cerbone at 106 and Emerson/Park Ridge pulled away from there.
Nick Babin pinned in the first period at 113 and Luke Mazzeo fought off a stomach bug and a tough challenge from PV's Tyler Pizzi to win 11-6 at 119 to put the Cavos up 30-15. Robbie Natelli put PV back in the win column with a 5-1 win at 126 before E/PR swept the final four matches to open up the comfortable final margin of victory.
Matt Daub (12-7 at 132), Luke Mazzeo (pin in 38 seconds at 138), Dave DiBella (pin in 1:40 in 145) and Jonah Schechtman (major decision at 152) were all victorious and sent Emerson/Park Ridge into the holiday weekend with some momentum. The next time the Cavos take the mat they will be looking to make Bergen County history.
"This match was important for us. We are just starting the season and our ultimate goal is to win a state title. We knew coming in here that Pascack Valley was very good, so it was a chance for us to show what type of team we are," said Luke Mazzeo. "We were the first public school in Bergen County history to win a state title two years ago and now we want to be the first Group 1 school to win a county title. That is our next goal and we are really looking forward to getting the chance to do it."
TO BUY A COLLECTOR'S PRINT OF THIS STORY PLEASE VISIT 4-FeetGrafix.com. FOR MORE PHOTOS FROM THIS GAME CLICK HERE!