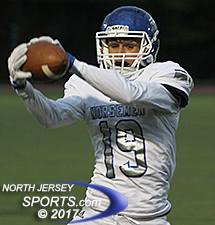 NV/Demarest's Ryan Vadis picking off a pass that led to his team's first touchdown in a 35-0 win at Pascack Valley on Friday night. Demarest is now 5-1 on the season.
HILLSDALE – It was at this point last season when the momentum reversed course for both the Northern Valley/Demarest and Pascack Valley football teams. When they met in Week 6 last season, Demarest had won four of its first five games and was thinking not just about making the North 1, Group 3 state sectional playoffs, but making a deep run in them. Pascack Valley, on the other hand, was winless and was just looking for any positive energy that might turn its season around.
The result was a wildly entertaining 48-42 shootout that was won by Pascack Valley, which it used as the springboard to a 4-1 finish to its season. The loss sent Demarest into a spiral as it went from 4-1 to a 5-5 final record in a once-promising season that ended on the road in a first round playoff loss to Sparta.
There is no way to tell what will happen from this point forward, but what is obvious is that the teams are again on divergent paths after their latest matchup, which came on Friday night. This time it is Demarest that is ascendant as a 35-0 victory played with a running clock in the fourth quarter gave the Norseman their first victory over Pascack Valley since 2004 and their first in Hillsdale since 1995 while the Indians fell to 1-5 on the season.
"This has probably never happened in our school's history. A shutout at Pascack Valley? That is just amazing. We just played tough," said Demarest senior running back Kevin McCloskey. "We were 0-10 sophomore year with the same kids on the field, 5-5 last year. Now we have a lot of experience and we have a lot of playmakers. We can make stuff happen this year deep in the playoffs."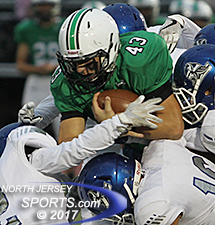 Yards were tough to come by for Mike Gulino and the Pascack Valley offense.
There are still two games to come before the state tournament cutoff, but Demarest is now playing for positioning rather than inclusion. It came in to Friday night's game third in power points in North 1, Group 3 and if this is the game that eventually proves to be the one that clinched the playoff spot, the Norsemen got to work quickly to make it happen.
On the first play from scrimmage senior quarterback Austin Albericci found McCloskey circling out of the back field for a 30-yard gain. Although that opening first drive ended in a turnover on downs at the PV 15, it flipped the field position sufficiently enough for Ryan Vadis' interception to set Demarest right back up. McCloskey scored from 15 yards out; Jonah Miller added the extra point and the Norsemen were up for good, 7-0, with 7:17 left in the first quarter.
Pascack Valley's four first quarter possessions ended in an interception and three punts, it had three possessions in the second quarter that ended in two punts and the end of the quarter as Demarest's defense refused to budge. Demarest held Pascack Valley to just 79 yards of total offense in the first half.
"We were upset about last year and this stems back to freshman year. We were just hungry, we wanted revenge from last year and we definitely got it in style," said Bailey Paster, Demarest's defensive tackle whose ability to occupy multiple blockers was instrumental in slowing the PV running game. "We are different team this year. We had a mental slip in Week 2 [against Ramapo] but we are ready to get it back and we are just going to keep it rolling from here on out."
Demarest went up 14-0 early in the second quarter when it turned a fourth-and-5 into 20-yard touchdown strike from Albericci to Joe Rotonde, who picked the ball off the top of a defender's helmet in the endzone. After the defense held PV to another three-and-out, Albericci hit Vadis up the left sideline for a 75-yard catch and run that made it 21-0 with 7:53 left in the first half and that was the lead that the Norsemen took into halftime.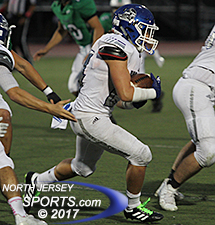 Kevin McCloskey scored the first touchdown for Pascack Valley, which beat PV for the first time since 2004.
Vadis, who head coach Tony Mottola called "the most underrated wide receiver in North Jersey," caught his second touchdown pass, a 20-yarder over the middle that made it 28-0, with 5:15 left in the third quarter. Albericci initiated the running clock when he scored on a 9-yard quarterback keeper around the left end to make it 35-0 with 11:50 left in the game. Miller was a perfect 5-for-5 on his extra point attempts for the Norsemen, who have been held below 35 points scored just once this season.
Pascack Valley still has at least a mathematical shot at the state playoffs as it came into Friday night just one spot out of the top eight in North 1, Group 3. The Indians will host Ridgefield Park next Saturday before travelling out of state to take on New Canaan (CT) on October 28.
Demarest will have a chance to pile up some more power points as it welcomes three-win Dwight Morrow next Friday night before visiting Paramus on October 27. Dwight Morrow has beaten Demarest in each of the last two seasons, a 44-43 overtime shootout in 2015 and a 42-34 decision taken by the Maroon Raiders last year.
With Ramapo, which handed Demarest its only loss of the season, and undefeated River Dell, the defending state sectional champion, in their state tournament bracket, the Norsemen have a tough road ahead, but they are not even looking that far ahead yet.
"We are going to take it one at a time. We have Dwight Morrow next and everybody knows about them. They are a very athletic team. We played them my sophomore year and lost and blew a huge lead last year," said Vadis. "We can't let that happen this time."
TO BUY A COLLECTOR'S PRINT OF THIS STORY PLEASE VISIT 4-FeetGrafix.com. FOR MORE PHOTOS FROM THIS GAME CLICK HERE!