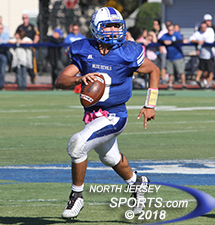 After starting his career as an undersized freshman defensive back, Mike Giancaspro finished it as Wood-Ridge's first all-county football player since the 1970s.
(Editor's note: Jack Barteck, the author, is a senior at Wood-Ridge High School where he plays basketball and baseball. He plans to study communications in college.)
WOOD-RIDGE -- The story began on September 13, 2014 at Manchester High School. There, in the boy's locker room, sat the Wood-Ridge football team awaiting the season opening kickoff. Before the game began though, the coaches stepped in to talk to the players, and the focus of their speech was clear: Adversity. Adversity, defined as a state or instance of serious or continued difficulty or misfortune, seemed to be the perfect word to describe the Blue Devils' situation as they had not had a winning season since 2007 and no one expected that to change in the season that was rapidly approaching.
However, within the mob of white jerseys, that adversity struck a deeper chord for one player more than anyone else in the room. His name is Michael Giancaspro. As former Blue Devil running back Josh Paez so elegantly described him, "A 5'6" freshman who weighed maybe 130 lbs soaking wet," Giancaspro struggled to get noticed in the beginning.
Although he understood how he was viewed from the outside, Giancaspro never let it alter his self-confidence.
"Maybe I wouldn't start my freshman year, but I wanted that coaching staff to know I was there and that I was going to take someone's spot if they slipped up," Giancaspro avowed.
Marcus Thomas once said, "Speak your dream into existence and the universe will attract the right circumstances and conditions for it to be realized."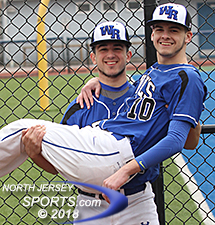 Jack Barteck and Mike Giancaspro during last season's baseball photo shoot.
Well, for Giancaspro, that is how it went. Two weeks after the pregame speech in Manchester, the Park Ridge Owls came to town. Just a few minutes into the game, the starting cornerback got into an argument with a coach, and was taken to the locker room, done for the game. At that point, Giancaspro got the shot that even he couldn't have dreamed of, and immediately the Owls went at the freshman.
Back to back plays, the ball was thrown in his direction, and back to back plays, he came flying in for the tackle, the second time spinning the defender into the air. From that point on, Giancaspro never looked back. Giancaspro, the freshman, ended up starting the rest of the year at defensive back, even garnering an Honorable Mention nod on the defensive side of the ball in the NJIC Patriot Division.
"He knows what he wants and doesn't ask; he just gets it…" said Wood-Ridge head football coach Charlie Trentacosti, "That's how Mikey put himself on the field as a freshman. He made it so we had to play him by his action never his word."
For Giancaspro, though, just getting on the field and making a few plays was not enough. In his mind, this was only the first step in a plan to success that he had already mapped out. And so, Giancaspro went to work.
"I spent hours upon hours in the weight room." explained Giancaspro. "There were really late nights and really early mornings where I'd go to the field and just drill myself and do anything in my power to make myself better."
For Giancaspro, another point of emphasis was getting closer to his teammates, spending countless days with them at the field or gym, and then meeting up again at night to hang out.
Giancaspro invested an immense amount by the time his sophomore season training camp had arrived. Little did he know, the work had barely begun. The season prior, the Devils graduated their starting quarterback and his backup quit, leaving the most important position on the field wide open. With that, Trentacosti decided to create a quarterback competition and, much to his surprise, Giancaspro was in the mix. Although he had played the position while he was younger, it had been a while and he knew he needed some work.
Within a month, the competition, which ended up not being much of a competition at all, was over, and Giancaspro took the reins. When asked about going with a sophomore with little quarterbacking experience, Trentacosti never wavered, saying, "We saw his leadership ability as a freshman and knew he could handle the pressure of being the guy."
In the beginning there were growing pains as the Devils began the season 0-3. However, Giancaspro settled in after that, proving his head coach right and leading the Devils to a five-game winning streak, scoring 28-plus points in four of those five games. The Devils would end up at 5-5, a noticeable improvement from their 2-8 season a year earlier, and their best finish since 2009. Not only did the team get better, but so did Giancaspro, netting 1st Team All-League honors as a sophomore playing a position he never expected to be playing at the start of camp.
Running cack Josh Paez had nothing but praise, saying, "He was just amazing as first year quarterback; outsmarting defenses, running for first downs when he had to, taking big hits and still getting up with so much energy for that next play. He was all heart."
Although there was visible improvement, Giancaspro did not get complacent. Two days after the season ended, he says, he was already back in the weight room.
After years of mediocrity or worse, the Devils had finally changed the culture at Wood-Ridge High School. As the 2016-17 school year began, there was excitement amongst the student body, which had high expectations for the team. After a strong showing the year before, they brought back a handful of key players, headlined by Giancaspro. And in the first two weeks of the season the Devils stepped up to the plate, beating Wallington 30-0 then Bogota 29-0 the next week. They would continue to ride this wave all the way to a 5-3 record at the end of the regular season.
Unfortunately, they were the first team out of the playoffs, and ended up losing in a consolation game. Giancaspro said he recounted the way things turned out for months, wondering what we could've done differently to change his team's fate. However, he eventually decided to turn the disappointment into motivation, vowing to come back better.
Anybody who knows Michael, or Mikey G as he goes by, knows that this is how he operates. No matter how well he is doing in a certain task, he only sees room for improvement. He is not a one trick pony either. As a baseball player, Giancaspro played a key role for the Blue Devils, posting a .329 batting average with 17 RBIs. In the classroom, he is a great student, with a high GPA and multiple AP courses on his resume. When asking teachers, not a single one had a bad word to say. The one word that was universal in their descriptions? Leadership.
"Mikey is a true leader…" said Trentacosti, "he is the type of player that is unassuming, genuine, and focused."
Those traits carry over to the baseball diamond, according to head baseball coach Mike Carcich. "Mikey G has always been a leader on the field…" he beamed, "He plays hard, works hard, and expects his teammates to do the same."
Not only did Giancaspro receive high praise from his coaches but also from his teammates. Fellow senior captain Stephen Drotos said, "Mikey is the definition of the word leader… he always has and will be for the rest of his life."
Another senior captain, Dylan Ha, agreed, saying, "He would motivate everyone to continue to push themselves and made sure everyone did their part and had fun."
Going into his senior season, Giancaspro's leadership was key. The Devils had graduated a core group of seniors that was vital to their success the year prior, and as a result there were many young players that needed to step up. With that came a lot of inexperience, however Giancaspro showed them the way. "Mike took control of the offense and the defense," said junior Jake Colon "Whether it was calling out audibles or adjustments on defense, he stepped up and led us."
The Devils league schedule came and went with a 3-3 record. Although they had higher expectations for the 2017 season, the 3-3 record featured a win over the neighboring rival Becton Wildcats. In 2016, Becton came to Wood-Ridge and beat the Devils by 40 and there had been a big brother-little brother feel to the matchup, so that was a huge win for the program.
Another positive was the Devils' playoff hopes were still alive. The next week, Cresskill came to town with both teams harboring playoff dreams. Cresskill took a late 10-7 lead, however, with just under two minutes remaining, Giancaspro led the Blue Devils down the field for a game-winning touchdown. Although they did not know it at the time, that win clinched the program's first playoff berth since 2007. Mikey G described this as his favorite football memory, citing the passion and emotion with such big things on the line.
A week later, Wood-Ridge travelled to Tamblyn Field in Rutherford to face St. Mary. At this point, the team still did not know if they were in or out of the postseason and was fighting for a spot. About three minutes remained in the half, and the Gaels led by one touchdown. Then, the Blue Devils worst nightmare came true. The Gaels ran a handoff up the middle, Giancaspro came up from his safety position, got blocked, and his knee folded. After the play, he stayed down. He was helped off the field and then taken to the hospital.
The rest of the way St. Mary outscored the Blue Devils 34-0, leading to a 40-7 victory for the home team. After the game, the team got the good news that it had made the playoffs, however there was little celebration. The quarterback was hurt and, a few days later, Giancaspro got his MRI results. They could not have been much worse: Torn MCL, torn knee joint capsule, torn meniscus, partially torn ACL.
The Devils would go on to lose to New Milford 42-0. It was a one score game at halftime, but they could only stay afloat for so long without their quarterback and backbone of the defense. In the end, though, the result is not what mattered. For the first time since 2007, they were there, and Michael Giancaspro was a huge part of that.
Giancaspro would go on to be the first Wood-Ridge football player since the 1970s to receive first team All-County honors. He also became the Wood-Ridge career record holder for passing yards. Every bar that was set for him, he not only raised them but jumped right over them. Even with all the accolades, his biggest accomplishment is what he leaves behind.
In a one square mile town with a school that has about 450 kids, it is hard to build a program. However, Trentacosti has been able to do that here at Wood-Ridge High School. Without players like Giancaspro, he says, it would never be possible.
"Michael has shown the community as some of those that have come before him that staying home playing for your home team is more rewarding them going to a big school and playing for yourself…" Trentacosti pointed out, "His commitment to our program, our town, our school has shown the younger athletes that by staying home can bring you the same rewards as moving on to other schools."
It cannot be said any better than Stephen Drotos' words, "I believe that Mike has inspired, and lit a fire under the entire youth football program. There's a lot of kids looking up to him and wanting to be the next Mikey G."
Giancaspro says that he would like to study to become a physical therapist. No matter where he ends up, he will always be a Blue Devil, and has certainly left a legacy at Wood-Ridge High School. Although he says the injury has been tough, he still plans to play college football, and there is no doubt in his mind that he will. Giancaspro came into high school at the bottom of the mountain, worked his tail off, and made it to the top. Now, however, he must start over from the bottom once again.
And just like that, the climb begins.
TO BUY A COLLECTOR'S PRINT OF THIS STORY PLEASE VISIT 4-FeetGrafix.com.