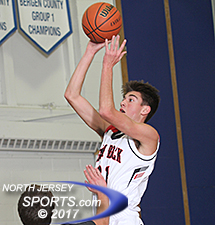 Matt Kopyta scored 8 points for Glen Rock, which beat Midland Park, 37-27 on Thursday to take the Ridgefield Holiday Tournament title.
RIDGEFIELD – The offense was slow to come around for Glen Rock, so slow in fact that the Panthers scored just two points in the entire second quarter of Thursday afternoon's championship game of the Ridgefield Holiday Tournament. There was a good chance that there would be a frank discussion at halftime led by head coach Jason Mittelman.
"He was not happy about it, let's just put it that way," said Glen Rock junior Ryan Harris. "But the other side of it was that we held [Midland Park] to just 17 points so we were right there. We came out flat, but it is not like we were getting blown out. We just needed to get something going on offense."
After a quiet third quarter around the rim from both teams, Glen Rock finally got it going. It was a conventional three-point play from Harris to open that fourth quarter scoring that finally knocked the lid off the cylinder. After scoring just 17 point combined in the first three quarters of play, Glen Rock scored 20 in the final 6:14 of the game to grab a 37-27 victory and a the championship trophy from the hands of Ridgefield athletic director John Duncan.
"We are struggling a little offensively. We lost [Josh Frissora] a 19 point/10 board per game player from last year. Even though we have some experience as role players we are trying to find out way. We've had some injuries and we are just starting to knock some of the rust off," said Mittelman. "This was a good way for us to end the year. Offensively I think we are going to settle in, I think we are going to start making some shots and we are also going to figure out our rotation a little better. There are a lot of areas where we can prove and the kids are working at it."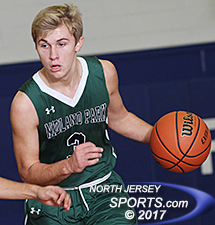 Junior Dave Kruis scored 14 points to lead Midland Park.
Glen Rock (2-4) had no issues on the defensive end as it held Midland Park to single digits in all four quarters and led 10-9 after the opening period. Even though the points did not come easily, Midland Park did manage to take the lead on two Dave Kruis free throws to open the second quarter and held it for the next 18 minutes. Behind Kruis, a junior guard who scored 10 of his team-high 14 points in the first half, Midland Park led 17-12 at halftime and 21-17 after three quarters.
Harris finally got Glen Rock going in the right direction with his drive to the basket that led to the three-point play with a 6:14 left in the game and one of the few transition buckets recorded by either team, a layup made by James Boisits in transition, gave Glen Rock the lead for good, 22-21, with 5:54 to play. Four straight points by Colin McDevitt bumped the Glen Rock advantage to five points.
"We kept ourselves in the game defensively and then shots finally started falling in the second half," said McDevitt, a junior guard who scored six of his seven points in the final 3:54 of the game. "We started this season slow, but this is a great rebound for us to win these two games in this tournament and bring home the trophy. We have a good stretch of league games coming up in the New Year; we will persevere and try to get rolling."'
Glen Rock did get rolling in the fourth quarter as the 26-21 lead it took on McDevitt's two free throws gave it is largest lead of the game to that point and it knew how to close out the festivities once it edged in front. The Panthers got a three-pointer from Harris, only their second of the game, with 1:57 to go to bump the lead up to 29-23 and then made all six of their free throws, all in one-and-one situations, to close out the victory.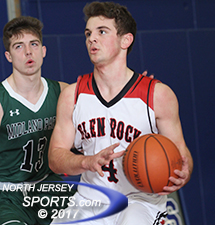 Colin McDevitt scored 6 of his 7 points in the fourth quarter for Glen Rock, which improved to 2-4 on the season.
"They are a disciplined team from top to bottom, the way they play, the way they compose themselves and they made nine of nine free throws in the fourth quarter. That is impressive. Once they got a lead it became very difficult for us," said Midland Park head coach Mike Kilgallen. "I think the lesson learned for us is that we lost our composure a little bit. I lost mine on the bench, it got a little chippy on the floor and that should be a lesson learned for us."
Midland Park fell to 1-4 on the season, but there are some positives heading into 2018. With two players set to return from injury, it will get deeper. On Thursday Midland Park dressed only eight players, used just six and had its scoring concentrated among just four. Behind Kruis' 14 points, junior guard Matt Weisbrot finished with 6 points, Sean Fitzpatrick added 5 and Delon Veleski had the other field goal.
Also, the Panthers have already shown improvement as one of their early losses was to Park Ridge, which they turned right around and beat in the opening round of the Ridgefield Tournament.
Glen Rock was led by Harris' 14 points and was more balanced. Matt Kopyta (8 points) and McDevitt combined for 15 points. Thomas Consoli added two field goals and Boisits and Johnny Picla split the other four points for Glen Rock, which was 10 of 12 from the free throw line in the game and 10 of 11 in the second half. The Panthers are now 2-4, but that record is a bit deceiving as they lost in overtime against Manchester and by one to Rutherford. The other two losses came against two top echelon small school teams in Ramsey and Hawthorne.
"I think we can definitely turn this season around and winning this holiday tournament is a good step. It means a lot and it boosts our confidence," said Harris. "Our first four games were against three great teams in our league and one [Ramsey] that could go on to win a section, so I think we have learned a lot already and those games will help us moving forward."
TO BUY A COLLECTOR'S PRINT OF THIS STORY PLEASE VISIT 4-FeetGrafix.com. FOR MORE PHOTOS FROM THIS GAME CLICK HERE!