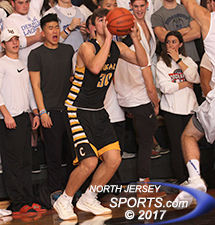 Luka Radovich scored a game-high 22 points for Cresskill, which outscored Demarest 19-7 in the fourth quarter to win the Jack Reilly Tournament final, 55-43, on Friday night at Fort Lee High School.
FORT LEE – Some holiday tournament finals are sleepy affairs played at funky times in gyms inhabited only by those closest to a specific program, parents and grandparents and maybe a couple of alumni. There are others played in faraway places against national competition that draw little local attention. The Jack Reilly Holiday Tournament final played on Friday night at Fort Lee High School was neither of those. In fact, it felt like a Bergen County Jamboree game played in late December.
"At first it was a little nerve-wracking, especially when we were warming up, but once the game started it you just forget about all of that," said Cresskill senior George Sikoryak. "But it was awesome with the fan sections and all of the chanting. I loved it."
The stands were packed, the level of play was high between two of Bergen County's best public school teams and Cresskill and Northern Valley/Demarest were all tied heading in the fourth quarter of the championship game.
The final shift of momentum was subtle as Cresskill's Luka Radovich hit a three-pointer with 44 seconds left in the third quarter to tie the game and the Cougars added the first four points of the fourth quarter with two Evan Milionis free throws and a fastbreak bucket by Harrison Lucibello. That 7-0 spurt put Cresskill in front for good as it took care of the basketball down the stretch and edged away for a 55-43 victory. Cresskill, the only Group 1 team in the eight-team field, won three games in the Jack Reilly and is still perfect on the season at 7-0.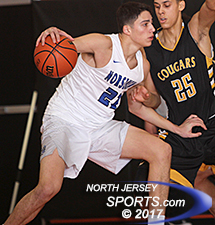 Despite foul trouble, senior Jake Runyon scored 14 points to lead Demarest.
"Demarest is a terrific team, just outstanding and our guys fought hard out there. That was a battle, no other way to put it," said Dan Egorow, a Cresskill alum who is in his first season as the Cougars' head coach. "Our league is competitive. Bogota is a great team, Saddle River [Day] is a tough team, so it does gives us some good competition, but when you get in a tournament like this and play Group 2 and Group 3 schools it does give you a different look. It was big for us to see it and hopefully prepare us for something like the Jamboree or when we get to the state tournament."
There was energy in the gym right from the get-go and maybe there was too much adrenalin on the court as early foul trouble affected both teams. Demarest senior Joe Rotonde went to the bench with his second foul just 4:19 into the game and the Norsemen's leading scorer, Jake Runyon, followed him to the sidelines with his second foul just 34 seconds later. Cresskill's best athlete, senior Wellington Ventura, who will run track next season at UCONN, also picked up two first quarter fouls, but instead of slowing the game down, it only served as an opportunity for each to show off its depth. Cresskill's roster is loaded with 10 seniors will Demarest has eight and all 10 starters in the game are members of the Class of 2018.
Ben Green took Ventura's spot and scored in transition to give the Cougars an 7-6 lead midway through the first quarter and Endrit Kaleci came off the Demarest bench to bury a three-pointer that gave the Norsemen an 11-9 lead before Lucibello's three-point play gave Cresskill a 12-11 advantage after one quarter. Austin Albericci scored five points in the span of just 39 seconds late in the second quarter to help Demarest take a 23-20 halftime lead the Norsemen were up 36-33 after two Zach Stimmel free throws late in the third quarter before Radovich hit the three-pointer that tied the game heading into the fourth.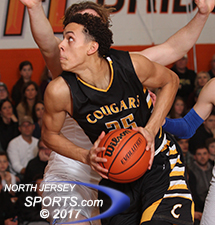 Wellington Ventura put the exclamtion point on the win with a fourth quarter dunk for Cresskill, which improved to 7-0.
"We have been playing against the kids from Demarest since like we were in second grade. We know all of their personnel, we know how they play and they knew all about us, too, so we knew it was going to be a battle all the way through," said Radovich. "Our team is very deep and we can overcome a lot of things like foul trouble of somebody having an off night. We keep each other up and we just keep fighting for each other for all four quarters."
After giving up seven straight points and falling behind by four 1:20 into the fourth quarter, it looked like Demarest was about to make a run of its own as Ventura picked up his fourth foul on a reach-in and Runyon putback his own missed shot to draw the Norsemen back to within two, 40-38, with 5:28 left to play.
Lucibello put an end to those thoughts with a dagger of a three-pointer from the wing and Milionis made both ends of a one-and-one for the Cougars, who struggled from the free throw line (12 of 26 as a team) for most of the night. That bumped the Cresskill lead to seven points, its largest of the game to that point, before Runyon scored four straight to make it a 45-42 game with 3:16 remaining.
The final three minutes belonged to Cresskill, however, as the Cougars surrendered just one more point the rest of the way and Ventura put the exclamation point on the victory with his dunk that made it 49-43 with 2:02 remaining. Cresskill makes it tough to extend the floor defensively as Lucibello, Sikoryak and Milionis gives it three capable ball-handlers and the Cougars can spread the floor and stay out of trap zones. The Cougars could have made it easier on themselves by making a few more free throws, but they still were able to eat up clock by moving the ball and leaving Demarest with too few possessions to make a concerted comeback.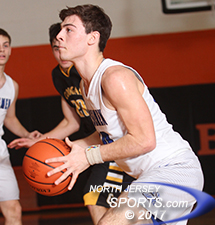 Austin Albericci scored seven points for Demarest, which lost for just the second time this season.
Runyon, though dogged by foul trouble all night, finished with a team-high 14 points for Demarest, which lost for just the second time this season. Albericci and Rotonde added 7 points apiece and Connor Scaglione, the senior who just committed to play football at Princeton, finished with 5 points. Stimmel chipped in with four points and Kaleci and John DeCroce each made first half three-pointers for the Norsemen.
Radovich lead all scorers with 22 points while Lucibello scored 10 of his 16 after halftime. Sikoryak (6 points) did all of his scoring after halftime, Ventura, whose minutes were limited by fouls, added 5 points and, Milionis made four of his six fourth quarter free throws and Green added three points off the bench for Cresskill, which headed out of Fort Lee High School with a trophy, an undefeated record and looking like a contender for every championship for which it will play on the Group 1 level, including the Group 1 state championship, the one title that has eluded the proud small-school program.
"When I was a freshman we had 11 seniors on the team and now that I am a senior we have almost the same thing. We have 10 seniors that have played next to each other forever," said Radovich. "That is why I feel like it was important for us to win this game and win this tournament. We have to move on to our next goal to win the league, but now we know how we matchup against good teams from bigger schools and we have a lot of confidence."
TO BUY A COLLECTOR'S PRINT OF THIS STORY PLEASE VISIT 4-FeetGrafix.com. FOR MORE PHOTOS FROM THIS GAME CLICK HERE!