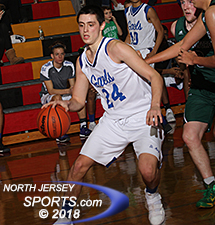 Marc Dadica scored a game-high 25 points for St. Mary, which used a 12-1 fourth quarter run to pull away from New Milford in a 62-51 win in the opening round of the Bergen County Jamboree.
ORADELL – New Milford was a bit of an enigma coming into the Bergen County Jamboree. The Knights had played the fewest games of all the teams that were granted entry; they stuck almost exclusively to their NJIC schedule in building a 10-1 record and did not even participate in a Holiday Tournament. There was enough of an air of mystery that St. Mary head coach Brian Gaccione almost scouted the wrong sport when preparing for Saturday's first round game at Bergen Catholic High School.
"The quarterback is good, a strong kid and a good athlete. The tight end, too," said Gaccione. "Their size…we knew their size was going to be a problem and we had to play them fast, pressure their guards and make it a speed game."
"The quarterback" Gaccione referred to is senior Ryan Picinic, who will play that position at Stonehill College next season. The "tight end" is Matt McElroy, who has Division 1 offers. Those two combined for 26 points, 25 of them in the first three quarters as 20th-seeded New Milford stuck right with No. 13 St. Mary, a team with a Division 1 basketball recruit in its starting lineup.
New Milford even got as close as two points when Dan Ruiz scored the first two points of the fourth quarter, but Alex May's putback the next time down the floor restored order for the Gaels, who went on a 12-1 run over the next five minutes to pull away for a 62-51 victory that put them in the Round of 16 next weekend against fourth-seeded Teaneck, which had a first round bye.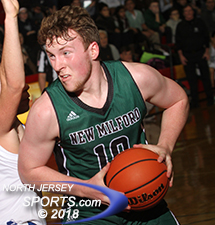 Matt McElroy finished with a team-high 14 points for New Milford.
"I felt like if it was going to stay a halfcourt game that we were going to continue to struggle because a halfcourt kind of game is not our strength. We had to push tempo a little bit," said Gaccione. "Now it changes a little bit. My kids know that next week we will be the underdog against Teaneck, but we are excited for the opportunity to continue playing in the tournament."
New Milford was obviously excited about it chance to play in the tournament as it led 17-12 at the end of the first quarter and carried the momentum into the locker room at halftime. With St. Mary seemingly going to have the last shot of the first half, Tyler Picinic poked the ball away from a ballhandler and sent Paolo Maniago into space near halfcourt. Maniago took a dribble, set his feet and nailed a three-pointer at the buzzer to give New Milford a 28-27 edge at the break.
The third quarter saw five lead changes and two ties, the last of them coming at 35-35 when Ruiz took the ball right at Marc Dadica, St. Mary's senior center, who will play at Fairleigh Dickinson University next year, and scored with 5:22 left in the period. Junior Nick Boyd answered at the other end with a driving layup for the Gaels to put them back in front for good.
St. Mary led 47-43 at the end of the third quarter and absorbed New Milford's final run that ended with Ruiz's bucket to open the fourth quarter scoring. It was May's putback and then his steal and assist on the next possession that set up a run-out for Colin Hyland quickly pushed the Gaels' lead to 51-45 with 5:39 to play in the game and Dadica showed his quality inside with old-school back-to-the-basket post-up moves that gave St. Mary a 55-46 advantage. Noah Rincon's scored the next two points on a pull-up jumper to put the Gaels up by double digits for the first time with 3:01 to go and it stayed there the rest of the way.
Nick Boyd finished with 20 points for St. mary, which will play No. 4 Teaneck in next weekend's Round of 16.
"We knew that New Milford was big and strong and their 2-3 [zone] was hurting us a little bit. That why in the second half when we were able to push the ball and get in transition, it helped us a lot," said Dadica, avoided foul trouble why mixing it up inside and finished with 25 points. "Coach [Gaccione] said speed them up with our defense and then get out in the open floor because they don't really want to run. They wanted to play slow."
New Milford made the most of its cameo in the Jambo this season as it pushed St. Mary deep into the fourth quarter before giving way. McElroy (14 points), Ryan Picinic (12 points) and Ruiz (11 points) all finished in double figures with Maniago (8 points) and Tyler Picinic (6 points) combining for the rest of the scoring for the Knights.
Dadica led all scorers with 25 points, 16 of them at the second half and he was 9 of 10 from the free throw line including 8 of 8 in the second half. Boyd finished with 20 and Colin Hyland stepped up as the third scorer with 9 points. Ryan Fundora finished with four points and May and Rincon split the other two field goals for the Gaels, who are on to the Round of 16.
"This Jamboree has so much history and it is just so nice to be back in it and to move on and advance to play Teaneck, a great program and a great team," said Dadica. "We are really excited. We like those big games. It is going to be a great atmosphere, we expect a lot of people to be there and we are ready."
TO BUY A COLLECTOR'S PRINT OF THIS STORY PLEASE VISIT 4-FeetGrafix.com. FOR MORE PHOTOS FROM THIS EVENT CLICK HERE!