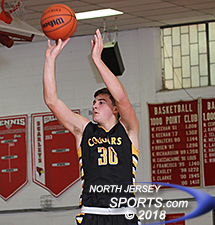 Luka Radovich was one of three to finish in double figures for Cresskill, which beat Tenafly, 61-48, in the Second Annual Brian Long Classic played on Saturday at Ridgefield Park High School.
RIDGEFIELD PARK – Cresskill was part of a larger event than just a high school basketball game on Saturday as it took the court in Ridgefield Park on Saturday to honor the legacy of New Milford Detective Lieutenant Brian Long, who passed away in 2016 after a three-year battle with cancer. The Second Annual Brian Long Classic was a three-game showcase organized by Ridgefield Park head coach Chris Gaskin in Long's memory and to raise funds for the foundation established in his name.
"I have known Chris [Gaskin] since I was playing ball [at Cresskill] for Marty [Rivard]. It's a great community to be involved in and any time we can get involved with a cause like this we are more than happy to," said Cresskill head coach Dan Egorow. "We want to be involved; we want to help out great causes like these. Bergen County is a tight-knit community and we want to be a good partner in that."
As a by-product, Cresskill also got another chance to step outside of its league and burnish its already impressive resume by taking on a Group 3 team in Tenafly that had six wins coming in. There were also three members of the Bergen County Jamboree selection committee in attendance to see Cresskill improve to 11-0 on the season with a 61-48 victory. The Cougars are now 4-0 outside the NJIC this season heading into a marquee conference showdown against Bogota on Tuesday.
"We always have high expectations at Cresskill," said Egorow, who is in his first season as the head coach of the program he played for in the mid-2000s. "We want to play league championships, state sectional titles and this year maybe get into the mix in the county and this is a good win for us in preparation for all of those things."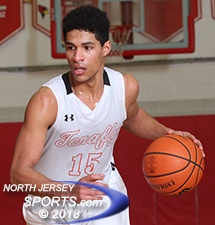 Senior Antonio Bonilla scored a team-high 14 points for Tenafly.
Both teams had shuffled starting lineups. Two members of Cresskill's usual starting five started began the game on the bench for undisclosed reasons, but both came on to make an impact in the game. Senior Joe Lockhart got the start in place of Harrison Lucibello, who sat for the first four minutes, but his driving layup with 1:35 left in the first quarter helped the Cougars double up Tenafly, 14-7.
Tenafly's starting five has been in flux all season as Max Weiner, a senior playmaker in the backcourt for last year's Jambo qualifier, has not played yet this year due to an ankle injury. Junior Eric Bershadsky is likely now out for the rest of the season with a shoulder injury.
So what was supposed to team deep in returning starters and experience is now trying to reshape itself around two primary scorers in junior Johnny Angbazo and senior Antonio Bonilla and contributions in spurts from others. Dennis Kardonsky filled the bill late in the first quarter as he hit a reverse layup to kick off a 7-2 quarter ending run and then a three-pointer at the buzzer to draw Tenafly to within 16-14. Bonilla hit a three-pointer two second before the second quarter clock expired to keep Tenafly hanging around as it trailed by just those same two points, 25-23, heading into the break.
Bonilla scored on the fast break one minute into the second half to tie the score for the first time since it was 2-2 and for the last time in the game before Cresskill used the offensive boards to gain its final separation. Lucibello scored on a drive to put the Cougars back in front and was fouled on the play. He missed the free throw, but Wellington Ventura, who sat the entire first quarter before being inserted into the game, grabbed the rebound and was fouled going back up. He made the first of his two free throw attempts and another offensive rebound turned into a George Sikoryak three-pointer that took Cresskill from even to up 31-15 without ever retreating to the defensive end of the floor.
Luca Radovich scored off the offensive glass and Mike Ferrara added a reverse layup to extend the run to 10-0.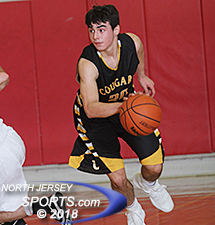 George Sikoryak scored 15 points for Cresskill, which is now a perfect 11-0 on the season.
"Our game-plan was to force them right and that one time, right after we got the game tied at 25, [Lucibello] went left and got an and-one and then three times they got the rebound. That changed the game," said Tenafly head coach Jeff Koehler. "Cresskill is a great team. They play physical and they are tough and it came out right at that part of the game."
Lucibello completed a three-point play and Ben Green made two free throws to put Cresskill up 42-30 at the end of three quarters and Tenafly got no closer than seven points in the fourth quarter as it fell to 6-4 on the season. The Tigers still have a shot to qualify for the Jambo, but it is going to take a winning streak and a change of luck, which has pretty much gone against them so far this season. Still, Koehler is not in the business of making excuses.
"Nobody cares about our injuries. Everybody has injuries; every team has kids that don't play for one reason or another. We have had some bad luck, but it is an opportunity to see if some of my other kids can step up," said Koehler. "We will keep fighting and we will see."
Bonilla (14 points) and Angbazo (13 points) each finished in double figures for Tenafly, while Lucibello (19 points), Radovich and Sikoryak each totaled 15 and Ventura came off the bench to score 8, all in the second half, for Cresskill, which could be in line for a top 6 seed in the Jambo if it continues on its current path.
"We have been playing together for a long time, we know each other well and Coach [Egorow] is a great coach. He puts us in the right positions to win," said Lucibello. "Everybody on this team can knock down shots, we all believe in each other and it is a great team to be a part of, but we still have a lot of work to do this season."
TO BUY A COLLECTOR'S PRINT OF THIS STORY PLEASE VISIT 4-FeetGrafix.com. FOR MORE PHOTOS FROM THIS GAME CLICK HERE!