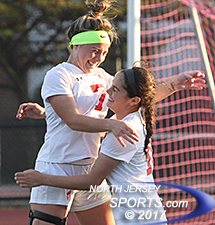 Joanna Kelly (left), one of only four senioirs on the Northern Highlands roster, celebrated the program's sixth Bergen County title in the last seven years after a 5-0 win over Ramsey on Saturday.
ORADELL – For the first 20 minutes of Saturday's Bergen County Tournament final, upstart Ramsey was holding its own against the state power and girls soccer behemoth that Northern Highlands has become. The undefeated Highlanders, winners of five of the previous six county titles and the top seed this year, have been killer with their cross into the box all season long. With technical players with speed on the flanks, Northern Highlands provides a volume of quality service and knocks many of them in on the back end. Ramsey knew it and did everything it could to keep that from happening.
Twenty minutes worth of hustle and concentration had the Rams holding firm. And then one adjustment sent the game on the trajectory toward the 5-0 final score that provided Northern Highlands its sixth Bergen County championship since 2011.
Once the Highlanders realized that the pressure was near the touchlines and that Ramsey was committed to that strategy, they moved the ball to the middle of the field with devastating effect. Reagan Klarmann found some space as she floated across the edge of the penalty area and with no one closing fast; she decided to give it a go with her left foot. Ramsey keeper Emily Peters did all she could to keep the ball out, but could only get her fingertips to it at the end of a headlong dive to her left. The ball pinged off the right post and in and that goal changed the tenor of the game.
Suddenly it was all Highlands and Elizabeth Peebles and Claudia Dipasupil each scored from the middle of the field within 1:19 of each other to blow the game open.
"We kind of went with the philosophy that if they were going to choose to shut down one option we needed to make sure that we went to the second option. If it was the middle that they were going to shutdown we were going to go wide, if it is wide then we were going to go to the middle," said Highlands head coach Tara Madigan. "Our players adjusted to their game plan. It took us a little while to get started, but once we scored that first goal we noticed more opportunities and did what we needed to do to continue to be successful offensively."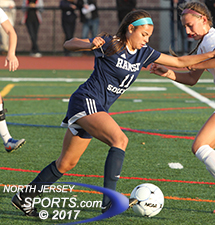 Alexa Correa put in a good shift for Ramsey, which made a magical run just to get to the county final as the No. 6 seed.
Really, though, no matter what Ramsey was going to try, it was always going to be an uphill climb. The Rams, the No. 6 seed, made a brilliant run just to reach the county final under Kevin Sabella, in his first year in charge of the program, but when they got there... there was a buzzsaw waiting.
"They stay connected better than any team that I have seen up close. When the ball moves they all shift in support and, I will use this word, they are relentless," said Sabella. "I don't think they lost a head ball all game and it was not because we weren't trying. Our girls gave it a good run, but that team, I will say it again, they are just relentless."
Highlands' second goal came off a corner kick by Claudia Mischler. Dipasupil fought for it in the air and occupied the defense as Peebles was running in behind. Peebles then swing her right leg and volleyed home to make it 2-0. Less than a minute-and-a-half later, Dipasupil, whose passing skills need to be respected at all times, noticed some space being given in anticipation of her next move, so she blasted one over the keeper's gloves and under the crossbar from about 25 yards out to make it 3-0 with 11:01 left in the opening half.
Highlands' myriad opportunities were often times the direct result of steady work done in the midfield and there is where Joanna Kelly can be found. The senior fights for every ball, wins just about every ball she fights for and then gets her team turned around and heading toward goal with pinpoint accuracy. She is the latest in a long line of durable midfielders that have come through the Highlands program under Madigan.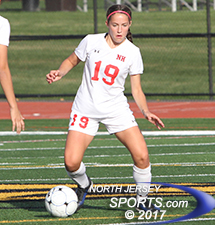 Reagan Klarmann opened the scoring for Northern Highlands, which will now move on to the North 1, Group 3 state sectional tournament where it will host Morris Hills in the opening round on Monday.
"[Madigan] always tells us that if you win the midfield, you win the game. We always try to play our way, to defend together as a unit and then once we win the ball we connect it together and share the ball," said Kelly, one of only four seniors on the Highlands roster. "I am not going to say we haven't played any bad games this season, but we have had a lot of good ones and today we were on and we just clicked."
Kelly scored Highlands' fourth goal off a feed from Klarmann in the 52nd minute and Mischler capped the scoring with a lunging toe poke off a pass from Katie Murray in the 57th.
Ramsey got solid work from Alex Correa, who tried to close down as much as she could in the high press and Cassie Phillips, who toughed out the 80 minutes while battling in the midfield. Ramsey never gave up hope, but just could not find a way to keep the ball for long stretches, a fate that has befallen opponents during what has been a dominant seven-year run by the Highlanders. The Rams will try to put this one behind them when they open the North 1, Group 2 state sectional playoffs under the home lights on Tuesday against Northern Valley/Demarest.
Highlands lost a crop of nine seniors, many of them off now playing high level collegiate soccer, from last year's team that finished 21-1-1 and shared the Group 3 state title with Wall Township. If there was a year that the Highlanders might have been expected to take a step back toward the chase pack, this might have been it.
Or not…
Highlands is now 15-0 heading into the North 1, Group 3 state sectional tournament and will open at home as the top seed against No. 16 Morris Knolls on Monday.
"With all of the players that we graduated last year, and we are talking about high caliber players that are elite and playing at the Division 1 level, we really felt like this year was going to be different in terms of the players that we had coming back and the players that we were bringing on to the roster," said Madigan. "In the past we would bring in two or three players, maybe four, but this year we have nine new players. We weren't sure what the expectations were, but I commend the players for setting this as a team goal for the season and then coming out here today and achieving it"
TO BUY A COLLECTOR'S PRINT OF THIS STORY PLEASE VISIT 4-FeetGrafix.com. FOR MORE PHOTOS FROM THIS GAME CLICK HERE!