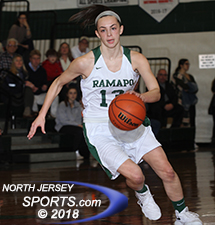 Lauren Colyer scored 7 of her 8 points in the second half for Ramapo, which extended its winning streak to four with a 31-27 win over rival Indian Hills.
FRANKLIN LAKES – During its three-game winning streak that it carried into Tuesday night's rivalry game against resurgent Indian Hills, Ramapo girls basketball team had not scored more than 40 points in any of them. The Green Raiders have been getting by with their defense and, maybe more importantly, their attitude.
"Coach [Sandy] Gordon all the time that if our defense is good it will keep us in the game no matter how many shots we make or how many we miss during a game," said Nikki Butler, Ramapo's senior point guard. "We are a scrappy team and we have to be. We know we have to outwork people."
In a game in which there were just 21 points scored in the first half combined between the two teams, every basket was at premium and none of them came easily. That is why Ramapo's 8-0 run to start the fourth quarter was so important. Previous to that, its largest lead of the game was just four points, but when Anna Nunziato made two free throws with 4:32 left in the game to make it a nine-point game, Ramapo had found just enough offense to last it to the finish in a 31-27 victory in Franklin Lakes.
"Another defensive battle…That is the way we play. Our defense is going to keep us in the game, but we have to find ways to score more points. We had, what, 11 points at the half tonight?" said Gordon. "We came out on the right side of it and we have a blue collar mentality. There were not a lot of fouls called tonight and it was a little bit of a bloodbath, but we hung in there and did just enough on offense to get a win over a very good team."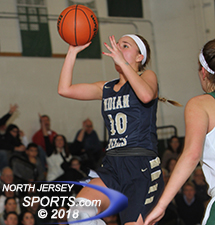 Savannah Aboyoun shooting the floater that got Indian Hills back to within 29-27 with 58 seconds left in the game.
Indian Hills brought a three-game winning streak of its own into the game and got off to a good enough start as it surged out to a 7-1 lead. Ramapo did not make its first field goal until the 3:14 mark of the first quarter, a Butler three-pointer, and she added another one to get the Raiders back even, 7-7, after the first period. Then there was a lull.
The first 3:54 of the second quarter ticked off the clock without a single point being scored. The only field goal of the quarter was an Olivia Webb three-pointer that gave Ramapo its first lead of the game, 10-7, and the Raiders led 11-10 at the half. Despite its offensive struggles, Ramapo's zone defense kept Indian Hills away from the basket and limited the Braves to just one field goal and one free throw made in the second quarter with all three points by senior Angela Saric, a 1,000-point scorer who was held to just five points in the game.
"We did not get Angela as many touches as she should have had and we were not flashing to the open areas. The corner was open all night, but we saw it too late and we tried to dribble through the zone too much instead of trying to pass through it," said Indian Hills head coach Julie Haledjian. "We struggled to get shots, not just good shots, all game and their zone had a lot to do with that."
By comparison, the third quarter was free flowing with each team scoring 10 points. Lauren Colyer and Sabreen Huzun scored back-to-back baskets to open the half for Ramapo before Analee Boggio hit a three-pointer to tighten things back up and Kristina Rainey's three-pointer to end the third quarter dragged Indian Hills back to within 21-20.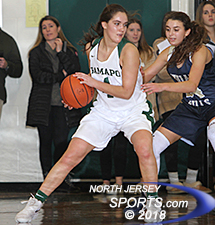 Olivia Webb came off the bench to score 5 points for Ramapo, which improved to 7-2 on the season.
Then Webb, the Ramapo sophomore who usually positions herself outside the arc for catch-and-shoot opportunities, posted up instead and scored on a drop-step in the paint to kick off Ramapo's decisive 8-0 run to start the fourth quarter. A Savannah Aboyoun three-pointer gave Indian Hills its first points of the fourth quarter with 3:14 to play. Calli O'Neal then scored inside and Aboyoun hit a floater with 58 seconds to play that had the Braves with two points. Ramapo finally put the game away when Butler hit both ends of a one-and-one with 32 seconds left to double the lead.
"Indian Hills is a really good team, they are our rival and we knew this was not going to be easy," said Webb. "We took some bad shots, probably too many, but we were able to score when we had to and we made enough free throws. That is probably what won the game for us."
Ramapo made 7 of 11 free throw attempts in the game while Indian Hills got to the line just six times and made half of them, a relatively low number of total free throws for as physical as the game was. No player on either team reached double figures as Butler, who will play soccer at The College of New Jersey next year, finished with a game-high 9. Colyer (8 points), Nunziato (7 points), Webb (5 points) and Huzun rounded out the scoring for the Green Raiders, who are now 7-2 on the season and still unbeaten in league play.
"It's never easy but this group works hard. We do a lot of work on the fundamentals and our practices are sometimes as ugly as this game, but they bring it every day and they are buying in to what we are trying to do," said Gordon. "We have cut down on our turnovers and that has been our nemesis -- throwing the ball all over the gym – and we made some free throws. That is so important because we don't make a lot of field goals, so any free point, every free throw; we have to convert on that."
Boggio scored a team-high 8 points for Indian Hills, which slipped back below .500 at 4-5 on the season. Aboyoun added 7 points, Saric and O'Neal each made two field goals and Rainey had the other three points for the Braves.
"This one did not go as we wanted it to, but we competed and this was as hard as I have seen my girls play this year. When I say I hard I mean scrappy, diving all over the floor and we played with heart," said Haledjian. "There is a lot of season left, we have two sophomores (O'Neal and Rachel Legatto) in the starting lineup and so far this year there have been a lot of learning moments. We have a lot of season left and we are not going to stop now."
TO BUY A COLLECTOR'S PRINT OF THIS STORY PLEASE VISIT 4-FeetGrafix.com. FOR MORE PHOTOS FROM THIS GAME CLICK HERE!