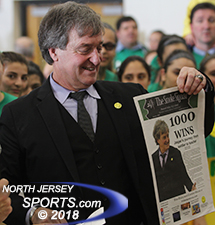 Remeber newspapers? Pascack Valley head coach Jeff Jasper holds one up in honor of his 1,000th career victory on Thursday in Hillsdale.
HILLSDALE -- The gymnasium was filled, emotions were high and the atmosphere was highly charged, as Pascack Valley prepared to play Northern Highlands. At stake: Indians coach Jeff Jasper's first opportunity to earn victory No. 1,000 of his 45-year coaching career.
But Valley got off to a slow start for the first time this season as Highlander junior Breanne Davis drained three three-pointers and junior Morgan Micallef added another to stake Northern Highlands to a 12-5 lead four minutes into the game.
"Just seeing everybody come in and the atmosphere of how important this game was not only to us and to Jasper, but to everyone who has been through this program, I think we were all a little nervous," said Valley senior Kelly Petro.
"All I was thinking was we really can't screw this up," Tori Tabasco added, laughing.
Senior Brianna Wong cut the lead to 12-7 with a layup off a great pass from Petro. A half minute later senior Kelly Smith drove and scored and then junior Brianna Smith swished a three to tie the score, 12-12. Brianna Smith canned two more threes and senior Cerina Dunkel hit one with nine seconds to go as the Indians closed out the first quarter with a 17-2 run and 22-14 lead.
With the ship righted Valley turned up the offense, zipping the ball around the perimeter and taking the best shot possible. By halftime the Indians led 44-22.
Breanne Davis helped put an early damper on the fetivities as she led Highlands to an early 12-3 lead.
"He (Jasper) stresses so much the importance of taking your shots and getting other people open," said Petro. "One thing that he talks about is you might have a good shot, then you might have an even better shot and then you have the best shot. That's what our team is really good at: moving the ball, distributing the ball, focusing on defense and pushing the ball up the floor."
As the offense began to hum, the defense began to clamp down on the Highlanders. Although they scored 12 quick points in the first quarter, Northern Highlands would only score 13 more points the rest of the way, including none in the fourth quarter.
"In the beginning of the season," said Petro, "we addressed the fact that we were going to be the team that got his 1,000 and then we didn't really talk about it. As we got closer we were like, 'oh my gosh, this is literally happening.' We talked about it as seniors and with the underclassmen about how important this is.
"It's an unreal feeling. You've seen all of the women who have gone through this program and they are some of my idols. The fact that I get to be on the team for this milestone for Jasper and this entire program is unbelievable."
"When I look back I'll remember this specific moment," added Tabasco. "It's true what he says - this is so much more than basketball. It's all about the long gold line. You saw all the people who came back just for this game, just to be here in this moment with him. When we play we carry part of that with us and when we leave we still have it with us."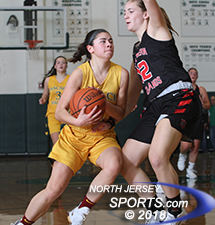 Brianna Wong scored 15 points for Pascack Valley, which now has an even 1,000 wins as a program...all of them coached by Jasper.
Brianna Smith led all scorers with 18, while Wong chipped in with 15. Davis finished with 13 points for the Highlanders. After the 73-25 victory, Jasper addressed the audience, who were adorned in the green T-shirts that were handed out by the athletics office. Drawn on the front of the shirt was '1,000 1974-2018' on the back of the shirt was a cursive "J."

The zeroes of the 1,000 resembled smiley face buttons, something Jasper wore to each game, in tribute to the late Joe Poli, Pascack Valley's principal in the 1980's. Poli added a smiley button to his jacket lapel each morning.
Jasper once said, "short of my father, Joe Poli was the most important male influence on me. He was just an incredible man."
Poli died of an aneurysm at age 51 in 1989 and the December girls basketball tournament at Pascack Valley bears his name. Jasper recalled something he learned from Poli.
"Joe Poli showed me daily that finding pure goodness in people is the true aim of a worthy life," he said.
Jasper, addressing the crowd in in the postgame, talked about the three teams to which he belongs: his family, Pascack Valley High School and the players, parents and fans, who have been so supportive.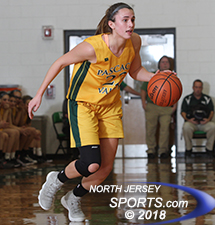 Kelly Petro and Pascack Valley improved to 10-0 on the season.
"In our family," he said, "the spiritual leader is, of course, my wife Lois, the love of my life; my three sons, Jeremy, Justin and Gavin; my three grandsons, daughters-in-law and future daughter-in-law.
"My three sons are amazing. What I've learned from them about life - it's crazy they can teach you such things. Jeremy taught us about creating and compassion, Justin about patience and character and Gavin about humor, honesty and humility. Lois taught us about loving and caring.
"My wife, Lois, is as special as they come. Anyone who can put up with me going on 46 years is a special woman. Without her I would be living in a cardboard box on a street corner and this would never have happened. I know how lucky I am."
Jasper also described his emotions during the day.
"I probably cried six times by myself today, in addition to being choked up from all the text messages and emails, stuff that came to me from so many people going back to 1973," he said. "At the gym this morning tears are running down my cheek and on my way home from there, I'm driving to get my coffee and I'm crying again. On my way to school I'm crying again. It's just random, thinking of all the people in the past. That was what the emotion was about. It wasn't about winning the game. I'm not minimizing that. It was just seeing all the faces of kids who have become such great people and have so enriched my life. They learned something from me but they have no idea what I've gained from them."
"It was just another game for a lot of people," said Petro, "but for so many more people it has so much significance. It's so much more than just a game of basketball."
So now Jasper has joined St. Anthony's legendary boys coach Bob Hurley as the only New Jersey basketball coaches to win 1,000 or more games.
"Life is about being selfless, being disciplined, being committed, being supportive, being compassionate and being caring," he said. "If you could walk away from basketball using that as the vehicle to teach those kind of things, we're undefeated.
"As Jim Valvano said, 'if you can laugh, if you can cry and if you can think and do all three things every day, you've had a heck of a day.' Well, I've had a heck of a day."
TO BUY A COLLECTOR'S PRINT OF THIS STORY PLEASE VISIT 4-FeetGrafix.com. FOR MORE PHOTOS FROM THIS GAME CLICK HERE!