Sam Kang was awarded a penalty kick and he buried it midway through the first half to put NV/Old Tappan in front for good in a 3-0 win over Bergen Catholic in the Bergen County Tournament quarterfinals.
MAHWAH – This kind of thing happens all the time in soccer. Two players who are attached to the same club team often take the field against each other during the high school season. Under normal circumstances they might acknowledge one another in the pregame, gos at it hard for their respective high school sides and then hug it out in the handshake line when the game is over.
This normally subtle tradition often passes unnoticed to those unfamiliar with such loyalties, but in the Bergen County Tournament quarterfinals it had a real impact. Colin Eifert normally takes all of the penalty kicks for Northern Valley/Old Tappan but when the Knights were awarded one and then two in just over a one-minute span in the first half against Bergen Catholic on Sunday, an issue arose.
"Everybody just assumed that I would take the PKs just because I have taken them in previous games, but when Sam [Kang] got fouled, I ran up to him and told him that I was not taking it," said Eifert, the senior central defender who will play at Bucknell University next year. "I played with this keeper [BC's Nicholas Vafiadis] in club and he knows what I like to do. Sam is a great player, I have total confidence in him and I told him to take it and put it in the back of the net."

Kang did bury the PK with 26:02 left in the first half, Danny Yun converted another one 1:06 later and Bergen Catholic could never recover. Yun added another goal through the run of play with less than 10 minutes to play in the game to put the finishing touches on a 3-0 victory that puts the Golden Knights into the Bergen County Tournament semifinals for the second straight year where they will play Northern Highlands at Ramapo High School.
Matt Burstein kept a clean sheet for Old Tappan, which is through to the Bergen County semifinals for the second straight year.
Bergen Catholic's game plan was, obviously, to be physical in challenging Old Tappan's speed on the flanks and the plan backfired when Kang, a senior playing in his only high school season after leaving the academy set up, got his shoulder in front of a defender on a run up the left side. Kang, who signed to play at New York University on Saturday, was pulled down in the box before rifling home his free shot from the spot.
The second PK was less subtle as Vafiadis ran over Yun while both were in pursuit of a ball that was bouncing free after a cross played in from the left. Vafiadis was also show a yellow card on the play so was not even in the net when Yun made his PK.
"We talked to them about not worrying about some of the extra stuff that might go on. We had to stay disciplined and had to stay focused on what we were trying to do," said Old Tappan head coach Mark Torrie. "We had 100 seconds of madness against Pascack Valley the other day and that cost us the game when we gave up a couple of goals in the final minutes. I thought we made some good adjustments and I thought our pace up top caused them some problems."
It might have been interesting to see how the game might flowed and what the outcome would have been had the PKs not made the rest of the match a moot point. Bergen Catholic is strong down the spine of the field and it could have been a battle of contrasting styles. Instead, the Crusaders were put into scramble mode when they fell behind and could never really get a lifeline back into the game.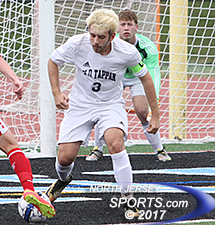 Brett LaFronz and Old Tappan will play Northern Highlands in the Final 4 next Sunday in Franklin Lakes.
Henry Mouawad created two chances for Bergen Catholic as he penetrated to the top of the box and let go two cracklings shots, one in the 31st minute and one in the 34th. The first one flew just high and wide of the mark and the second took a deflection off a defender and made for a tough chance for Old Tappan keeper Matt Burstein, who handled the spin and get the Crusaders off the board.
BC also applied heavy pressure in the waning minutes of the first half and won two corner kicks and got to launch three long throws, but it could not get one over the goal line and went into the half still trailing 2-0 and Old Tappan maintained that edge by winning balls in the midfield and forcing the Crusaders to play more defense than they would have wanted while trying to mount a comeback.
"The biggest thing for us was just keeping our composure and to keep playing soccer. We got the job done," said Anthony Contreras, Old Tappan's junior midfielder. "It's fun playing with these guys. Everybody does their job and works hard for each other. That is what we did today and we want to keep it rolling."
Yun got free for a breakaway chance with 10 minutes to play and he iced the game. Vafiadis saw it happening, raced off his line and managed to get a piece of Yun's shot, but the ball had enough steam on it to get over the keeper and over the goal line to all but end the festivities.
The loss to PV that probably cost Old Tappan a shot at a league title notwithstanding, the Golden Knights are in good shape heading into the home stretch of the season. They are in the Bergen County semifinals for the second straight season, an all public school Final 4 at that, and they are certainly a threat in the North 1, Group 3 state sectional tournament. Sunday's win helps in that regard as it came with a heaping of power points.
More than that, Torrie sees the bigger picture of high school soccer fulfilling its core mission.
"I think when you look across the board and I am talking about my division, the Big North-National. Tenafly gave it a good go today [against Ramapo], and has a good coaching staff, Demarest has a good coaching staff, Teaneck has a good coaching staff even if their record does not show it, Bergenfield is coached well and Pascack Valley goes without saying," said Torrie, who stands two places below the writer of this story in an English Premier League Fantasy table. "Sometimes the criticism of high school football is that there is not enough good coaching, that it is just teachers picking up a paycheck, but I think that to be a narrow-minded approach. I think there are a lot of guys teaching a lot of life lessons through the vehicle of high school soccer. There are a lot of programs on the rise and it is fantastic to be a part of."
TO BUY A COLLECTOR'S PRINT OF THIS STORY PLEASE VISIT 4-FeetGrafix.com. FOR MORE PHOTOS FROM THIS GAME CLICK HERE!