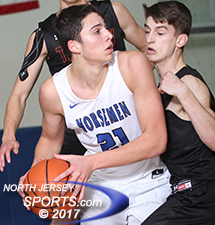 Jake Runyon scored a game-high 21 points for NV/Demarest, which opened its season with a 52-30 win over Tenafly.
DEMAREST – The Northern Valley/Demarest boys basketball team turned into an interesting story last year after it turned an 0-8 start into a late season run that including winning the Bergen Invitational Tournament title and an upset victory on the road in the opening round of the North 1, Group 3 state sectional tournament. With just about every player back from that team that found its stride late last year, even more is expected and what is already for sure is that there will be no 0-8 start this time around.
After a slow start by both teams trying to manage the adrenalin that come with Opening Night and two tightly packed student sections make a whole lot of noise, Demarest came flying out of it home locker room and opened the second half with a 13-2 run that tilted the game in its favor for good. Behind a game-high 21 points from senior Jake Runyon and a defense that gave up exactly zero points in transition, Demarest is now 1-0 after a 52-30 win over Tenafly.
Needless to say, it is nice to have the first win out of the way to completely erase any thoughts of last season's nightmare start.
"Guys came ready to play and it just felt good to get the season going and to get the first one out of the way," said Zach Stimmel, the point guard in Demarest's all senior starting lineup. "It was great to see the fan base come out tonight and fill the stands for the home opener and hopefully they keep it up. The goal was to hit the ground running, forget about last season and keep it rolling from here. Last year was a learning experience, this year we are ready to go."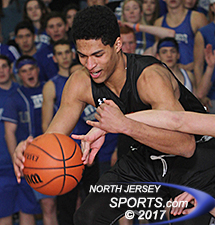 Tony Bonilla scored 8 points for Tenafly to tie for team-high honors.
Maybe there was too much adrenaline at the start as the first quarter was played to a 6-6 stalemate and Demarest needed a scrappy basket in the final second of the second quarter from Endrit Kaleci to grab an 18-15 lead at the half, but the third quarter was different. Even with double teams running at him, Runyon showed off his versatility and found his touch. He made a pull up jumper in the lane to open the second half scoring, scored twice off the offensive glass and hit a jumper from the win that capped a 12-2 spurt that gave Demarest a 31-17 lead and forced a Tenafly timeout.
"Runyon is some player. The focus has to be on him and he demands double teams, but the other guys do a good job filling in around him and shooting outside," said Tenafly head coach Jeff Koehler. "We kind of lost it there for a while in the third quarter with turnovers. We had 25 or 27 turnovers, something like that, and it is hard to win a game if you are going to give the ball away that much."

Tenafly (0-1) has a lot returning from the team that qualified for the Bergen County Jamboree last season, but will be without the injured Max Weiner until the latter part of January. Unable to get any easy baskets, the Tigers were forced into the halfcourt and getting points in that setting is tough against a Demarest team full of players fresh off of a 9-2 football season. The Norsemen are deep, they are strong and they get after it on the defensive glass.
Demarest wants to grind it out and it had its way in terms of pace of play right from the get-go. Neither team scored a fastbreak basket until Stimmel made a steal and a layup with 4:29 left in the second quarter. Neither team made a 3-pointer until Demarest's John DeCroce knocked one down from the wing with 3:49 to play in the first half. Tenafly did not make a first half 3-pointer and Demarest managed only two, but the second one came off the hustle of Joe Rotonde, who chased down a missed shot and kicked the ball out to Stimmel, who buried the 3 that gave Demarest the lead for good, 14-13, 1:37 before halftime.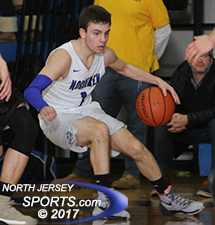 Zach Stimmel finished with 12 points for Demarest, which has five seniors in its starting lineup.
Demarest lead 18-15 at the break before Runyon went off in the third quarter where he scored 8 of his game-high 21 points and DeCroce's free throw with 1:35 left in the period gave the Norsemen a 32-21 lead heading into the fourth.
"We just had to settle into the environment, the atmosphere and get down to doing what we do best. Our defense was unbelievable tonight and the third quarter showed how we are capable of playing. We came out with a lot of energy and our defense won this game for us tonight," said Runyon. "It means so much to us that basically our whole school came out tonight in the snow to watch us play and I am happy that we got this win for them."
Runyon and Stimmel (12 points) were the only two players for either team to finish in double figures. Kaleci (6 points) and DeCroce combined for 10 points off the Demarest bench, Austin Albericci scored all four of his points after halftime, Rotonde made a 3-pointer and Connor Scaglione, the first-team All-County offensive lineman, made a field goal and controlled the middle for the Norsemen.
Tenafly got 8 points each from Tony Bonilla and Jonny Angbazo and 6 from Elon Levy, who made two fourth quarter 3-pointers, Tenafly's only two made triples in the game. Josh Kahn, Romy Azulay and Dennis Kardonski each made one field goal and Eric Berschadsky made two free throws for the Tigers, who only got to the line seven times in the game.
"Tenafly is a good team, a well-coached team with a lot of guys back from a Jamboree team and they are going to get their share of wins, but we were home, we got great support and we are grateful that it turned out the way it did," said Demarest head coach Joe Dionisio, whose team did not give up a fastbreak basket in the game and only allowed two off the offensive glass. "I can't be more pleased with what we did on the defensive end and rebounding the ball. Holding them to 30 points is not easy to do."
TO BUY A COLLECTOR'S PRINT OF THIS STORY PLEASE VISIT 4-FeetGrafix.com. FOR MORE PHOTOS FROM THIS GAME CLICK HERE!