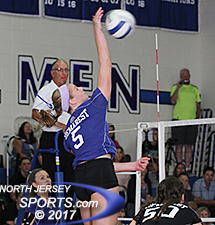 Senior Ellen Hamlin and NV/Demarest were the aggresors for most of the match and came away with a two-set win over Ramapo in a battle of two state-ranked and unbeaten teams.
DEMAREST -- In a battle of state-ranked unbeaten volleyabll teams No. 4 Northern Valley/Demarest upset No. 2 Ramapo in straight sets, 25-23, 27-25 Thursday afternoon.
"It's gut-wrenching," said Demarest coach Beth Powell. "It was a battle. I'm really proud of my girls. The Ramapo team is amazing."
"We lost to them in the section finals [last season]," junior Ohr Yahalomi said. "I was pretty excited to get a little bit of revenge today. I was also excited because it is my birthday today. I was a little nervous but I knew we could win."
Demarest led for most of the first set. Junior Sydney Woods broke a 4-4 tie with a well-placed hit and the Norsewomen went on a 10-3 run to grab a seven-point lead, 14-7. Yahalomi tallied four kills and a block in the set.
"I was just trying to play my game," said Yahalomi. "I was just trying to play for my team. We visualize so much. We work hard for this. I just wanted to do it all for them. I was trying to find empty spots on the court and get points for us."
But the Raiders chipped away at the lead. Led by senior Gretchen Kincade, who hammered six kills in the set, Ramapo got to within two, 22-20, and Demarest called timeout.
Back-to-back attack errors by the Norsewomen and a service ace by Raiders senior Caroline Smolenski gave Ramapo a 23-22 lead.
Ramapo senior Elena Montgomery was dominant in the second half.
Demarest junior middle Gianna Arias pounded a kill to tie the game 23-all. Senior co-captain Ellen Hamlin smacked a kill to give the Norsewomen a set point. Then Arias blocked a Raiders shot and Demarest took the first set 25-23. Arias had four kills and a block in that first set.
"Ramapo is a very good team," said Arias. "Last year we lost to them in the states so we came in fired up. We knew it was going to be a good game."
While Kincade got her points, senior Elena Montgomery was held to two kills and a block in the first set thanks to an outstanding defensive effort by the Norsewomen, who blocked or dug most of Montgomery's blasts.
"It's amazing to dig a ball like that," Demarest senior co-captain Rachel Suter said of Montgomery's hard-hit scoring attempts. "It's a lot of fun and it's a lot of instinct getting to the ball. But when it's coming at you that fast and you get it up it's an amazing feeling. It's partly experience but you have to know how to read it. I've been playing for a long time so I can read the ball pretty well."
Demarest setter Alicia Iafrate spread the ball around as the Norsewomen got contributions from a host of players.
"We had to adapt and adjust," Powell said of the defense. "I did make a switch that was very effective at the beginning of the game. I wasn't sure if we would be able to do it. It was effective on one side of the game but not effective on the other side of the game. The next time we play them we'll have to fix the other side."
The "other side" began with Montgomery, who will play at Princeton next year, scoring the first five Ramapo points in the second set as the Raiders grabbed a 12-7 lead.
"They're both (Kincade and Montgomery) amazing players," said Arias. "We knew that Montgomery is going to get amazing hits. We just had to do our thing and play our game."
"It's what we expected," said Powell. "She's amazing; she's so good."
As Demarest had done in the first set, Ramapo led through most of the second. Demarest fought back to tie it, 17-17, and took an 18-17 lead on a service ace by junior Sedona Gaard.
"I think we believe in ourselves," said Powell. "We rely on everyone, not just one player, and that is amazing."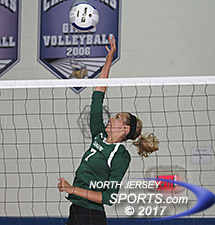 Gretchen Kincade carried Ramapo's offense in the opening set.
Ramapo quickly tied it and the teams battled back and forth with four more tie scores until Demarest earned a match point, 24-22, on a service ace by Hamlin.
But Montgomery came alive with a kill and block and the score was tied at 24. She finished with 12 kills and two blocks in the match. Then the teams exchanged attack errors to tie the score at 25. Gaard belted a kill and the match ended a point later when Ramapo was whistled for a net violation.
Hamlin explained how the team stays focused in close matches.
"We always say we're in our bubble," she said. "We don't worry about the outside or what the other team is doing. We worry about what we do. We just play the next one and battle for every single point."
With their first loss of the season Ramapo falls to 6-1.
"The key was before the match," Raiders coach Dave Van Hook said. "They wanted it more than we did. It's a great crowd for Demarest and it was a challenge for our girls. It was a good learning experience for us to play in this type of environment. They were more hungry than we were. They wanted the win more than we did."
Demarest improved to 8-0 and may have gotten a little revenge.
"Last year we lost to them in the state sectional and this year we were motivated by that," Hamlin said. "Every single player was like, 'this is our year.' Whatever happened last year, we're changing the pace. This is our year."
"It's our season," added Suter. "All the girls are playing for the seniors and we're playing for them. It's going to be a great year."
TO BUY A COLLECTOR'S PRINT OF THIS STORY PLEASE VISIT 4-FeetGrafix.com. FOR MORE PHOTOS FROM THIS GAME CLICK HERE!