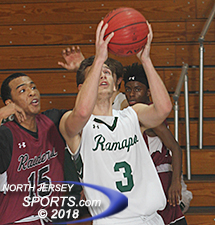 Jason Oppler scored a game-high 27 points, including the two that retied the game late in the first overtime before Ramapo escaped with a 78-71 victory over Dwight Morrow in a double overtime thriller at The Mel Henderson Showcase in Hackensack.
HACKENSACK – Ramapo's preseason schedule was packed with the toughest competition it could find. It chose to enter one of the toughest holiday tournaments in the state and the Green Raiders league schedule is no cakewalk either. All of that, the unyielding search to test itself against the best opponents it can find, is designed to help in situations like the one Ramapo found itself on Saturday against Dwight Morrow in the Mel Henderson Showcase played at Hackensack High School.
With 25 seconds left in the first overtime and right after Dwight Morrow's Drew Tyre hit two free throws, Ramapo was down by six points and looked just about dead in the water.
"The coaches always challenge us. Whether it was the Christmas Tournament or the preseason schedule, it is days like today where those things, those experiences pay off," said Ramapo senior Jason Oppler. "We got our butts kicked during the preseason and nobody hanged their heads, so to be down six with 30 seconds left we know not to give up and we can pull games like this out."
And that is exactly what Ramapo did. KC Hunt drove straight the basket to cut the deficit to four with 19 seconds left. Sophomore Max Pernetti then came up with a steal and an assist on another Hunt basket that also came with a bonus free throw to get the Green Raiders to within one point with 9 seconds left. Then, after Dwight Morrow made one of two free throws, Hunt raced the ball up the floor, drew the defense and then found Oppler for a tough runner in the lane that tied the game with just two seconds to go to force a second overtime.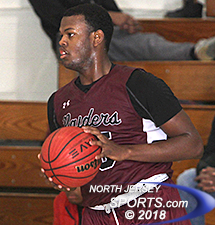 Owen Roberts scored a team-high 21 points for Dwight Morrow, which put four different players in double figures.
Once Ramapo had survived the final moments of chaos in the first extra session, it finally took control in the second. Ben Bitensky's only field goal of the game, a fade-away jumper in the lane, put the Green Raiders in front for good and Oppler's three-point play the next time down the floor gave Ramapo the separation it desperately needed in a 78-71 victory that gives it another neutral court win over a quality opponent that looks good on a Bergen County Jamboree application form.
Ramapo is now 12-2 on the season with just one more game before the Jambo cutoff and are probably going to be a No. 4 or No. 5 seed behind Bergen Catholic, Don Bosco Prep, Hackensack and maybe Teaneck.
"This is a big win for our Jambo run because we don't want to have to play a play-in game and after this I don't think we are going to be in the play-in round," said Pernetti, a sophomore who was on the varsity bench last season when Ramapo scored just 33 points and was knocked out of the Jambo by Pascack Hills in the Round of 16. "We've gotten so much better on offense this year and our defense has been great. We gave up 71 points today, which is more than we want, but when we get to the Jambo if we can keep it to low scoring games, we can play with anybody."
Dwight Morrow, under first year head coach Leo Jones, is making a Jambo push as well and a win over Ramapo would have been a boost in that direction, but the Maroon Raiders fell behind 7-0 to start the game and 24-17 midway through the second quarter before drawing close and staying there. The last of Macio Robinson's three first half three-pointers got DM to within 25-24 at halftime and it used a 14-5 third quarter run to go up 43-36 when George Garrison IV hit a three from the corner with 2:37 left in the period. Robinson hit an off-balance desperation three-pointer to beat the buzzer and put the Maroon Raiders up 46-40 heading into the fourth quarter.
Junior KC Hunt scored 19 of his 21 points after halftime for Ramapo, which improved to 12-2 on the season.
Ramapo is more comfortable playing games in the 40s and 50s, and had this one ended in regulation it would have been, but Dwight Morrow had some success in pushing the pace and then making it a scramble went it took a variety of late leads. The Maroon Raiders its last lead of regulation at 54-53 after a Martini Martin free throw with 1:26 to go. Hunt put Ramapo in front 55-54 with two free throws with 1:15 left, Tyre tied it by making the front end of a one-and-one with 1:04 left, but neither team scored for the rest of the fourth quarter in a mess of turnovers and late-game head-scratchers.
Dwight Morrow regrouped first in the extra session with Garrison scoring the first three points and the Maroon Raiders never trailed, but they could not close out the game. In the span of 1.2 seconds inside the final 10 seconds, Dwight Morrow missed a free throw and committed a turnover that allowed Ramapo to pull off a 5-1 run in the final 9 seconds of overtime to extend the game.
Oppler, who scored a game-high 27 points, fouled out with 2:29 to play, but Ramapo (12-2) was up 68-64 at the time and it led by many as seven, 73-67, with 49 seconds left. Pernetti came up with an offensive rebound off a missed foul shot to give Ramapo an extra possession that turned into two made free throws by Vasili Econopouly after Dwight Morrow had snuck back to with 73-70 and Bitensky went 2 of 2 at the line to finally put the game away with 23 seconds to go.
Oppler led all scorers and was named his team's MVP, while Hunt, Ramapo's leading scorer, scored 19 of his 21 points after halftime. John Whooley added 11 points, Andrew Curcura had 9, Bitensky scored all 4 of his points in the second overtime and Pernetti, Econopouly and Matt Wingfield split the other six Ramapo points evenly.
Owen Roberts (21 points) led four different Maroon Raiders in double figures ahead of Robinson (14 points), Garrison (13 points) and Tyre (10 points). At 8-5, Dwight Morrow still has some work to do to qualify for the Jambo either automatically or via an at large bid, but Ramapo is safely in the field and looking to make a deep run.
"As bad as we played defensively today, the thing about this team is that we have so much heart. To be able to gut that out, that is amazing and just adds to confidence," said Oppler. "We have the confidence in each other. For KC to know that I would make that shot [to tie the game in the first overtime] and give me the ball to do it, we trust each other and that is only going to help us in the Jambo and the states."
TO BUY A COLLECTOR'S PRINT OF THIS STORY PLEASE VISIT 4-FeetGrafix.com. FOR MORE PHOTOS FROM THIS GAME CLICK HERE!