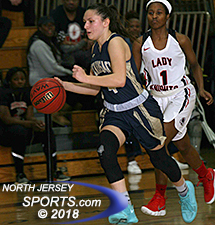 Gena Kaminski scored a season-high 24 points for Hackensack, which won its third consecutive state playoff game on the road, 62-40 over Kennedy, to earn the program's first ever trip to a section final.
PATERSON – The 2017-2018 season was supposed to be a successful one for Hackensack girls basketball team, which had senior point guard Gena Kaminski returning to run the show. Things did not turn out as planned however as the Lady Comets were never able to find their groove. Despite being competitive with virtually every team on its schedule, Hackensack only won back-to-back games once during the entire regular season and limped into the North 1, Group 4 playoffs as the No. 11 seed.
However, the records go out the window once the state tournament begins and it seems that a fresh start was just what this team needed.
On the road against 10th-seeded Kennedy on Saturday afternoon, Kaminski was sensational. She scored eight of her game-high 24 points in the first quarter as Hackensack took control early and maintained it throughout. The end result was a third straight upset, 62-40 victory that puts Hackensack's girls basketball program into a section final for the first time in school history where it will visit No. 9 West Orange, which outlasted Ridgewood in triple overtime in the other semifinal.

"We know we didn't have the best season and we let some games get away from us, but the state tournament gave us a chance to hit the reset button and start over," said Hackensack's Kyara Cowan. "We know what we can do. We just have to play together."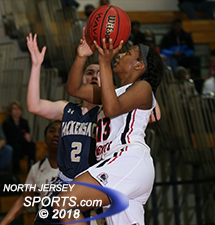 Taniesha Gilbert scored a team-high 23 points for Kennedy, which finished the season with a 15-11 record.
The Comets got off to a slow start and never recovered in a 58-51 loss to Kennedy two weeks ago. Hackensack is playing better now than it was then, but so was Kennedy, fresh off of two tourney upset wins. Taniesha Gilbert was instrumental in those wins and she kept it going with two straight baskets to start the game. But from there the rest of the first quarter was all Hackensack.
The Comets went to a 1-2-2 full-court trapping defense and it produced one turnover after another. Kaminski made it hurt on the other end of the floor with a pair of fastbreak layups and a three-pointer. The Comets closed the opening quarter on a 22-5 run to take a commanding 13-point lead.
"We knew we had to get off to a fast start by forcing turnovers and getting the ball moving," said Kaminski. "Last time we played them we took a lot of contested shots instead of working for better shots. I thought we've worked really well together in our last three games and we're playing with confidence."
Things initially went from bad to worse for Kennedy with Gilbert picking up her second foul and center Jimmirah Johnson picking up her third with 5:25 to go in the first half. Still down by 13, the Knights had to rely on their bench and the reserves came through by allowing just two points over the final five minutes of the second quarter and trimming the deficit to 10 by halftime, 31-21.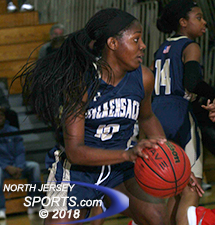 Kyara Cowan finished with 12 points and 8 boards for Hackensack, which will play West Orange for the section title.
Johnson scored on a putback to get Kennedy back within single-digits late in the third quarter but the Comets' confidence never wavered. Cowan scored inside and Kaminski added two more baskets in transition to bump the lead back up to 15 points. Hackensack methodically pulled away from there by spreading the floor and sharing the basketball. Eight different players scored in the fourth quarter alone to lift the Comets into their first section final in school history.
Kaminski finished 9-for-12 from the floor to total a season-high 24 points to go along with four rebounds, three assists, and three steals and a block for Hackensack (12-15). Cowan, who did not play in the Comets' first meeting with Kennedy, made her presence felt with 12 points and eight rebounds. Gilbert battled through foul trouble to lead Kennedy (15-11) with 23 points.
Hackensack will hit the road again on Tuesday to face West Orange. It will be no easy matchup with the Mountaineers possessing one of New Jersey's top players (Mya Bembry) and already having wins over section finalists Saddle River Day and Immaculate Conception in the regular season along with an upset over top seed Morristown in the states.
That suits the Comets just fine. They have been counted out from the time the state tournament began and it has fueled them to three straight road wins. If they can get one more they will add a section title that nobody saw coming a few short weeks ago.
"We're just doing the best we can and we're seeing how far we can go," added Kaminski. "Every game we're more prepared and with each win we're getting more confident. I always dreamed of going on a state tournament run like this, but now it's a reality and we're actually doing it. We have the chance to bring home a championship and we're going to leave it all on the floor."
TO BUY A COLLECTOR'S PRINT OF THIS STORY PLEASE VISIT 4-FeetGrafix.com. FOR MORE PHOTOS FROM THIS EVENT CLICK HERE!