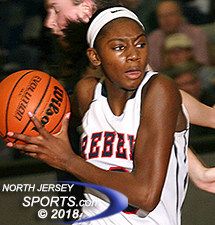 Jaida Patrick hit a key jumper late in the fourth quarter to help Saddle River Day finally put away IHA, 58-51, in the Bergen Cunty Tournament semifinals.
MAHWAH – Coming into the 2018 Bergen County Tournament, two-time defending Bergen County champion Saddle River Day has never been more dominant inside county borders. Although they have only faced five opponents within Bergen County this season, the Rebels' average margin of victory is a whopping 47.2 points per game. It was expected by most that Immaculate Heart Academy was merely a speed bump on the Rebels' way to another county final. However, the Blue Eagles scratched and clawed to slice a 14-point deficit down to one early in the fourth quarter.
The Rebels did what champions do, however, by staying poised and refusing to let their opponent get in their head mentally or emotionally.
Jaida Patrick knocked down a big 17-foot jumper with 2:30 to play that sparked a game-closing 8-2 run that lifted top-seeded Saddle River Day into its third straight Bergen County final with a hard-fought 58-51 semifinal win over No. 5 seed Immaculate Heart Academy at Ramapo College in Mahwah.
"This was a frustrating game and shots weren't dropping the way they have for us this season, but IHA definitely made it hard for us to get good shots," said Saddle River Day standout Michelle Sidor. "We just had to keep playing and fight through it until we figured it out."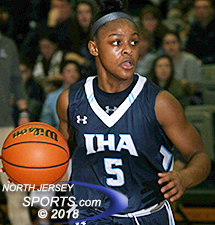 Freshman A'Nyah Barrker used her defensive quickness to set up a lot of offense for IHA.
The Rebels started strong with a pair of baseline jumpers by Jenna Jordan in a 9-0 spurt. IHA freshman guard A'Nyah Barker single-handedly kept the Blue Eagles in it early with three first-quarter steals that led to breakaway layups, the last of which made it 15-11 Saddle River Day after one quarter.
Despite giving up some size, the Rebels were adept in crashing the weak side throughout the first half and getting easy baskets. Sydney Watkins and Patrick had back-to-back putbacks as the Rebels ripped off ten straight points to start the second quarter to take a commanding 25-11 lead.
While most of their opponents tend to lose their way after being on the wrong end of a Rebels' run IHA stayed the course and stayed within striking distance by driving to the basket. Brittany Graff and Gianna Matesic scored tough layups in traffic to cut the lead to a more manageable nine-point deficit by halftime, 32-23.
"We could have fallen apart when we got down 14 but we kept focusing on playing fundamental defense and that kept us in the game," IHA head coach Steve Silver.
Every time the Rebels looked to create some breathing room in the second half the Blue Eagles had an answer. They were able to keep pace throughout the third quarter before a corner three from Annie Walsh trimmed Saddle River Day's lead to 42-37 going into the fourth quarter.
Michelle Sidor and top-seeded Saddle River Day will play for a third straight county title on Sunday against No. 2 Pascack Valley.
Bergen County's leading scorer for the past three seasons Michelle Sidor and Patrick both converted conventional three-point plays early in the fourth quarter to stretch out the lead only to watch it evaporate in less than a minute. Emma Matesic scored two straight baskets inside followed by another steal and layup from Barker that sent the IHA bench into a frenzy and cut the lead to one point, 50-49, with less than three minutes remaining in regulation.
That euphoria was short-lived as Patrick quickly came down and nailed a jumper from just beyond the elbow. IHA had two chances in the paint to cut the lead back down to one but neither shot went in and the Rebels got key free-throws from Sidor, Patrick, and Jordan down the stretch to hang on for a berth in the Bergen County final.
"In high school basketball there are going to be lapses and sometimes things won't go your way," added Silver. "But if you keep working hard and keep fighting you can still put yourself in a position to win like we had today. A couple of bunnies we missed and if we knocked just one or two more threes it could have been a different result. But we sent them to the foul line way too much throughout the game and they showed their poise by knocking those shots down."
Patrick led all players with 20 points for Saddle River Day (16-4). Sidor had 15 points, Jordan 11, and Watkins nine.
Barker led the way for IHA (18-3) with 14 points and seven steals. Walsh added 11 points with Anna Morris and Graff each chipping in with eight points apiece.
The seeds for the Bergen County Tournament have held true and that  leads to the most anticipated championship game in quite some time. Saddle River Day will be going for the three-peat. The Rebels' opponent, second-seeded Pascack Valley, will be holding the torch for the public schools and looking for its first county title in ten years.
"We've been keeping an eye on them all season and I'm sure they've wanted a shot at us too," added Sidor. "We're all really excited to play PV, it should be a great crowd and a lot of fun to be part of a game like that."
TO BUY A COLLECTOR'S PRINT OF THIS STORY PLEASE VISIT 4-FeetGrafix.com. FOR MORE PHOTOS FROM THIS EVENT CLICK HERE!