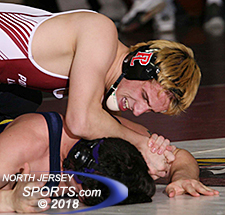 Nate Tucker won by disqualification at disqualification at 160 pounds to help get Pompton Lakes going on the way to a 49-24 win over Saddle Brook in the North 1, Group 1 state sectional semifinals.
POMPTON LAKES – With 10 seniors on the roster, Pompton Lakes head coach Scott Mahoney knows that while there is a task at hand he is just trying to enjoy these last few weeks with a group of kids he has literally watched grow up right in front of his eyes. The tutelage and the knowledge that Mahoney and his staff have passed along to this group of seniors showed up last night against an upstart Saddle Brook squad that has just started to chart its own course after years of being a part of a co-op with Glen Rock.
Locked in a tight match after four bouts, Pompton Lakes' Nate Tucker got the ball rolling despite not scoring a pin or winning by decision. His strength was merely showing his poise under an intense situation at 160 pounds.
Tucker earned several penalty points throughout the match and kept his head before winning by disqualification, which gave the Cardinals the lead for good. That unique situation sparked a four-bout run, which included pins by Ramon Hernandez and Frank Negrini to break open the match and lift second-seeded Pompton Lakes into the section final with a 49-24 victory over Saddle Brook, No. 3 seed, in the North 1, Group 1 semifinals on Thursday night.
"We have a bunch of seniors who have been through many tough matches throughout their four years, they were ready for this moment," said Mahoney. "They had couple of pins in the first few matches to go ahead but we just kept doing what we do. Our seniors have been through a lot and this is their third section final that they've reached. So we're battle tested and they know not to get too high or too low."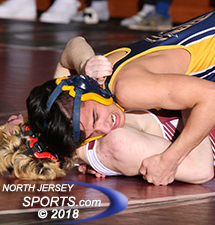 Jonathan Lau's pin in the first bout of the night gave Saddle Brook an early lead.
There were questions as to whether Saddle Brook and Glen Rock's wrestling programs would survive after being together as a co-op program for years before striking out on their own starting in the 2016-2017 season. The Falcons struggled in their first season as their own program but have thrived this year. With a chance to make a statement, they got off to a good start against a perennial small school power.
Locked in a tight match with Pompton Lakes' Caleb Tucker late in the second period Jonathan Lau looked as if he may get turned to his back. Lau was able to flip the script though and turn Tucker for the surprising pin that gave Saddle Brook a quick 6-0 lead. Another second period by teammate Chris Curry at 152 points made it 12-7 Saddle Brook and set the stage for the bout at 160 pounds.
Nate Tucker's opponent, Vincent Camilleri, made it clear he was going to be the aggressor, but Camilleri came with a hand to the face and head butt inside the first minute to give Tucker a quick lead without having to earn a takedown. With the partisan crowd getting into the physicality of the match, Tucker went back to something Mahoney has preached to his wrestlers for years.
"Coach Mahoney always tells us about staying calm and staying poised no matter what type of match you're in," said Tucker. "The match was a little wild and the 'Bird Cage' was really getting into it and getting behind me. I just had to wait for him to make a mistake and capitalize on the opportunities that came my way."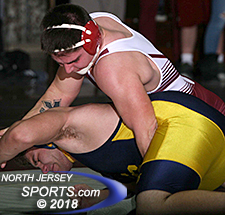 Frank Negrini won by fall for Pompton Lakes, which will visit Emerson/Park Ridge on Friday night with the state sectional title on the line.
Tucker scored a pair of second-period takedowns to seize control of the match before Camilleri lost his cool in the third period by being assessed two more penalty points before the match was halted by the referee for a disqualification win that put the Cardinals ahead, 13-12.
Hernandez scored a quick pin at 170 and Negrini muscled his way to a second-period pin sandwiched around a methodical win by decision from Logan Mahoney at 182 as Pompton Lakes regained control of the match before clinching on a 45-second pin by heavyweight Drew Flynn.
Brian Fego and Ilir Istrefi closed out the match with victories at 120 and 126 pounds for Pompton Lakes (18-4).
220-pounder Drew Setticase and C.J. Limatola scored pins for Saddle Brook (18-5). All four of the Falcons' wins came via fall.
The Cardinals will have to refuel and turn things around in less than 24 hours to face top-seeded Emerson/Park Ridge for the North 1, Group 1 title. They faced off just 10 days ago for the NJIC crown with Emerson/Park Ridge winning in dominant fashion.
"We know what we're up against, Emerson/Park Ridge is probably the best public school in the state this year," said Mahoney. "First time we wrestled them we got punched in the mouth and never really recovered. They know what it takes to be in these types of matches. It should be a fun atmosphere and you want to wrestle the best teams at this time. We're not going to shy away from the challenge and there's always something you can learn from those matches that may help you in districts or in the regions. Let's go wrestle and see what we've got."
TO BUY A COLLECTOR'S PRINT OF THIS STORY PLEASE VISIT 4-FeetGrafix.com. FOR MORE PHOTOS FROM THIS EVENT CLICK HERE!