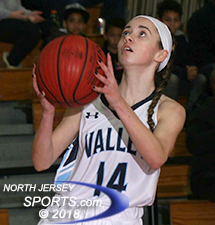 Carson Thomas scored 10 third-quarter points to give Wayne Valley the lead for good on the way to a 40-29 win over Kennedy in the Passaic County Tournament semifinals on Saturday in Paterson.
PATERSON – As the Wayne Valley players walked off the court at John F.Kennedy High School just 10 days ago they knew they had let an opportunity slip away. In that game the Indians fell behind at halftime, had a slow start to the second half and never got their rhythm in a nine-point loss.
Facing that same Kennedy team once again on its own home court on Saturday, this time in the Passaic County Tournament semifinals, the Indians found themselves in a familiar position. Down by five at the half, a slow start in the third quarter would be likely spell another crushing defeat.
With the pressure mounting the Indians leaned heavily on their 'Big 3' and each of them came up big when needed.
Carson Thomas scored 10 third-quarter points to give Wayne Valley the lead. Briana Neary hit two huge fourth-quarter buckets and Stephanie LaGreca iced it at the foul line as second-seeded Wayne Valley held No. 3 seed Paterson Kennedy to just 10 second-half points to earn a berth in next weekend's Passaic County final with a 40-29 victory..
"It feels great to be in a county final, it's something we've worked towards all year," said LaGreca.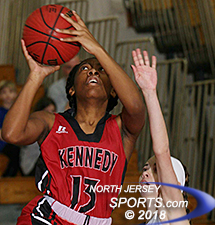 Taniesha Gilbert's putback basket gave Kennedy an early 9-2 lead.
Having a win in hand over Wayne Valley and playing on its home court, Kennedy got off to a fast start. Ayanah Young nailed a three-pointer and Taniesha Gilbert followed with a putback of her own missed shot to give the Knights a 9-2 lead.
The advantage grew to nine before the Indians quickly cut into that lead in the last two minutes of the first half. A rushed shot and a turnover led to threes by Thomas and Neary to give the Indians some momentum heading into the locker room, down 19-14.
"That was a big stretch, if we get the lead up to double-digits they game could have played out differently," said Kennedy head coach MarQuette Burgess. "We just turned the ball over way too much in the second half, especially to start the third quarter. Wayne Valley is a good, disciplined team that will take advantage of that."
Thomas struggled to get open looks throughout the first half but made the most of her opportunities when they presented themselves in the third quarter. Carson hit a three and Neary followed with a baseline jumper on the first two possessions of the second half to get the Indians going. Thomas followed with another three before a steal and a layup capped the 10-0 spurt to flip a five-point deficit into a five-point Wayne Valley lead.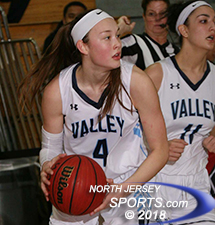 Stephanie LaGreca and Wayne Valley are just one win away from the program's first Passaic County title in 41 years.
"We knew if we kept our composure and got stops on defense that our shots on offense would eventually start falling," said Thomas. "Our defense really created our offense in the second quarter and we carried that momentum over into the third quarter."
Gilbert single-handedly kept the Knights within striking distance, twice cutting the deficit to three in the fourth quarter. Neary answered both times on contested drives to the basket to make it a two-possession game. LaGreca put the game away by hitting six consecutive free throws in the final 90 seconds.
"I had to stay mentally focused and keep going hard to the basket," said Neary. "I got blocked a few times in the first half, but I couldn't let that affect how I played in the second half."
Neary led the way for Wayne Valley (17-6) with 17 points along with helping hold Kennedy center Jimmirah Johnson (15.8 ppg over her last seven games) to just two points. Thomas finished with 13 points and LaGreca had 10 to go with four rebounds, four assists, and three blocks. Gilbert led all scorers with 19 points for Kennedy (12-10).
Wayne Valley has not won a Passaic County title in over 40 years but will have its shot to break the long drought next Saturday at 2:00 p.m. The Indians will be playing on their home court too when they take on top-seeded Lakeland.
"I wouldn't rather play with anyone else than the girls on this team and we're ready for next week," added LaGreca. "It's been an up and down season but we feel like we're playing our best at the right time."
TO BUY A COLLECTOR'S PRINT OF THIS STORY PLEASE VISIT 4-FeetGrafix.com. FOR MORE PHOTOS FROM THIS EVENT CLICK HERE!