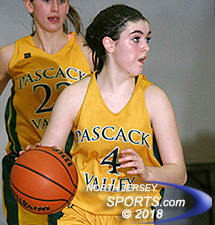 Junior Brianna Smith hit four consecutive 3-pointers in the first quarter to get Pascack Valley rolling on the way to a 53-25 win over Immaculate Conception in the Bergen County Tournament semifinals.
MAHWAH – As Pascack Valley guard Brianna Smith ran down the court for the Indians' first possession of the game her eyes lit up. Not because it was her first time playing in a new environment, but because the Indians' opponent came out in a 2-3 zone.
A shooter like Smith knew that if the Indians were able to run their offense effectively that she and her teammates would get their fair share of open looks from three-point range. That is exactly what happened and Smith made Immaculate Conception pay for it in short order.
Smith hit four consecutive threes as second-seeded Pascack Valley scored the first 15 points of the game and never looked back to earn its first berth in a Bergen County final since 2008 with an impressive 53-25 triumph over the third-seeded Blue Wolves on Sunday afternoon at Ramapo College in Mahwah.
"We moved the ball, we got open shots, but our real focus was to force turnovers and set the tone with our defense," said Pascack Valley's do-everything guard Kelly Petro.
Immaculate Conception beat the only team to hand Pascack Valley a loss, Northern Valley/Old Tappan, in a thrilling overtime win in the BCT quarterfinals last week, but the Blue Wolves came limping into Sunday's game having taken two tough losses during this past week to Life Center and West Orange. While IC was hoping to get back on track, an experienced PV squad eliminated that option.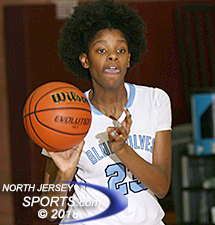 Eleanor Robinson scored on the opening possession of the second quarter for IC.
Brianna Wong opened the scoring with a three-pointer from the wing before Smith heated up. The Indians beat up IC's 2-3 zone by moving the ball quickly and getting it into Kelly Smith at the high post. When IC's defense collapsed, Kelly Smith found the open player on the wing or in the corner. More often that not that was Brianna Smith and before the Blue Wolves knew what hit them, Smith had nailed her fourth three of the quarter and the Indians had a 15-0 lead.
"We practiced before the game on how to attack their zone and we felt we were ready it," said Brianna Smith. "They are a team that runs and jumps to the ball. We knew if we got the ball into Kelly at the foul line that she could either kick it out or drive hard to the basket. I just had to make sure when the ball came to me that I was ready."
Eleanor Robinson's drive on the opening possession of the second quarter made it 17-4 but PV's man-to-man defense smothered IC into submission by halftime. They allowed just two offensive rebounds in the first half and two points over the final 7-plus minutes of the second quarter. Two more threes from Wong and Kelly Petro along with a drive by Kelly Smith in the final seconds of the half put PV firmly in control by halftime, 25-6.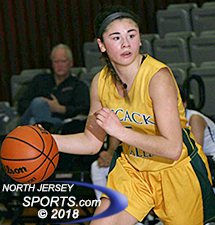 Brianna Wong and Pascack Valley will play Saddle River Day on Sunday for the Bergen County championship.
"To hold a team like that to six points in a half is a testament to how hard our kids work on every possession," said Pascack Valley head coach Jeff Jasper. "Talking on defense, driving your player back when boxing out, doing all the little things, it was total team defense. Overall, we played a really fundamentally sound basketball game."
Smith nailed six three-pointers on her way to a game-high 20 points for Pascack Valley (21-1). Wong also reached double-figures with 14 points. Petro and Kelly Smith added nine and eight points, respectively.
Jordan McLemore, the lone senior for Immaculate Conception (13-7), finished with 15 points.
For the past two years, Pascack Valley has had its eye on reigning Bergen County champion Saddle River Day. Now the Indians will get their shot with some precious hardware going to the winner when the two teams meet for the Bergen County title on Sunday with a 2:00 pm tip-off at Ramapo College.
"We've wanted this for a long time and we haven't been to a county final since '08 so we're super excited to be the team that got PV back to a county final," said Petro, a well-rounded athlete who will play basketball next year at Holy Cross. "It's going to be a challenge but it's one we've been looking forward to."
TO BUY A COLLECTOR'S PRINT OF THIS STORY PLEASE VISIT 4-FeetGrafix.com. FOR MORE PHOTOS FROM THIS EVENT CLICK HERE!