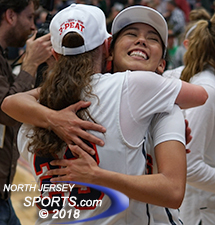 Saddle River Day became the first program to celebrate three straight Bergen Couunty tiles since Teaneck in the late '80s after a 60-55 win over Pascack Valley on Sunday.
MAHWAH – The week leading up to it, the butterflies the morning of the game, feeling the crowd buzz during the shoot around well before tip-off, all of the players in the Bergen County final knew that this game would be different than any other that they had ever played in. For Saddle River Day junior Michelle Sidor, this was the moment she felt she was meant for. All eyes in the sold-out gymnasium at Ramapo College were on her and she knew she had to deliver the goods against a game Pascack Valley squad that was going to push the Rebels right until the final buzzer.
Sidor made huge plays throughout the game, including a pair of late free-throws to ice it, on her way to a game-high 35 points. Carolyn Carrera was a difference-maker defensively and hit a pair of big free-throws of her own in the final minute as top-seeded Saddle River Day became the first team in 30 years to win three straight Bergen County titles with a 60-55 triumph over hot-shooting Brianna Wong and second-seeded Pascack Valley on Sunday.
"We worked for this, we wanted it, and it feels great that we're county champs again," said Carrera, who will play lacrosse next year at the University of Vermont. "Everyone has a role on this team and when we all play our roles we're going to be successful. We couldn't let anything get to us and we had to rely on each other when the game got tight."
The atmosphere for this highly anticipated duel was one that has not been seen in Bergen County for quite some time. Both teams were running on adrenaline early on and the two stout competitors did not disappoint the overflow crowd with an entertaining first quarter.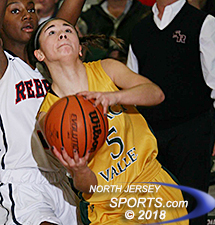 Brianna Wong finished with a career-high 31 points for Pascack Valley, which lost for just the second time this season.
Pascack Valley got off to a fast start with layups from Kelly Smith and Wong to grab a 6-0 lead. The Rebels answered back quickly with threes from Carrera and Sidor to tie the game. There was end-to-end action throughout the first quarter until a transition layup in the final seconds gave Pascack Valley a 16-15 lead.
Sidor scored five straight points to put Saddle River Day in front only to watch the Indians respond with a rare five-point possession. Kelly Smith hit a driving layup while getting fouled. She missed the ensuing free-throw but Toriana Tobasco hustled to get the offensive rebound and shovelled it off to Wong, who canned a wide-open three-pointer to put PV back in front, 26-24. Sidor was lights out in the first half. A deep three and a transition layup gave the Rebels a 32-28 halftime lead.
The momentum the Rebels grabbed in the final two minutes of the first half carried over into the third quarter. Sidor and Sydney Watkins both nailed threes to bump the lead up to double-digits, 43-32. However, the key to that run was sparked by the defense of senior sparkplug, Carrera. Having to cover one of the state's top three-point shooters, PV's Brianna Smith, is no easy task. Smith had hit 21 threes in her past four games, including six in the Indians' Bergen County semifinal win over Immaculate Conception. Carrera fought over and through various screens to keep the ball out of her hands as Saddle River Day opened up its lead.
"Even though Michelle was huge with the way she was shooting the ball, CC (Carrera) was equally as important with the defense she was playing," said Saddle River Day head coach Danny Brown. "This was a huge game for our program and we had to remind the girls the enormity of the situation we were in. Bottom line is that we had to get some stops in the third quarter and CC really helped us get those stops and slow down their offense."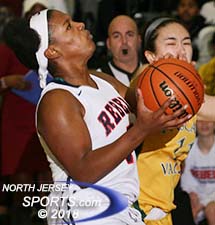 Sydney Watkins scored 10 points for Saddle River Day.
The Rebels led by as many as 12 only to see the Indians claw their way back. Back-to-back threes from Wong and Tobasco midway through the fourth quarter sliced the lead all the way down to two points, 48-46.
The pressure was on but that was when the Rebels were at their best. Clinging to a three-point lead with 1:24 to play, Carrera hit a pair of big free throws and Sidor added two more as the Rebels held on for a third consecutive Bergen County title, the first team to achieve that feat since Teaneck did it from 1986-1988.
"We've been in a lot of close games this year so we don't really get rattled," said Sidor. "I thought we had a lot of energy the whole game. Pascack Valley really shot the 3 well but we stayed poised and we got the win so that's all that matters."
Sidor continued her stellar play in Bergen County championship games with her 35-point effort for Saddle River Day (17-6). In three county finals, she has averaged 32.3 points per game. Watkins added 10 points and Jordan yanked down a game-high 14 rebounds.
Wong matched Sidor shot-for-shot on her way to a career-high 31 points for Pascack Valley (23-2). Kelly Smith added a double-double with 12 points and 10 rebounds. Tobasco added eight points and eight rebounds (7 offensive).
"I couldn't be more proud of our effort, disappointed in the result, but incredibly proud of our effort," said Pascack Valley head coach Jeff Jasper. "Saddle River Day is honestly much more talented than we were and they made a few more plays than we did. But I love this team that I'm lucky enough to coach. We showed so much heart and we never quit."
It was only six years ago that Saddle River Day was mired in a 25-game losing streak that spanned two seasons. Brown came in and changed not only the culture of the program but also the landscape of basketball in Bergen County. The Rebels are now the preeminent team within the county borders and one of the best in New Jersey.
"It's been quite a journey and to win a third straight county championship is just great for these kids," added Brown. "I think the county games have become the crown jewel of girls basketball in North Jersey. It's an important goal just to get here and play well once we did get here. Look at the crowd today and they got to see the best two teams in the county playing a really high level of basketball. It feels amazing and it's incredible for our program moving forward."
TO BUY A COLLECTOR'S PRINT OF THIS STORY PLEASE VISIT 4-FeetGrafix.com. FOR MORE PHOTOS FROM THIS EVENT CLICK HERE!