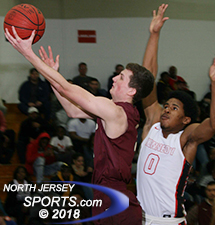 Justin Wills scored a team-high 20 points, including two fourth quarter 3-pointers, the pushed the game into overtime and finally in Wayne HIlls' favor. The Patriots won the program's first-ever Passaic County title with a 55-51 win over Kennedy.
WAYNE – The joy ride that Wayne Hills has been on through the Passaic County Tournament appeared it was coming to an unfortunate ending. Facing top-seeded Kennedy in the Passaic County Tournament championship game, the Patriots were in dire straits. Kennedy had the ball and an eight-point lead with 2:27 to play, a seemingly insurmountable deficit against a team with great guard play. The Patriots showed some great guard play of their own down the stretch to turn a good game into a classic duel with everything on the line.
A defensive adjustment helped Wayne Hills force the pace and a pair of crucial turnovers came into play as well. Justin Wills hit a pair of off-balance three-pointers and Joey Belli followed with two free throws to force overtime. Joe Cerone came up huge; scoring all six of the Patriots' points in overtime, including a layup with 9.6 seconds remaining that iced the first Passaic County Tournament title in the history of Wayne Hills' boys basketball program with a 55-51 triumph over Kennedy on Saturday at Wayne Valley High School.
"Even when we were down late we kept our foot on the gas and we found a way," said Wayne Hills' Jake Belli. "We knew it was a pressure situation and we had to give it everything we had. We've watched Kennedy finish against us in close games, now it was our turn to finish."
The teams battled back-and-forth throughout the opening stanza until Wills grabbed an offensive rebound and hit a fadeaway jumper from the elbow at the buzzer to put the Patriots up 13-8 after one quarter.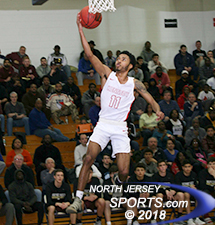 Jaylen Colon scored a game-high 22 points for Kennedy.
The lead grew to eight on a three from Wills, but from that point on the Knights clamped down defensively for the rest of the half. Wayne Hills scored just two points of the final six minutes of the second quarter as transition layups by Avante Gilbert and Jaylen Colon pulled the Knights even by halftime, 20-20.
With a packed house at Wayne Valley, the crowd got louder as the intensity increased for both teams. The game was still tied until Jake Belli canned a three at the buzzer to put Wayne Hills ahead 36-33. It did not last long though as Colon took over during a four-minute stretch in the fourth quarter. He scored all 10 points in a 10-3 run that put that Knights ahead by eight with 2:27 left. The Patriots were one possession away from the point when they would likely have to star fouling to lengthen the game. That is when Wayne Hills' head coach Kevin Grimes went to a man-to-man defense and it instantly paid dividends.
"They made an adjustment late in the game and we clearly did not handle it well," said Kennedy head coach Tommie Patterson. "Wayne Hills is a tough team and a disciplined team. Can't have the turnovers and the bad shots we took down the stretch and expect to close out good teams like that."
A turnover on then ensuing possession resulted in a three from Wills. Another turnover on the next possession also ended with Wills hitting an off-balance, contested three from the wing to make it a one-possession game. The Knights then rushed a shot that led to a fast break with Joey Belli getting fouled with 54.9 seconds left. The senior point guard calmly knocked down both free throws to tie the game at 49. The Knights had a chance to win it but Jalen Hargrove's shot from just outside the block rolled off the rim as the buzzer sounded with the two teams needing overtime to decide a champion.
Senior point guard Joey Belli hit two clutch fourth quarter fee throws for Wayne HIlls.
"I've practiced free throws to be in that situation where I need to shoot those in a close game," said Joey Belli. "That practice paid off. I stepped to the line wanting the ball and confident that I'd make both of them. Going to overtime it was a surreal experience. They knocked us out in the (Passaic County) semifinals last year in overtime and got us again in the regular season this year. We knew this was a game that we'd never forget one way or the other."
It was a familiar setting when Wayne Hills and Kennedy face one another. Both in this regular season and in last year's Passaic County semifinals, the two teams battled into overtime and Kennedy came out on top in both of them. The third time proved to be a charm thanks to some clutch defense and the emergence of Cerone. After being saddled with foul trouble all game, including picking up his fourth with 3:18 to go in the third quarter, the senior forward came up big when his team needed him most. His two free-throws put the Patriots ahead for good, 52-51, with 1:47 left in the extra session..
After another free throw by Cerone, the Knights had a chance to tie or go ahead inside the final 30 seconds. But a missed shot got knocked around before it landed in the hands of Joey Belli. The Knights attempted to foul, but Cerone leaked out and Belli found him for a wide-open layup with 9.6 seconds left to clinch the Patriots' first county title in their first-ever appearance in the championship game.
"It's so amazing, I couldn't ask for anything more than to win like we did today," said Cerone. "I had four fouls but I trusted my teammates to pick me up. We knew they if we all play together that we would find a way to win. Even though I had four fouls I had to stay aggressive. For us to overcome adversity and win a county championship that's what we've been dreaming about all season."
Wills was clutch all game long to lead the way for Wayne Hills (19-7) with 20 points. Cerone added a double-double of 10 points and 11 rebounds. Colon led all players with 22 points and Gilbert added 10 for Kennedy (19-6). The Knights will try to regroup for a run at a state sectional title as the No. 3 seed in North 1, Group 4.
While the Patriots hope to add more hardware as well in the state tournament, for as long as they live they will always have this game and this memory to fall back on.
"It's been a long journey but we came here and we finished," said Wayne Hills' head coach Kevin Grimes. "Two years ago, tough loss in the semis. Last year, lose in overtime in the semis. Section semifinals, lost in overtime to Teaneck, who was probably the best public school in the state. But we kept working and kept battling to get to this point. It's incredible for this school, our coaching staff, and a group of special guys who deserve to enjoy this."
TO BUY A COLLECTOR'S PRINT OF THIS STORY PLEASE VISIT 4-FeetGrafix.com. FOR MORE PHOTOS FROM THIS EVENT CLICK HERE!