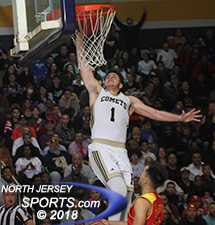 BJ Saliba scored 21 of his team-high 25 points in the first half for Hackensack, which beat North Bergen, 87-63, in the North 1, Group 4 state sectional final.
HACKENSACK – Sometimes a precise game plan and flawless execution over 32 minutes are what it takes to win a high-stakes basketball game. Sometimes energy and emotion are more than enough, at least that was all Hackensack needed in the North 1, Group 4 final. Playing North Bergen, the team that knocked the Comets out of the state tournament in the quarterfinal round last year, and in front of a standing room only crowd in the largest high school gymnasium in Bergen County, the game plan was secondary to the adrenalin.
"They were ready. I haven't had too many days like today when before the game when before the game somebody would ask me, 'How are they feeling?' and I had to say I felt like they were really ready tonight," said Hackensack head coach Aaron Taylor. "It made me nervous. I haven't felt that way in a while, but it was true. They were really ready to go."
North Bergen handled the pressure through imposed both by the opposition and by the atmosphere well for the first quarter-and-a-half. The Bruins, the No. 4 seed, held a four-point lead after the first quarter, but BJ Saliba's fastbreak dunk to open the second quarter gave the first hint of the onslaught to come. Saliba beat the halftime buzzer with a three-pointer that put the Comets up by seven and an 18-4 run that closed the third quarter cracked the game open for good.
Hackensack won its second state sectional title in the last three years and its third since 2013 with an 87-63 victory on Mel Henderson Court. Close to 3,000 people were there to see it and there were a bunch more who were turned a way that watched from outside through the gym door left open for just that purpose.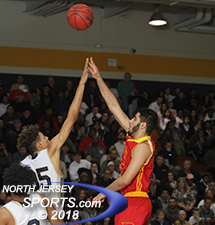 Abdallah El Saleh (right) finished with a game-high 26 points and had 8 rebounds for North Bergen.
With Division 1 coaches in attendance, the as yet uncommitted Saliba put on a show, especially in the first half. Hackensack had a size advantage in the backcourt and Saliba and his running mate, fellow senior Atiba Taylor, Jr., more than exploited it. Saliba scored 21 of his team-high 25 points in the first half and his dunk was the fire starter.
"I just came in with the mindset that losing was not an option. This was my last home game ever in this gym and I had to put it all out on the floor and carry my team to a victory," said Saliba. "Like our coach has said all season, we are our own worst enemy. One game we will come out lackadaisical, one day we come out to get it and today we just came out to get it."
Abdallah El Saleh, North Bergen's undersized but extremely crafty center, helped the Bruins settle in early as he scored five points in the first three minutes. North Bergen was also able to knock down a three first quarter three-pointers, the last of which came from Gino Randriamora and gave the Bruins their largest lead of the game, 20-14, with 48 seconds left in the opening period.
Hackensack ran off six straight points to get back even before El Saleh's two free throws gave North Bergen its last lead of the night, 22-20, with 6:52 left in the first half. Razeyah Surrell's bucket on the fastbreak tied the game for the final time and Saliba scored five points in an 8-0 run that marked the beginning of the end for the visiting team. Atiba Taylor, Jr. went 5-for-6 from the foul line in the span of 40 seconds to put Hackensack up 39-28 and the Comets led 42-35 at the intermission.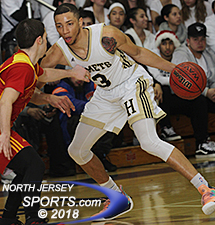 Atiba Taylor, Jr. scored 20 points for Hackensack, which will play Neward Eastside in the Group 4 semifinals on Wednesday night in Elizabeth.
Taylor, Jr. set up Seth Brown for the first basket of the third quarter and then scored four straight points of his own to push Hackensack's lead into double digits. El Saleh's conventional three-point play with 5:59 to go in the third got North Bergen back to within 48-40, but an 11-2 run by Hackensack that included another Saliba dunk all but put the game away. Taylor, Jr. scored six points in the final 32 seconds of the third quarter to make it 65-44.
"We just had to come and play hard today. We knew North Bergen was a pretty good team that was going to take a lot of threes and probably make a lot of them, so we just had to keep playing hard. We knew they were going to make some runs, but we had to answer them with runs of our own," said Taylor, Jr., who will play at Youngstown State University next season. "This feels good to do this in our home gym. Everybody was excited and cheering us on and we fed off of them. Without the crowd we would not have won this game the way we did."
El Saleh, up against Hackensack's superior size almost by himself, has an outstanding game for North Bergen as he finished with a game-high 26 points to go along with 8 rebounds. Randriamora added 12 points and Zuriel Turcos had 8, but no other Bruin made more than two field goals.
Saliba and Taylor, Jr., who were both voted first team All-Bergen County over the weekend, led the Comets with a combined 45 points. Saliba finished with a double-double as he pulled down 10 rebounds to go along 6 assists and 3 steals. Taylor, Jr. finished with 20 points, 8 assists, 6 rebounds and 3 steals. Toren Portee (14 points) and Surrell (10 points) made it four Comets in double figures and 6-foor-7 senior Chandler Williams made his presence felt with 11 rebounds and 7 blocked shots to go along with his 4 points.
Next up for Hackensack is the Group 3 state semifinals against Newark Eastside, which won the North 2 title with a 57-52 win over Linden, on Wednesday night at the Dunn Center in Elizabeth.
"This senior group has now done something that has never been done by one class by winning two sectionals, but this group of kids wants to win Group 4 and be the first to ever do it here," said Aaron Taylor. "This is the third time for me [going to the state semifinals] and I am hoping for a different outcome this time. Eastside beat us [earlier this season], but we played fairly well. We got frustrated by their zone, we did not expect them to do that, but we will be ready for what they have this time and we will be ready to play."
TO BUY A COLLECTOR'S PRINT OF THIS STORY PLEASE VISIT 4-FeetGrafix.com. FOR MORE PHOTOS FROM THIS EVENT CLICK HERE!