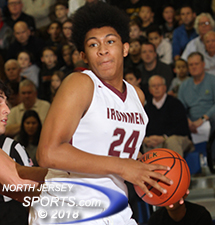 Ron Harper, Jr.'s three-pointer with 5:17 left in the first quarter gave defending champion Don Bosco Prep the lead for good in a 79-30 win over Cresskill in the semifinals of the Bergen County Jamboree.
HACKENSACK -- If Cresskill, the sentimental small school underdog, was going to have a chance to unseat defending champion Don Bosco Prep in the Jambo semifinals it was going to have to play its best game of the season and hope for the opposite from its favored opponent. If Cresskill could have made an early shot or two and got Bosco out of sorts in some kind of way, still there would have been no guarantee of an upset, but there might have been a chance of one.
Instead, what Cresskill got was maybe the best game that the Ironmen have played this season and that is saying something considering that Bosco came in with a record of 22-2 built against the best schedule it could find. More than just unbiased observers thought the exact same thing.
"The kids did everything we asked them to do. We controlled the defensive glass; we were relentless on the glass. We did a great job on defense, we tamed their guards and it just kind of got away from them," said Bosco head coach Kevin Diverio. "We were able to get out in transition early and get some easy hoops, we got that lead and then it kind of snowballed on them. They are a terrific team and we played our best game of the year on both ends of the floor."
When a coach of Diverio's pedigree, one who has won the Bergen County Jamboree seven times as a head coach, is that effusive in praise of his own team, it is easy to figure out that the final score was not close. In fact, it was a 79-30 verdict that put Bosco, the No. 2 seed and the defending champion, into Friday night's Jambo final against top-seeded Bergen Catholic, the exact same matchup as last year's Bergen County final.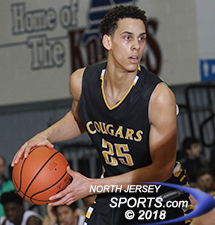 Wellington Ventura scored a team-high 9 points for Cresskill, which lost for the first time this season.
Cresskill, the No. 6 seed which was riding high after its quarterfinal upset of Hackensack last week, suffered its first loss of the season. The Cougars' high-water mark came at the 6:32 mark of the first quarter after Wellington Ventura scored on the baseline to tie the game at 3. Ronald Harper, Bosco's senior Rutgers recruit, knocked down a three from the wing 1:15 later to put the Ironmen in front for good and they started to pull away late in the opening quarter, which they closed with a 9-0 run to go up 19-7.
Bosco outscored Cresskill 21-3 in the second quarter and put up another 30 points in the third quarter to take an astounding 70-21 lead after 24 minutes of play.
"We knew that Cresskill was a great team. They were undefeated, they beat Hackensack and that is a team that we beat in overtime, so we just knew that we had to keep the same energy for the whole game and never let up," said Bosco's Marcellus Earlington, who will play Division 1 basketball somewhere next season although he has not committed anywhere just yet. "We had to keep going on runs. They are a hot team that came in with a lot of confidence and we knew they could shoot, so we had to close out. We did that and we just played well today."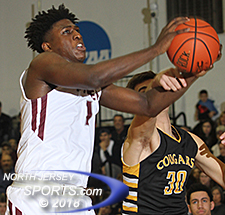 Marcellus Earlington scored 19 points for Bosco, the No. 2 seed which will play No. 1 Bergen Catholic for the Bergen County title on Friday night.
Earlington and Harper shared game-high honors with 19 points apiece and Bosco had four players finish in double figures with Victor Konopka going for 9 of his 13 points in the first quarter and Matt Herasme, who just picked up his first Division 1 offer from St. Peter's University, scored all 10 of his points in Bosco's 30-point third quarter. In all, nine different Ironmen made at least one field goal. Ventura (9 points) led the way for Cresskill, which got only a couple of minutes from its 1,000-point scorer Luka Radovich, who gave it a try but was obviously slowed by illness.
Next up is Bosco/Bergen Round 3 for the 2017-18 high school basketball season and the rivals have split their regular season series with each winning on the other's home court. Last year's Jambo final went right down to the final possession and there is little reason to expect anything different when they tip it off on Friday night at the Rothman Center for the county title.
"We have to do exactly what we did in this game. We have to work inside out and find the mismatches," said Earlington. "Bergen is a big team and we are going to have to shoot well and we have to find where we have advantages and attack them. They are going to try to do the same thing to us. We have to have that same mindset in practice to just work so that we can come out with the same result we had last year."
TO BUY A COLLECTOR'S PRINT OF THIS STORY PLEASE VISIT 4-FeetGrafix.com. FOR MORE PHOTOS FROM THIS EVENT CLICK HERE!