Ron Harper scored a game-high 26 points and also got after it on the defensive boards to lead Don Bosco Prep to a 54-38 win over Bergen Catholic and its second straight Jambo title.
HACKENSACK – The two games that Don Bosco Prep and Bergen Catholic played during the regular season were decided by a total of five points. The game they played in last season's Oscar F. Thompson Memorial Bergen County Jamboree final was decided by a free throw with six seconds left in the game. So when BC's Zachary Freemantle scored inside to give the Crusaders a one-point lead 1:45 into the second half on Friday night at the Rothman Center, it seemed like it was time to buckle up for another edition of this rivalry that would be played on a razor's edge right to the finish.
Instead, Ronald Harper's two made free throws just 12 second later gave Don Bosco Prep the lead back and it only expanded on its advantage the rest of the way. Harper kicked off a 14-2 run that closed the third and opened the fourth as the Ironmen rolled to their second straight Bergen County title, the 10th in program history and the eighth under head coach Kevin Diverio. Bosco posted a 54-38 victory in front of a standing room only crowd on the campus of Fairleigh Dickinson University.
"It feels awesome. This [Jambo title], along with states, are our main goals. To come out here and play Bergen again, for it to be a great game for us and to go back-to-back…it's just a great feeling," said Don Bosco Prep point guard Michael Concannon. "Those last couple of minutes when we had a 10-point lead and we knew that we just had to hit a few free throws to win it, those are some great minutes to be out on the floor. It's a great feeling."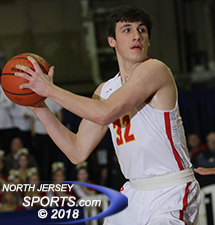 Zachary Freemantle scored 13 points for Bergen Catholic.
Even though the first half was played with neither team having more than six-point lead and ended with Bosco in front by just two, 17-15, the Ironmen were doing what they needed to set themselves up for a successful second half. Bosco did not allow a single fastbreak basket in the first half and did not give up any points off the offensive glass even against BC's imposing pair of post players in Freemantle, a 6-foot-8 junior, and 6-foot-8 sophomore Matt Zona.
"Those were two keys that we had on the board going in; transition 'D' and then controlling the defensive glass. We did it all game long," said Diverio. "I thought Ron [Harper] was phenomenal on the defensive glass. He rebounded like a man today and he impacted the game at both ends."
With the path to easy baskets cut off consistently, Bergen Catholic had to hunt all of its points through offensive execution and that did not go so well. Freemantle and Zona each scored 13 points, but they had to work for all of them. Victor Konopka, Marcellus Earlington, Matt Herasme and Harper all helped clog up the middle and the Crusaders just could not get their outside shots to fall. The rest of the Crusaders combined to make four field goals and three three-pointers, two of them in the final five minutes with the outcome already pretty much decided.
Meanwhile, Harper was the go-to player that Don Bosco Prep needed. The Rutgers commit hit two first quarter three-pointers to establish himself, hit two more in the third quarter to help the Ironmen pull away and went 6-for-6 from the free throw line in the second half. Harper finished with a game-high 25 points with 17 of them coming after halftime. Against an intimately familiar opponent, Harper and his teammates varied to their offensive approach with favorable results.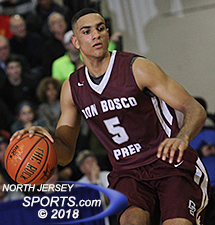 Matt Herasme scored 11 points for Don Bosco Prep, which won the program's 10th Bergen County title.
"We both, us and Bergen, we kind of adapt to what they do and they adapt to what we do, so we end up having to come up with new schemes against them. We have to try out some new stuff and today we put in a couple of new plays and they worked," said Harper. "They have everything scouted, absolutely everything scouted, so we had to come out with something new."
Harper's 25 point led all scorers by a wide margin. Herasme finished with 11, Earlington added 9, Konopka had 6 and Concannon, in addition to getting the Ironmen into their offense consistently without turning the ball over, added 3 points as Bosco got all of its scoring from its starting five.
Freemantle and Zona combined for 15 of Bergen Catholic's 17 first half points and 26 of the Crusaders 38 in the game. Jayson Earle's first quarter three-pointer, Doug Edert's five second half points and Myles Wilmouth's four fourth quarter points accounted for the rest of the offensive output as BC also did not get a single point from a non-starter.
Bosco now leads the season series 2-1 and has beaten BC in each of the last two Jambo finals. They very well might see each other again in the Non-Public North A state sectional playoffs where Bergen Catholic is the No. 2 seed and Bosco is seeded third.
"We get a little bit of a rest to get our legs back and we just have to refocus," said Diverio. "We break the season into three parts: the regular season, the Jamboree and the states. We try to win the league, then we try to win the Jamboree and then we try to win the states, so now we have to focus on Stage 3."
TO BUY A COLLECTOR'S PRINT OF THIS STORY PLEASE VISIT 4-FeetGrafix.com. FOR MORE PHOTOS FROM THIS EVENT CLICK HERE!