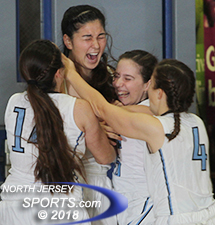 Sam Haubner gets a hug after scoring the 1,000th point of her career and there were more celebrations later when Mahwah came back to beat Dumont, 50-49, on Senior Day.
MAHWAH – It was a good enough night even without a victory. Mahwah's girls basketball program honored the six seniors in the Class of 2018 and saw one of them, Sam Haubner, score the 1,000th point of her career on a post move on the Thunderbirds' second possession of the game. The gym was packed with the parents, peers and the kids from the recreation program clapping thunder sticks together to make a racket and add to the atmosphere.
That Dumont had an eight-point lead with 2:31 to play in the game was almost beside the point because there was no way to put a damper on the festive spirit filling Mahwah's gym even if the home team seemed headed for certain defeat.
Scratch that, it would have been a bummer if such a festive day ended with a loss and the Thunderbirds did not let it happen. Senior Brenna Forgette scored seven of her 11 points in the final two-and-a-half minutes of the game and four in the final minute as Mahwah went on an 11-0 run late to pull off a 50-49 victory and cap the day the right way.
Forgette made the basket that put Mahwah head, 48-47 and the two free throws that bumped the Mahwah advantage up to three points, just enough to make Dumont's putback at the buzzer a moot point in the one-point victory.
"We had foul trouble in the third quarter and we were hanging on for dear life. We would make a shot and then they would come down and make a 3. We couldn't make up any ground. Midway through the fourth quarter we were down 11 and [Britney] Swedelson hit a three and I called time out and told them that we were not going to be able to come back by going shot for shot with them," said Mahwah head coach Scott Papetti. "We could not trade buckets. We needed stops."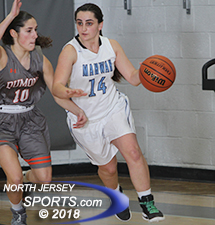 Brenna Forgette scored 7 of her 11 points in the final 2:31 to spur Mahwah's comeback.
And that is what Mahwah got. Able to have all of its offensive weapons on the floor down the stretch, the Thunderbirds chipped away and Forgette carried the scoring load down the stretch to give the Thunderbirds their seventh win in their last eight games. Mahwah is now 14-8 on the season with three games left in the regular season.
Haubner led the way with a game-high 17 points, Forgette had the late surge to finish with 11 and Hannah Busch added six points for Mahwah, which has a quick turnaround for a Friday night game against Wayne Hills. Dumont put three players in double figures with Yakira Rosa scoring 15 points and Jenna Mazzone and Samantha Howard each adding 11 for the Huskies.
"It was great all six of our seniors scored, Sam [Haubner] scored her 1,000th [point] and Brenna Forgette got hot at the right time. I am happy for this senior group because they have given me everything they have this season and they are really playing well right now," said Papetti, who is in his first season as the Mahwah head coach. "Honestly, I usually hate Senior Days because there is so much going on that it is easy to lose focus on actually playing the game, but this one I will remember for a long time. Talk about a trifecta: celebrating six great seniors, Sam going over 1,000 and a double-digit comeback in the fourth quarter. It was just a perfect day and a lot of fun."
TO BUY A COLLECTOR'S PRINT OF THIS STORY PLEASE VISIT 4-FeetGrafix.com. FOR MORE PHOTOS FROM THIS EVENT CLICK HERE!