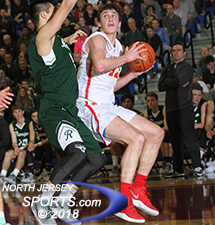 Zachary Freemantle finished with a game-high 22 points in top-seeded Bergen Catholic's 70-55 win over No. 5 Ramapo in the semifinals of the Bergen County Jamboree.
HACKENSACK – When Bergen Catholic stuck to its offensive plan of making sure that its down-low duo of 6-foot-8 junior Zachary Freemantle and 6-foot-8 sophomore Matt Zona got plenty of touches on the offensive end, the Crusaders were nearly unstoppable in their Bergen County Jamboree semifinal matchup against Ramapo on Saturday night on the campus of Fairleigh Dickinson University.
The big boys combined for 14 first quarter points of their own and, one established, they opened up the perimeter for shooters like Jayson Earle, who made two first quarter three-pointers, and penetrators like Doug Edert. Top-seeded Bergen Catholic scored the first 10 points of the game and rang up 24 points in the first eight minutes of the game.
"I think it is our willingness and our eagerness to sacrifice and don't care what the boxscore says and just work to get the best shot that we can possible get. There is no secret here, it's not like it is some magic formula. The ball has to go through Zach [Freemantle] and Matt Zona," said BC head coach Billy Armstrong. "If we can do that and get them touches, it opens things up."
When Bergen Catholic got away from its game plan and settled for contested jumpers and ill-advised drives into traffic, it left some space for the Green Raiders, the No. 5 seed, to hang around. There were some tense moments for the No. 1 seed, but the Crusaders are moving on to the final after a 70-55 victory.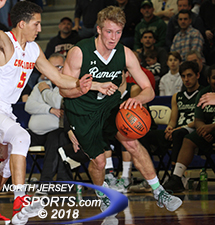 KC Hunt finished with a team-high 18 points for fifth-seeded Ramapo.
"We definitely fought. We spotted them 10 points at the start and we played them pretty tough the rest of the game," said Ramapo head coach Joe Sandberg. "We knew going in that they had a huge advantage inside with their size, but our game plan didn't change. We were going to play man-to-man defense and we had to be physical. I thought we were physical, but, give them credit, they hit some big shots."
And some long shots, too, one in particular that kind of popped Ramapo's comeback balloon. Trailing 24-13 after the first quarter and down 37-22 with 1:18 left in the second quarter after Edert hit a three-pointer from the corner, the Green Raiders scored six straight points.
Jason Oppler turned a hard drive to the basket into a layup, John Whooley got free for a fastbreak bucket and KC Hunt completed a drive with four seconds to go that put Ramapo on the verge of heading into the locker room down by single digits. But the momentum was short-lived as BC's Mike Koch threw in a three-quarter-court heave at the buzzer that bolstered the Crusaders' spirit and their lead up to 40-28.
Oppler made two free throws to open the third quarter with two made free throws to get the Raiders to within 10, but they never got closer than that in the second half. They never quit, either, which was the silver lining that Sandberg saw in the outcome.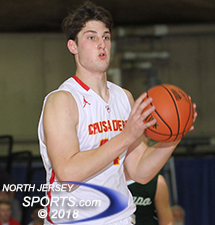 Sophomore Matt Zona scored 13 points for Bergen Catholic, which will play Don Bosco Prep in the Jambo final on Friday in a rematch of last year's championship game.
"They hit a 75-footer to kind of steal the momentum back heading into the half and any time we got stops on their bigs, someone else would hit a big three, but I am proud of our kids," said Sandberg. "I thought we played hard, we showed what we are about and hopefully this will carry on into the states. We are not going to see a team as big as them again."
Hunt (18 points), Oppler (17 points) and Whooley (17 points) combined for 52 of Ramapo's 55 points with Justin Hu's first quarter field goal and Ben Bitensky's fourth quarter free throw accounting for the other three.
Bergen Catholic was more balanced with Freemantle (22 points), Zona (13 points), Edert (11 points) and Jalen Leach (10 points), who made three second half three-pointers, all finishing in double figures. Earle and Koch finished with 6 points each and Justin Regis' two free throws rounded out the scoring for the Crusaders, who earned their Jambo final rematch against Don Bosco Prep, the defending champion that won last season's county final with two late free throws.
"It's two really good teams and I think we both deserve to be there. I think, or at least I hope, it will be good entertainment and people will want to watch it. There have been some good games between us this year and last year," said Armstrong, whose team split the regular season series with Bosco just like it did last year heading into the Jambo final. "I don't think you can beat it, to be honest with you. Both teams are going to come play really hard in front of our fans. We have to get back to the drawing board and clean up some things before we get there though."
TO BUY A COLLECTOR'S PRINT OF THIS STORY PLEASE VISIT 4-FeetGrafix.com. FOR MORE PHOTOS FROM THIS EVENT CLICK HERE!