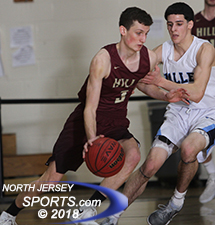 Justin Wills, one of Wayne Hills' four senior starters, scored 12 points in a 57-40 win over Wayne Valley that puts the Patriots in the Passaic County Tournament final for the first time in program history.
PATERSON – Facing an opponent that it lost to twice during the regular season and up against the history of the Passaic County Boys Basketball Tournament, which has not been kind to the Wayne Hills program, the Patriots certainly would have had an excuse if they came out tight in Saturday's semifinal matchup against Wayne Valley. Instead, Wayne Hills picked a good time to put together a complete and near flawless performance.
The Patriots trailed for all of 19 seconds of the 32 minutes and not at all after Joe Cerone's basket 3:36 into the game tied the score at 5. Wayne Hills, the No. 3 seed, took control with a 10-2 run to close the first quarter and really never looked back on the way to a 57-40 victory at John F. Kennedy High School that puts the Patriots in the Passaic County Tournament final for the first time in school history. Wayne Hills will play top-seeded Kennedy, the defending champion, for the trophy next Saturday afternoon.
"I am just so happy for these kids. This group of seniors won a county title on the freshman level, two years ago they lost to [Wayne] Valley and last year we lost to Kennedy in overtime in the semifinals, so just to get over the hump is huge for us," said Wayne Hills head coach Kevin Grimes. "They were locked in all week, they had an unbelievable week of practice and they were locked in in terms of what we were trying to do with the game plan. We finally found a way to get over the hump, that mental hump, that we have struggled to get past in this tournament."
Every time it looked like Wayne Valley might find its way back into the game, Hills had an answer and usually a couple of them. Wayne Hills led 15-7 after the first quarter and when the Indians scored five straight points to get within 17-14 and then created a turnover right out of the timeout it forced Wayne Hills to take, Justin Wills stole the ball back and went in for a fastbreak layup. Senior point guard Joey Belli then hit a three-pointer from the wing to push the lead back up to eight, the same as it was when the teams jogged off for halftime with the Patriots up 25-17.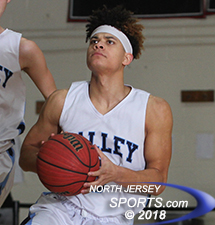 AJ Tedesco made five 3-pointers and finished with a team-high 17 points for Wayne Valley.
All five of Wayne Hills' starters scored at least one field goal in the third quarter. Jason Modak hit a jumper from the short corner, Wills completed an old-fashioned three-point play and Joe Cerone scored off a nice look from Belli all in succession and in the span of just 1:54 to put the Patriots up 32-19 right out of the gate in the third quarter.
The two times that Wayne Valley was able to sneak back to within 10 points in the second half were met by not-so-fast moments by the Patriots, who refused to let their rival get closer than arm's length. When AJ Tedesco's three-point got the Indians as close as 32-22 Belli spun through the lane for a layup and Cerone hit the offensive boards for a bucket that bumped the advantage back up to 14 in just 26 seconds.
When Tedesco, who connected on five three-pointers in the game, canned his fourth with 2:40 left in the third period to get the Indians to within 38-28, Belli put on a short ball-handling clinic at the other end of the floor and they stepped back to make it a 13 point game. Wayne Valley never got close than 11 points the rest of the way. Hills led 45-33 after the third quarter and its advantage ballooned to as many as 21 in the fourth.
Belli, the unflappable senior point guard who will play at St. Anselm College (NH) next year, was right in the middle of everything for the Patriots. He is one of those players that never looks like he is working hard or breathing heavy, but always seems to wind up one step in front of his pursuers. He rarely makes a mental mistake, he rarely turns the ball over, his expression rarely changes and his head is always up.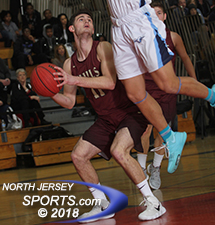 Joe Cerone scored 7 of his 9 points in the second half for Wayne HIlls, which will play Kennedy next Saturday for the Passaic County championship.
"I guess I will take that as a compliment. It feels like I am trying out there, but if it doesn't look like it I don't really know how to explain it," said Belli, who finished with a game-high 22 points and four three-pointers to go along with 6 assists. "I try not to get too high or too low during a game because I know a game can change in an instant. Teams can go on runs, momentum can swing in a hurry and I just try to stay in the moment."

A point guard with Belli's demeanor has certainly left an impression on his head coach.
"Over the years I have heard people that don't really know Joey Belli say, 'he's not really athletic or why does it look like he is not trying?' It is none of the above. He is just so composed and he knows the game so well that he has his own style of playing," said Grimes. "In my most humble opinion and no disrespect to anybody else, I think he is the best guard in North Jersey."
Belli was the best player on the floor on Saturday, but he also had plenty of help. Wills (12 points) and Modak (10 points) joined him in double figures while Cerone added 9 and the next Belli coming down the pike, junior Jake Belli, added 4 points as Wayne Hills got all of its scoring from its starting five.
Tedesco (17 points) was the only Wayne Valley player to reach double figures. Patrick Cronin scored 8, Anthony D'Arienzo scored all 7 of his points after halftime, Mark Howell made three throws, Jared See made a field goal and Taylor Jackson's third quarter three-pointer accounted for the only points scored by a reserve for either team.
Next up is the long awaited trip to the county final. Grimes is going to give his team the rest of Saturday and all of Sunday to enjoy the semifinal victory, but the Patriots were already looking forward to getting back at it.
"It's phenomenal. This is a great feeling and we made school history today by becoming the first Wayne Hills team ever to make the county finals," said Wills, one of seven senior on the Patriots' roster and one of four in the starting lineup. "This was a great win, but it is not over and we still have a lot of work to do. That is a good Kennedy team that we are going to see next week and we are going to have to give it everything we have if we want to reach our goal of finally winning a county championship."
TO BUY A COLLECTOR'S PRINT OF THIS STORY PLEASE VISIT 4-FeetGrafix.com. FOR MORE PHOTOS FROM THIS EVENT CLICK HERE!