David Feliz scored 13 of his game-high 15 points in the first half as Ridgefield Park built a big lead on its way to its 15th win of the season, a 58-42 victory over Palisades Park on Friday night.
RIDGEFIELD PARK – The basketball season is the longest in high school sports, a nearly four-month endeavor that should not be judged any particular one or two-week stretch that contains a sustained rough patch or even a bunch of consistent highlights. It's all about the grind that lasts from the day after Thanksgiving to the edge of spring and all of it has to be taken into account when judging what kind of season it has been. For Ridgefield Park the returns are starting to look pretty strong, especially after Friday night's 58-42 win over Palisades Park, its 15th on the season.
With five senior starters and seven on the roster, the Scarlets overcame a slow start to the season by winning eight of 12 to make the Bergen County Jamboree and then won a Jambo game in memorable fashion against Tenafly. The Scarlets have positioned themselves nicely in the North 2, Group 2 state sectional tournament with a home game to start the postseason and some room to make a run.
"This is a group of kids that I have known for a long time. This group of senior I have known since the third grade and it is bitter sweet knowing that the end is coming with them," said Ridgefield Park head coach Chris Gaskin. "But I am really happy for them. For any high school team, 15 wins is really an accomplishment and it really shows that they got something done. I am glad that we were able to get to this mark and hopefully there are more good things ahead in these last couple of weeks."
The Scarlets have certainly shown to be a resilient group as they rebounded from on 0-3 start to their season to get this far and they bounced back again on Friday night after a heartbreaking loss less than 24 hours earlier, a double overtime setback against at River Dell. And then they ran out to a 19-3 lead against Pal Park just 5:13 into the game. Alex Willoughby and David Feliz each knocked down two first quarter three-pointers and they combined with Danny Lane to score all of the Scarlets' 24 first period points.
Derek Bueno scored all his his team-high 14 points in the first half for Pal Park.
Pal Park, which overcame its own slow start to the season to enter the Ridgefield Park game, its last of the regular season, at 12-11, refused to get blown out, however, and rallied late in the first quarter to get back in it. The Tigers scored seven straight to end the opening period to get back to within single digits and then ran off 7 of 9 points early in the second quarter to get as close as 29-22 when Derek Bueno put back his own missed shot with 5:44 left in the first half.
The game changed two minutes later when double technical fouls were called and, added to the personal foul that preceded that whistle, Pal Park point guard Chris Rodriguez was tagged with his third and fourth fouls of the first half. He exited at that point and did not return.
"We are young, we have a lot of stuff to learn. In a regular season finale, if we can't deal with a little bit of adversity, how are we going to deal with it in the state tournament?" said Pal Park head coach John Wiseman. "Hopefully we learned some lessons tonight and we will come around."
Kyle Martinez buried a three-pointer from the corner to extend Ridgefield Park's lead back into double digits, 36-26, by halftime and it stayed there just about the rest of the way save for a 16 second stretch of the third quarter.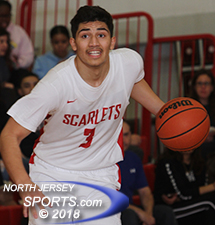 Chanz Martinez scored all nine of his points after halftime for Ridgefield Park, which is now 15-9 on the season.
Chanz Martinez opened the second half with a fastbreak basket and his three-pointer from the wing with 2:52 left in the third pushed Ridgefield Park's lead up to 45-31.
"I have been playing with these kids ever since I was in third or fourth grade. We are seniors now and we are really excited for this time of year," said Martinez. "We had a tough loss last night, but we tried to put it behind us and we got off to a fast start. [Pal Park] made their comeback, but we had to make sure that we did not let them get back in the game all the way or get too close. We had to refocus and make another run of our own."
A 9-0 Ridgefield Park run was broken by Rei Kim's three-pointer with three seconds left in the third quarter, but Pal Park trailed 49-34 heading into the fourth and got no closer than that in the fourth.
Bueno was the lone Tiger to finish in double figures as he scored all 14 of his points in the first half and Kim scored all 9 of his points on second half three-pointers. Rodriguez had 6 points, Ben Zlatkin added 5, Ricky Zheng made a first quarter three-pointer and David Kim had the other field goal for Pal Park, which fell back to .500 on the season before taking part in next week's NJIC crossover games.
The Tigers, who started the season at 1-4 before rebounding, could be a tough out in the North 1, Group 1 state sectional playoffs where they are the No. 10 seed with a first round road trip to No. 7 New Milford in the opener, but also on the opposite side of the bracket from top-seeded and undefeated Cresskill, the obvious and overwhelming favorite. There are a lot of teams that might be able to make a run in that small school bracket and Pal Park is one of them.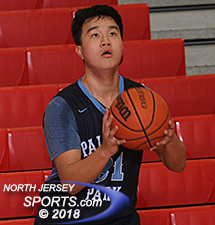 Rei Kim made three 3-pointers for Pal Park, which finished its regular season at 12-12.
"We have hung with good teams. We've hung with [No. 2 seed] Bogota twice and we have had a good year. We have more than doubled our win total from last year and we have come a long way," said Wiseman. "The kids work hard, we just have to be able to handle emotional situations a little bit better and, if we can do that, I do think there are a bunch of teams in our bracket that we can hang with."
Feliz, who scored a game-high 15 points, and Willoughby scored 25 of their combined 27 points in the first half as Ridgefield Park established its lead. Chanz Martinez scored all nine of his points after halftime and Jonas Espinal, Kyle Martinez and Lane each finished with six points and Isaiah Menendez, Hector DeLorenzo and Justin DePena evenly split the other three field goals for the Scarlets, who are the No. 8 seed in a North 2, Group 2 state sectional tournament bracket that does not have that one team that no one wants to face even if there are a bunch of good ones.
"Starting off the season so rough a lot of people were down on us and doubted us, but we went into practice every day knowing that if we just kept working hard things would turn around," said Espinal, a three-sport athlete who will play football next season at American International College. "Honestly, this season has been a blessing. We are having fun, we are at 15 wins now and we are going to go in the states confident."
TO BUY A COLLECTOR'S PRINT OF THIS STORY PLEASE VISIT 4-FeetGrafix.com. FOR MORE PHOTOS FROM THIS EVENT CLICK HERE!