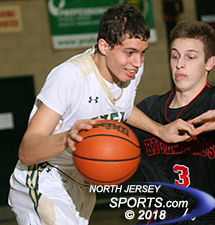 After opening an 18-point lead, St. Joseph Regional needed Chris Manon free throws late in the fourth quarter to finally put away Northern Highlands n a 55-50 win in the BIT championship game.
MONTVALE – Every coach hopes his team will start a game strong, but sometimes there can be too much of a good thing. Sometimes a team can be so dominant in a game's opening minutes that complacency can set in. St. Joseph's Regional had that feeling in the Bergen Invitational Tournament championship game when it made the first quarter the most dominant quarter it has played this season.
Everything went right in the first eight minutes as St. Joe's, playing on its home court, grabbed a commanding 17-point lead. That lead appeared safe with St. Joe's in control until a frantic final two minutes nearly saw that entire lead evaporate.
Chris Manon, the BIT Tournament MVP, grabbed a rebound of his own missed free-throw and then nailed two foul shots to ice the game as St. Joe's survived a late flurry of threes to topple Northern Highlands and win the 8th Annual Bergen Invitational Tournament, 55-50.
St. Joe's caught fire right from the opening tap. Amine Ogbamicael hit a pair of three-pointers as the Green Knights scored the game's first 12 points. Ryan Starr got Northern Highlands on the scoreboard but it was just a blip as St. Joe's was in full control after a thunderous dunk from Smith Vilbert gave the Green Knights a 19-2 lead.
"We got off to a fantastic start by playing crisp on both ends of the floor," said St. Joseph head coach Mike Doherty. "Getting a big lead is generally a good thing, but sometimes it gives you a false sense of security."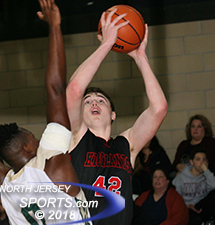 Neal Quinn's work in the middle opened up chances for Northern Highlands to make a comeback.
The lead got up to 18 midway through the third quarter and stayed in double-digits until a basket off of a strong post move by 6-foot-10 center Neal Quinn got the Highlanders going. That led to a barrage of threes, five of them in the final 90 seconds of the game started by Kevin Griffith. Starr and Charlie Cheney each hit two of them with the second of Cheney's threes cutting the deficit to 53-50 with less than 30 seconds remaining. The momentum was clearly on the Highlanders' side but time was running out and they were forced to foul.
Manon went to the line needing to hit just one of his two free-throws to make it a two-possession game, but both shots were off the mark, only for Manon to be saved by a fortunate bounce. Several players got a hand on the loose ball but it was only corralled when Manon grabbed it. With a second chance to make good on icing the game, Manon nailed both foul shots to seal the win and the BIT title for St. Joe's.
"I felt bad for a second after missing those free-throws but I was lucky that the ball ended up right back in my hands," said Manon. "Once I got to the line again I just made sure I took a deep breath and took my time. We wanted to win this tournament. Now we want that to carry over and make some noise in the states."
Manon and Nazir Williams each had 12 points for St. Joe's (14-12). Ogbamicael and Vilbert chipped in with eight apiece. Starr led all players with 15 points and Griffith added 13 for Northern Highlands (10-11).
After starting off the season 2-8, the Green Knights have come together to salvage a lost season with a BIT championship and hopefully a state tournament win when they face DePaul this week.
"This is a big win for a young team and we like the direction we've been in for the past month," added Doherty. "We've fought through adversity and we've played better basketball to win nine of our last eleven games. I'm really proud of the kids for hanging in after a rough start and we're playing our best basketball at the right time of year."
TO BUY A COLLECTOR'S PRINT OF THIS STORY PLEASE VISIT 4-FeetGrafix.com. FOR MORE PHOTOS FROM THIS EVENT CLICK HERE!