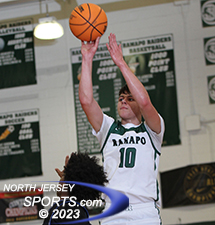 Peyton Seals scored all of his 31 points in the first three quarters as Ramapo won its fourth straight state sectional title, 73-46, over Teaneck on Monday night.
FRANKLIN LAKES – Having just survived by a couple of points against Pascack Valley in the semifinals and with 40 percent of its starting lineup in street clothes and on crutches, Ramapo, which has been the preeminent public school all season long, was suddenly vulnerable.
The short-handed Green Raiders were up against a red-hot Teaneck team, the No. 2 seed that was on a five-game winning streak and had just posted a 21-point win over a solid River Dell squad in the North 1, Group 3 state sectional semifinals.
And it was close there for a couple of minutes. Two Tyler Tejada free throws 4:10 into the game brought Teaneck into a tie at 8-all.
After that it was all Ramapo. Playing in front a standing-room-only-plus crowd the Raiders closed the first quarter with a 14-4 run that all but ended the competitive portion of the contest. Peyton Seals hit a 3-pointer to give Ramapo a double digit lead at the end of the first quarter and Teaneck could never get back to within single digits.
With Seals running the show from the point guard spot, Nate Burleson attacking the basket from the wings, Chris Cervino making open shots, Charlie Wingfield slugging it out underneath, Zach Schnurbusch chipping in on both ends and Ryan Goldman contributing off the bench, Ramapo opened the second quarter with a 16-2 run that blew the game open.
Even without sharpshooter Wyatt Eglinton Manner, who has not played since the Bergen County Jamboree semifinals, and Nehemiah Burleson, who went down with an injury against Pascack Valley on Friday night, Ramapo barely skipped a beat in a 73-46 victory on Monday night in Franklin Lakes.
Tyler Tejada scored a team-high 17 points for Teaneck, which finished the season with a 23-6 record.
"Having Peyton Seals on our side certainly helps and Nate Burleson was awesome today. He made a big difference. He was super aggressive attacking the basket and our defensive game plan was very effective," said Nick Veir, who has now won state sectional titles in both of his seasons as Ramapo's head coach. "We pressured their guards big time and Peyton Seals defensively did a good job fronting [Tyler Tejada]. Our defense was on point and we shot the heck out of the ball."
So, Seals, Ramapo guarded Teaneck's best player, who also happens to be one of Bergen County's best post players. Seals is a point guard. On offense he scored a game-high 31 points and it could have been more as he did not take a shot in the fourth quarter with the game already well in hand.
"Tejada is a great player. He has been averaging like 30 points the past couple of games and we knew we had to try to shut him down. We gave him a lot of attention and we did a pretty good job on him," said Seals. "We made that run in the second quarter. I think we only gave up [7] points in the second quarter, we opened a big lead by halftime and that was huge for us."
Ramapo got it done on both ends of the floor in that dominant first half that ended with a 44-19 lead. Cervino scored 8 of his 10 points in the first two quarters, which made it impossible for Teaneck. When The Highwaymen were able to force the ball out of Seals' hands, Cervino and Burleson made them pay.
"We knew with Wyatt out we were going to have to step it up at the guard spots and me and Nate knew that that was on us. We had to show up and play like we knew we could. We hit some big shots and we defended really well as a team," said Cervino. "We knew what we had to do win. We had to defend the big [Tejada] and we definitely executed. We won by 29."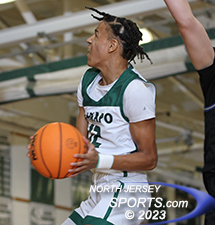 Nate Burleson finished with 15 points for Ramapo, which will play Colonia in the Group 3 semifinals on Wednesday.
Tejada did finish with a team-high 17 points, but Teaneck (23-6) could not find any other answers on the offensive end. The Highwaymen were held to 15 points in the middle two quarters and scored 19 of their 46 points in the fourth quarter that started with Ramapo in front 64-27. Jarrell Harmitt added 9 points, Ty Carnegie had 7 and no other Highwayman made more than two field goals.
Seals (31 points), Burleson (15 points), and Cervino (10 points) all finished in double figures, Goldman (7 points) made two second quarter 3-pointers off the bench, Wingfield added 6 points, Schnurbusch made a third quarter field goal and Max Baczyniski made two in the fourth quarter for Ramapo, which improved to 28-3 on the season and still has not lost to a public school all year long.
The Raiders have now won four straight state sectional titles in a bracket that, historically, is more known for bracket-busting upset and not sustained dynasties. Ramapo is certainly the latter and will look to take the next step on Wednesday night in a game that the NJSIAA wants no casual fans to see. Ramapo will play Colonia in a rematch of last season's Group 3 state semifinal at Phillipsburg High School, smack dab on the Pennsylvania border.
With the Tournament of Champions now defunct, Wednesday's semifinal and a potential Group 3 state final at Rutgers this weekend is all that is left in what has been a historic season. The Raiders have played every tough team they could cram on the schedule and lost to no one beside The Patrick School, Blair Academy and Bergen Catholic,
"We have the experience from last year of going to the semifinals. It's not new to us and we have unfinished business," said Seals. "We lost it last year and the main goal is to go on and win the Group."
FOR MORE PHOTOS FROM THIS EVENT CLICK HERE. TO BUY A COLLECTOR'S PRINT OF THIS STORY PLEASE VISIT 4-FeetGrafix.com.