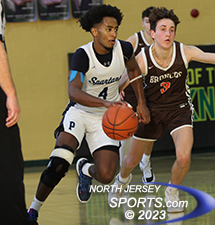 Firaol Tulu scored a game-high 21 points for Paramus, which is heading back to The BIT final for the second straight year after a 60-49 win over Pascack Hills.
MONTVALE – After making The BIT final last year and then giving Ramapo, the eventual champion, a pretty good run in the state sectional playoffs, a reporter asked Paramus head coach Dan Redden was asked if that kind of success was sustainable for a program that is not exactly known for deep postseason runs. That question has stuck with him.
"I refer to your question all the time. Is it sustainable? And my thought was, 'Gee, I hope so.' We've kind of used with the kids in the offseason, too," said Redden. "We did have guys coming back. Firaol [Tulu] coming back was huge, Corey [Petruzzella] started for us in that run and [Anthony DiGiacomo and Luke Limbacher] played and Mateen Aminyar was on the team. We had guys that had seen it, but it is different when you are on the floor and it was a matter of getting everyone on the same page."
Far from falling off, Paramus is putting together another solid postseason run. With a 10-2 run to close the third quarter, the Spartans broke open a close game on the way to a 60-49 victory that lands Paramus back in the BIT final for the second straight year. The Spartans will play Northern Valley/Old Tappan for the 'chip on Saturday at St. Joseph Regional High School.
Tulu, a senior who is just rounding into shape after surgery on his meniscus after an injury suffered during football season, hit two jumpers, the second one a 3-pointer from the wing, on consecutive trips to kick off the third quarter spurt that gave the Spartans some separation. Mark Shinkorenko scored on the baseline and Limbacher hit a 3 from the corner to give Paramus a 42-33 lead heading into the fourth quarter.
"Once I got into the flow I wanted to try to lead the team because I am a senior and this is important to all of us," said Tulu. "I was out for the first half of the season, so it just feels so good to be back playing. We have 12 seniors, and we have to set the example. We have juniors that start and I want to be there for them so we can win games."
This win shows Paramus' growth as it closed out a good team. Pascack Hills made shots in the fourth quarter. Tyler Sanders made a 3-pointer to get the Broncos to within 48-40, but DiGiacomo immediately pushed the lead right back into double digits with 3 from the corner. Nick Lukmann put back a missed shot to get PH within 9, but Aminyar answered with a conventional 3-point play.
When David Weidmuller scored seven straight points to make it 54-49 with 1:09 to play and after Pascack Hills missed a short jumper that could have made it a one-possession game, Tulu kept the ball in his hands and delivered down the stretch. He made all of his free throws and added a driving layup in the final minute to push Paramus into the title game.
Paramus (11-12), which has lost six games by four points or less, executed down the stretch this time around. It looks like a season's worth of battles in North Jersey's toughest public school league are starting to pay dividends.
"We've played well and we have played hard for most of the year. Our biggest problem is that we have not been able to finish teams off. We have lost a ton of close ones," said Redden. "I am hoping that we are starting to see how to do it."
The BIT has provided the perfect opportunity for a program like Paramus', which is hoping to one day graduate to the Jamboree, but using this secondary tournament as a building block.
"The BIT is very competitive. [Pascack] Hills is good, they are going to have a home game in their state tournament, and these guys [Old Tappan] have been on a tear. Those are good basketball teams that are here," said Redden. "Our record wasn't good enough to get into the Jamboree, we were 7-8 at the cutoff, so this was the next best thing. Competitive games, games at the end of the year that are meaningful and we have a chance to win it."
Tulu led all scorers with 21 points, Aminyar added 18 and Petruzzella had 8 for Paramus. Sanders led Pascack Hills with 14 points, Weidmuller added 13 and Nick Ohnikian had nine for the Broncos, who are now 11-9 on the season.
FOR MORE PHOTOS FROM THIS EVENT CLICK HERE. TO BUY A COLLECTOR'S PRINT OF THIS STORY PLEASE VISIT 4-FeetGrafix.com.