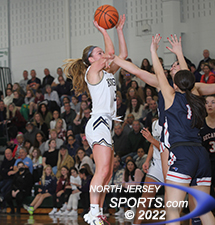 Senior Mackenzie Ward scored a game-high 14 points for NV/Old Tappan, which won the Joe Poli Tournament for the first time since 2015 with a 45-34 win over Secaucus on Friday at Pascack Valley HS.
HILLSDALE – The ball has yet to drop in Times Square, but already Northern Valley/Old Tappan girls basketball team has played seven games that matter. Friday was the last of the three-game gauntlet that led to the championship game at the Joe Poli Holiday Tournament and in the grand scheme of the arc of the season, NVOT is in a 16-game sprint with a bunch of other talented Group 3 schools for the home court advantage in the state sectional playoffs.
To use a basketball term, or at least one that applies when a shot clock is in use, Friday was a two-for-one of Old Tappan, which won The Poli for just the second time in 20-plus years of entering and for the first time since 2015 with a 45-34 victory over a solid Secaucus side at Pascack Valley High School. The last time NVOT won The Poli coincided with the first time it ever won the Group 3 state championship.
"This is a good win for sure. I think Old Tappan has been in this tournament 26 times and has only won once before, so this was a goal for us," said senior point guard Mackenzie Ward. "This game definitely meant a lot to our program. It is definitely a statement win because when you come out of a well-respected tournament like this with a championship for only the second time, it says something for our determination for the season."
That determination was evident early on. Ward got the game's first bucket off a drive and kick by Layla Giordano. Secaucus' Alyssa Craigwell tied the game at 2, but NVOT ripped off the next 10 points and led the rest of the way. Giordano, the left-handed junior with bounce, scored 8 of her 12 points in the first quarter, including the final four of the period to give the Knights a 16-5 advantage after one.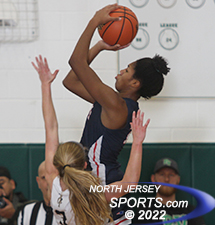 Alyssa Craigwell scored 9 points for Secaucus, which lost for the first time this season..
"Recently my turnovers have been up, so this game, especially in the first half, I think was pretty efficient and I am trying to become more consistent in that," said Giordano. "The game plan was for me and my [twin] sister Maya to get in the paint a lot and I think we did that successfully in the first half."
A Melissa Brennan 3-pointer was bookended by two Ward baskets during a 7-0 run that pushed Old Tappan's lead to 23-7 five minutes into the second quarter. Natalie Carril's steal and layup closed the first half scoring and put Old Tappan up 28-12 at the intermission.
By then the Knights, who have multiple offensive options that can score for all areas of the floor, had used nine players, the kind of depth not seen in the NJIC where Secaucus plays its league schedule. That is precisely why the Patriots put themselves in the Poli Tournament year after year. They are seeking top competition and don't shy away from it when they find it.
"This was exactly what we wanted. Three tough games, three hard-fought games and that is exactly what we are looking for when we come up here. We did not play well at the start, but a lot of that is because Old Tappan plays such good defense and they kept us from getting into a rhythm," said Secaucus head coach John Sterling. "We only had 12 points at halftime, but in the second half I think we battled. We competed better and I would like to have started better, but overall, being here was a very positive experience for us."
Daniella Peschetti and Craigwell hit consecutive baskets right out of the break to signal Secaucus' intention to hang in there and it did manage to cut the Old Tappan lead to 10, 34-24, after a Gabriella Terrillo 3-pointer and a Peschetti bucket with 2:50 left in the third, but Brennan, who made all three of Old Tappan's 3-pointers, answered with a triple and Secaucus never could get any closer. The Knights led 39-25 after the third and led by as many as 17 in the fourth quarter before settling for the nine-point win, the largest margin of victory in any of the 12 games play at The Poli this year. In the third place game, River Dell hit a buzzer-beater to nip Cresskill, 47-46.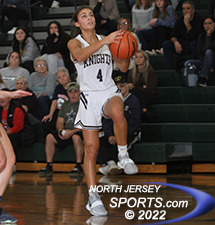 Natalie Carril going in for the layup that gave Old Tappan a 28-12 halftime lead..
Ward (14 points), Layla Giordano (12) and Brennan (11) all finished in double figures for Old Tappan. Carril had a field goal and two free throws and Maya Giordano and Sophia Wagner split the other four points for the Knights, who are now 7-0 heading into the New Year.
Ascendant Tenafly, which gave Ramapo all it could handle in the Westwood Tournament final on Friday behind 41 points from Riley Theuerkauf, a league rival and also in the North 1, Group 3 state tournament field, is next up on Tuesday and then Sparta, the defending state sectional champion and probably the Knight's main competition for this year's top seed, comes to Bergen County on January 7.
"Almost every single game in this tournament was a single digit game and there were a lot of well-matched teams. Happy to be here and happy for the kids to win it," said Old Tappan head coach Brian Dunn, has coached 20 games in two different sports since football season started and is now a combined 19-1. "The games go quick. We are already seven games in and only the first 16 count [for state tournament seeding] so it is definitely something to keep in the back of your mind, but it is not our priority. The priority is to keep improving every time out, every practice and every game."
That is Secaucus' priority as well. The Patriots got 9 points each from Craigwell and Torrillo, 6 each from Peschetti and Mia Cruz, a 3-pointer from Gianna D'Avanzo and a free throw from Katie Schneider, in their first loss of the season, but can take the lesson learned back into league play. In the 15 years with Sterling as the head coach, Secaucus (5-1) is always in the mix for hardware. The Patriots have been the class of the league and a contender in both the Hudson County Tournament and in the state sectional playoffs, where they have come so close in North 2, Group 1.
This year they are again the favorites for a league title and are bumping up to North 2, Group 2 where they will be up against schools with larger enrollments, but none named University, which has dominated Group 1 basketball over the past decade.
"When we get back into the league we have to make sure that we are practicing hard, that we are pushing ourselves to get in better shape, so that we are not falling short on jumpers. We want to press and run," said Sterling. "With the jump to Group 2 it changes things a little bit. It may be better for us because we get away from University, but none of that matters if we don't keep working hard and taking one game at a time."
FOR MORE PHOTOS FROM THIS EVENT PLEASE CLICK HERE. TO BUY A COLLECTOR'S PRINT OF THIS STORY PLEASE VISIT 4-FeetGrafix.com.