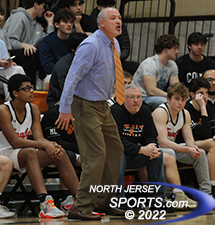 Tenafly's 47-38 win over Cliffside Park on Thursday night was it first of the season and the 100th for Jeff Koehler as the head boys basketball coach.
TENAFLY – It's just two wins, but the circumstances are so vastly different. Win No. 99 for Jeff Koehler as the boys basketball coach at Tenafly was a big one in the history of the program. It came more than nine months ago in last season's North 1, Group 3 state sectional semifinal round against Tenafly with a rotation full of experienced seniors. That group went on to play in a section final for the first time since 1968 and gave Ramapo all it could handle in the championship game.
Win No. 100 did not come until Thursday night, three games into this season, in which an inexperienced Tenafly side fell behind early, surged in the middle and then held on late for a 47-38 victory at home against Cliffside Park.
Koehler has ridden the ebbs and flows of high school sports and he is still fully engaged. He is in his seventh season as the boys hoops head coach after winning 249 games when he was in charge of the girls basketball program. He also just led the girls volleyball program to its first ever state championship.
"What these milestones mean is that I have had awesome players. Tonight we had two guys come back from my first boys team seven years ago, they were here tonight and it's those kinds of relationships that mean the most," said Koehler. "But this is not about me. Tonight was all about this team and getting the first one. The main thing is this group plays hard and they play hurt. I knew worry about effort with this team. They keep practicing hard, they keep playing hard and I am happy that they got to see it translate tonight."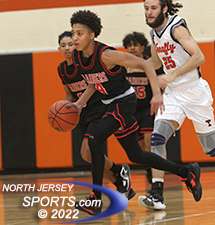 Cliffside Park James Gonzales finished with a game-high 14 points.
Cliffside Park was looking for its first win, too, and got out of the gates quickly. Ryan Rojas opened the game with a personal 7-0 run that forced Tenafly to burn its first timeout before it has even scored its first point. Louis Alaimo's bucket off an assist by Yuval Guttman finally got Tenafly on the board with 1:20 left in the opening period before it close to within 10-6 by the end of the first quarter.
The Tigers got even at 12 on a pull-up jumper by Aidan McGinty and a transition basket by Jake Yanofsky who provided a spark off the bench with 6 of his 9 points coming inside a two-minute stretch of the second period. Yanofsky's coast-to-coast layup gave Tenafly its first lead of the night at 16-14 and was a part of a 15-2 run that stretched its advantage to 27-16 after Roman Mitta's 3-pointer from the wing. Tenafly led 29-20 at the break.
"Cliffside is a scrappy team. They really fought us hard and we knew that they would, but we really needed this win. We didn't get off to a great start, but we stuck with it, stuck to the game plan and made our run," said McGinty. "We have a lot of new faces, but we are really trying to carry the energy that we had around here last year. It was good out there tonight. It was fun and we are still a work in progress."
Tenafly pushed its lead to as many as 15 points twice in the third quarter at 37-22 and 39-25, but Cliffside hung around on the periphery until it could make a run of its own. The Raiders snuck to within 41-30 on a James Gonzales free throw that closed the third quarter scoring, Rojas scored the first five points of the fourth quarter and Julius Gonzales worked the baseline to get Cliffside to within 41-37 with 6:09 to go in the game and then added a free throw to make it a three-point game.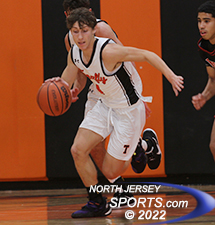 Yuval Guttman scored 12 points for Tenalfy, which improved to 1-2 on the season.
"We have talent, but we are young and we are learning. In our last two games we didn't compete, but if we play like we did tonight, with that effort, we are going to win some games," said Cliffside head coach Steve Jano. "We didn't box out as well I would have liked, to use a soccer term we lost out on 50/50 balls. That hurts us a little bit, not grabbing the loose balls and that is kind of what it came down to. It's a tough game every night in the Big North, tonight was not different, but I like the way we competed tonight and played hard throughout."
With 2:32 left, Alaimo found Guttman for an easy look on the interior to push the Tenafly lead back to six points and Cliffside (0-4) could not muster another field goal the rest of the way. The Tigers made 4 of 6 free throws in the final 48 seconds to secure their first win of the season and triple digits for Koehler.
"I didn't even know that [this was Koehler's win]," said McGinty. "He never talks about stuff like that, but knowing that now I am happy for him and glad I could be a part of it."
McGinty and Guttman tied for team-high honors with 12 points each, Yanofsky finished with 9 after making all three of his fourth quarter free throw. Reilly Benowitz, Tenafly's lone returning starter, added 7 points. Cliffside's starting backcourt of James Gonzales (14 points) and Rojas combined to score 27 points.
"We have to grow and we are trying to find our identity. It's hard when you lose almost your whole team, but there are no excuses. We are young and we have to get better," said Koehler. "Most of these guys will be back with us next year, but we will have some opportunities for good results. It takes time to figure out the varsity game, even the guys from last year's team took a year or two, but when they do it can be pretty special."
FOR MORE PHOTOS FROM THIS EVENT PLEASE CLICK HERE. TO BUY A COLLECTOR'S PRINT OF THIS STORY PLEASE VISIT 4-FeetGrafix.com.