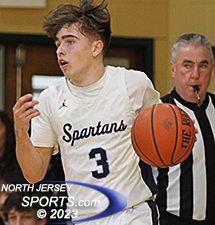 Luke Limbacher mad 3-pointer with 25 second left to put Paramus in front for good in an entertaining 64-60 win over Old Tappan in The BIT championship game.
MONTVALE – Northern Valley/Old Tappan dropped the hammer to close the first half. Freshman Isaac Shrager made the first two shots that he took in the game, a pair of 3-pointers from just about the same spot within 18 seconds of each other, to open a 16-point halftime lead over Paramus in the Bergen Invitational Tournament championship game. Danny Kelly added a hoop right out of the locker room and Old Tappan was in complete control at St. Joseph Regional High School.
Until it wasn't…
Paramus, a team on a mission after losing last season's BIT final to Paramus Catholic, just started making everything it hoisted toward the rim. The Spartans hit nine 3-pointers in the second half and five in the fourth quarter, three of them by Luke Limbacher, to reel the Golden Knights back in.
'THE' Bergen County championship might not have been on the line, but 'A' Bergen County championship was and the game was fitting of just such an occasion, especially down the stretch as the crowd got into it in Montvale.
On an inbounds play out of timeout, Limbacher drilled a 3 from just in front of his bench with 25 seconds remaining to give Paramus the lead..
"My coach [Dan Reddan] drew up the play. He trusted me, he believed in me and if I was open I was going to shoot it," said Limbacher. "I believe in myself and once I let that thing go I knew it was going in."
The Spartans survived three missed shots at the other end, made both ends of a one-and-one with less than a second to go and held on for a 64-60 victory.
Freshman Isaac Shrager scored 13 points for Old Tappan, which will host Sparta in the opening round of the state tournament.
"I didn't really draw that up; it is something that we often do on a side-out out of bounds. The kids just executed. [Limbacher] hit a big shot, it was contested and all the credit to him and not me," said Reddan. "We have been playing pretty well these last two years and I think we are hard to play against. It is nice for these guys to see a result that ends with kind of being the last team standing."
The BIT was an entertaining tournament throughout and the best part of it was that there was never an overwhelming favorite. Any of the teams entered were capable of getting hot and going on a deep run and that theme continued straight through the final. Any player on the floor was capable of carrying his team for stretches and eight of the 10 starters scored in double figures.
It was Limbacher early for Paramus as he scored the game's first five points and Firaol Tulu added a putback to make it a 7-0 start that forced an early Old Tappan timeout. The Golden Knights recovered quickly and scored the final six points of the first period to grab a 12-11 lead before flirting with a blowout.
Old Tappan scored 25 points in the second quarter as seniors Josh Lim and Kelly and freshman Isaac Shrager each made multiple field goals in the period and junior Evan Brooks did all the dirty work. Brooks' driving layup kicked off a 12-0 run that included two Lim 3-pointers, the second of which made it 29-16 and Shrager, who had not attempted a single field goal in the first 15:40 of the game, made two 3 from almost the exact same spot within 18 seconds of each other to make it a 37-21 spread at the break.
"These are two evenly matched basketball teams and we knew this game was going to go right down to the wire no matter what. Even at halftime I told our guys that they were a good team and it was going to happen," said Old Tappan head coach Craig Ferrara. "In the second half they did a good job of picking up the tempo."
Junior Mateen Aminyar finished with a game-high 18 points for Paramus.
Once Paramus got the pace where it wanted, everybody pitched in and the chase was on. Tulu got it started with a 3 that pulled Old Tappan down from its largest lead and the Spartans then ran off 16 of the next 20 points to get right back in it. The crowd went nuts when Corey Petruzzella threw one in from halfcourt just as the buzzer sounded, but the shot was waved off as too late and the Spartans had to settle for a 47-40 deficit heading into the fourth quarter.
It turned out to be just a temporary setback, however, as Limbacher made two 3-pointers in the first 22 seconds of the fourth quarter to make it a one-point game. He made one from the corner and one from the top of the key right after Old Tappan was called for stepping over the endline while inbounding after Limbacher's period-opening bomb.
"When they waved off the halfcourt shot we were all [angry], but we knew we would get it back. I drilled two 3s and we got it right back," said Limbacher. "We had the momentum there, it helped us and we just kept working hard."
Even still, Old Tappan did not give up the lead. Lim answered Limbacher's six quick points with four on the Knights' next possession; a 3 and a foul shot. Shrager scored five straight on two consecutive drives to the basket, the second of which came with a free throw that made it 58-52 with 2:45 to play.
Petruzzella made a 3 and Tulu made two free throws to make it a one-point game again with 1:51 to play and all the while Paramus junior Mateen Aminyar needed to be pinched to see if it was all really happening.
"It was just surreal. I don't even know how to explain it. It didn't feel like real life," said Aminyar. "We'd make a shot and cut [their lead down], then we'd get a stop and do it all over again. It felt fake like this really wasn't happening."
It was real and Paramus outscored Old Tappan 12-2 over the final 2:32. The Knights were called for a charge while up 1 with 1:05 to play before Tulu scored off an inbounds play to give Paramus its first lead of the second half, 59-58, with 46 seconds remaining. Brooks tapped in a lob off an out/under at the other end to put Old Tappan back in front for the last time before Limbacher's dagger from the sideline the next time down.
Aminyar (18 points), Petruzzella (14), Limbacher (14) and Tulu (13) all finished in double figures for the Spartans and Anthony DiGiacomo had the other five points for Paramus, which had a pretty good day. The Spartans picked up a trophy, got back to .500 on the season at 12-12 and are on Cloud 9 heading into the opening round of the state sectional tournament on Monday. The 13th-seeded Spartans will play at No. 4 Pascack Valley in a 1:00 p.m. tip.
Lim led Old Tappan with 14 points followed closely by Shrager (13), Brooks (11) and Kelly (10). Sophomore Dylan Drullinsky added 6 and Luca Saracino came off the bench to added 6 for the Knights, who have bounced back before and have a chance to do so again.
Old Tappan started the season at 2-7, rallied with an 8-game winning streak midseason, won three games in The BIT and earned a home game in the state playoffs where they will host Sparta in the North 1, Group 3 opener on Monday at 6 p.m.
"We will continue to do the same thing we have done all year; one game at a time. We are playing in the states, we had to earn that opportunity and it has been a while for us," said Ferrara. "These guys are going to be up for it no matter what. We will wipe this one clean, go to practice, get work done and prepare. We have been doing it all year."
FOR MORE PHOTOS FROM THIS EVENT CLICK HERE. TO BUY A COLLECTOR'S PRINT OF THIS STORY PLEASE VISIT 4-FeetGrafix.com.